Imagine if a something you posted on social media spread around the globe so fast that it became popular in Asia, Europe and the U.S. Sounds scary, but not for Jimmy Choo. When Jimmy Choo's Abel Anthracite Lamé Glitter Pointy Toe Pumps ($595) appeared in the new Korean soap opera, "My Love From the Star," it began to disappear from the shelves in Shanghai, Bejing and Seoul. People were going into stores with screenshots and pictures on social media of the shoe's appearance on TV, and since then, the shoe's popularity spread to Europe and then to the U.S. making it a global best-seller. It was actually selling so fast that manufacturers couldn't produce the shoe as fast as it was selling. Not only does this show how much Asia influences the rest of the world's consumers, but it also shows just how important social media has become to retailers.
The pump is part of Jimmy Choo's "Anouk" family from the Choo 24:7 collection, which was already in stores for four months before it became popular. The Abel pump in anthracite sold out in Asia in December and was sold out in the U.S. by February, but it looks like the shoe has been restocked online, because it is available in one size! So if you're a size 11 you're in luck and you should grab the Anthracite Abel pump NOW before it sells out again. But if you're interested in the Able pump in a less popular color like bronze or black, you can shop for them at Nordstrom.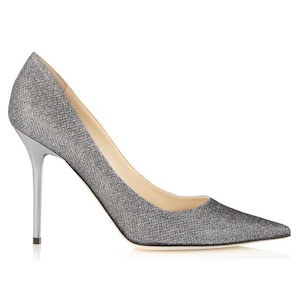 Jimmy Choo Abel Anthracite Lamé Glitter Pointy Toe Pumps ($595)
For more shoes, check out: gladiator sandals, slide sandals, and white sneakers.