SHEfinds receives commissions for purchases made through the links in this post.
It's pretty evident that the world isn't the biggest fan of the Kardashian and Jenner clan. However, when it comes to beauty, they do have some really good tips. I mean, they sit in makeup chairs every single day so it's only natural they would pick up some pointers.
In one of Kylie Jenner's recent Snapchat videos, she revealed the must-have product for anyone with oily skin while getting ready for a photo shoot with Kourtney Kardashian.
"So a cool new trick is using Nivea Men's Post Shave Balm instead of a moisturizer if you have oily skin," Kylie says in the video. Her beauty tip makes so much sense! Anyone with oily skin knows how frustrating it can be to find a moisturizer that will soothe dry skin but keep you looking like an oil slick.
Kylie's makeup artist suggests using a sponge and downward strokes to apply it on your face. She also says, "Make sure you let it dry before applying foundation on, it coats your skin."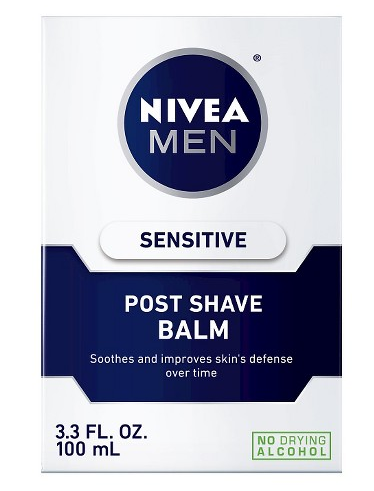 NIVEA for Men Sensitive Post Shave Balm ($5.59)
This aftershave balm contains ingredients like chamomile and vitamin E that soothe and protect irritated skin. It's in the form of a lotion but since it isn't technically a moisturizer you won't have to worry about it being too heavy.
Think Kylie's weird for using a post shave balm? She's not the only one! One reviewer said, "I have really oily skin so when i use this as a primer no oil comes to the surface of my skin and my makeup lasts all day." Another user wrote, "It doesn't break me out and it is hydrating on the face! Way better than some high-end primers I've bought!"
Thank you, Kylie!
Don't miss the one thing that girls with blue eyes should never do and the 6 best drugstore acne treatments!
[Photo: Target]