It's that time of year again — the cool air and changing leaves are upon us and we need a serious pair of boots to take us from now until spring. The most practical fashion lovers know it doesn't get much better than L.L. Bean boots, lovingly referred to as "duck boots." Handcrafted in Maine since 1912, these distinctive looking boots are the ones you need if you spend any time at all outdoors — and that goes triple if you live in an area that gets lots of rain or snow.
Duck boots have rubber bottoms, leather uppers, and are both non-slip and waterproof. Some of their boots have cool innovative features like Thinsulate insulation or Gore-Tex linings, but they all share one thing in common: they're some of the most in-demand boots every season and they're often out of stock just when you want them most. Ranging in price from about $120 to $230, they're not cheap, either.
We love L.L. Bean boots as much as the next person, but if you're in need of great knock-offs, it doesn't get much better than these four styles.
1) Cabela Lace-Up Duck Boots With Thinsulate, $68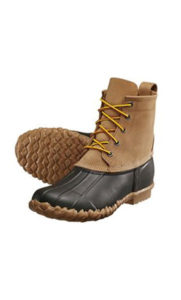 Like the original duck boots, these lace-up boots by Cabela boast Thinsulate ultra insulation to keep your toes warm in extremely cold temperatures. Cotton-duck linings wick away moisture, waterproof uppers and rubber soles offer protection from the elements, and removable cushioned footbeds give you more stability and comfort. You'll even get Cabela's lifetime guarantee with your purchase — and you can't beat the price.
2) Sorel Premium 1964 CVS Boot, $140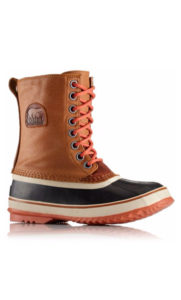 The Sorel boot is not an affordable alternative to L.L. Bean, but it really comes through as a high quality, and highly rated waterproof boot that keeps you warm and toasty in the cold. It features a waxed canvas upper, felted wool liner, seam-sealed waterproof construction, and a handcrafted vulvanized rubber shell. You can even score them in different shades, including Caramel, Aviation blue, Candy Apple red, and Fossil black. Needless to say, water will not be getting into these gorgeous boots any time soon.
3) Steve Madden Tillis Boots, $30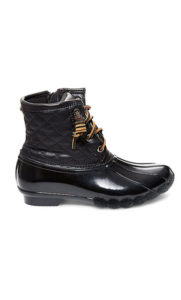 When you need affordable boots that are waterproof, Steve Madden's Tillis line is the way to go. These boots have a PU upper material, fabric lining, rubber sole, and a tiny .5-inch heel. Will they last you a lifetime? Maybe, if you treat them with care —but these are extremely well-priced boots that will do the trick in a pinch.
4) Sperry Saltwater Duck Boot, $100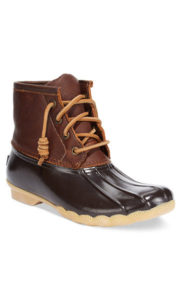 Sperry calls its Saltwater boot a "duck-inspired" style with a waterproof rubber duck toe, microfleeced lining for warmth, a rubber-logged outsole for better traction on both wet and dry surfaces, and barrel tie lacing to keep laces from getting untied. But the real drawer with these adorable boots is that they aren't just functional, they're incredibly stylish and look great paired with everything from short skirts and patterned tights to wool shorts and jeans with layered tops and sweaters. You can choose among three different color combinations and there's even the option to select a matte finish.