I'm not particularly adventurous in the lipstick department. I'll wear a little stain to give my face some color, but experimenting with the latest, greatest formulations and shades? That's not really me.
So yeah, I'm a tad late to the matte lipstick party. While beauty bloggers were going crazy for it last year, I just recently worked up the courage to give it a try. And guess what? I actually like it!
Lancome's Color Design Matte Lipstick ($23) is what finally hooked me. Even though it's quite vibrant, you can still play with the intensity. Most days I just do a swipe on my top and bottom lip for a touch of color, but you can also turn the volume up with an extra swipe or two. What's really amazing, though, is that this matte lipstick isn't drying. It's obviously not as hydrating as a lip gloss, but my lips weren't at all dry or flaky after several hours of wear. And I didn't even have the urge to apply lip balm.
One note of caution: this lipstick is most definitely not smudge-proof. I made the mistake of resting my face in my palms and ended up with bright purple lipstick all over my hands. And the edge of my coffee cup? Don't even get me started!
That being said, I still love it and have been wearing it just about every day. It's available in 5 colors; I'm wearing Out With A Bang in the pic above. Get one for yourself ASAP!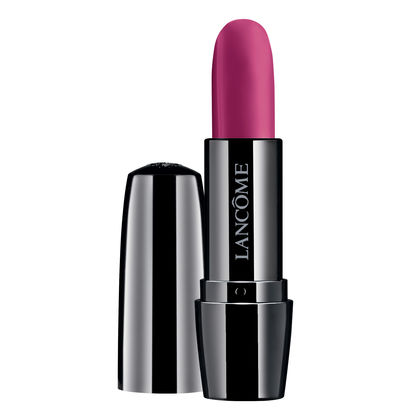 BUY YOUR LANCOME MATTE LIPSTICK NOW
Be sure to check out the clean skin pillowcase and what your lipstick shape says about you.