I enjoy playing with makeup, but skincare is my real love. I always say, if I use the right skincare products, then I can get away with never wearing makeup. My skin will be so beautiful that I won't need makeup to cover anything up. Makes sense, right? My goal in life is to have soft, bright glowy skin and as such, I'm always on the hunt for new products that promise to give me the skin of my dreams.
As you can imagine, working at SheFinds means I get to test lots of beauty products. I mean lots of products. Some are good, some aren't and then there are those that I just have to share with the world. Lionesse is definitely the latter. Are you ready for this? Lionesse's incredible skincare creations are infused with gems like Opal, Onyx, Amber, Golden Sapphire and White Pearl to make your skin glow. And guess what? They really work!
Now you should be forewarned that Lionesse's products are definitely an investment in yourself. The creams, serums and masks in their gem-infused skincare line are definitely a splurge. After all, they are formulated with some of the most precious and scarce ingredients in the world. That being said, your skin is a vital organ so it's never a bad idea to treat it with the best of the best. And that's really the only way to describe Lionesse's skincare products. They're luxurious and indulgent and a the ultimate way to treat yourself.
If you're wondering why Lionesse chose to infuse their skincare products with precious gemstones, the answer is simple: they have restorative powers. Like so many natural resources, the gemstones used in Lionesse's skincare products have the power to truly revitalize and transform your skin. Whether you're struggling with the signs of aging, dark spots, a dull complexion or redness, Lionesse has a product that will help. 
My skin tends to be a bit dull and dry the moment the weather gets cold, so I was really looking for some new products that would brighten my complexion and keep flaky at bay. I started using the products infused with Opal and I was immediately hooked. 
It's worth noting that Lionesse's products come in some of the most gorgeous packaging you've ever seen. These aren't products you hide away in your bathroom; they're pretty enough to be on full display front and center on your vanity. They also make for a really stunning Insta post if you're into that.
Packaging aside, what's inside Lionesse's stunning jars and bottles is definitely just as amazing and indulgent. The products feel divine to the touch the moment you start using them.
Even better, they deliver results soon after you start using them! I was blown away to see how quickly the Opal-infused serum started fading my fine lines. I only wish I started using it sooner!
You really can't go wrong with any of Lionesse's skincare products, but if you're looking for a place to start, here are a few of my personal favorites:
I'm in my mid thirties and as I mentioned earlier I'm starting to notice some fine lines on my forehead, around my eyes and around my mouth. I'm an eye rubber and loud laugher, so the lines aren't at all surprising. But that doesn't mean I like seeing them on my face. Every time I look in the mirror they're a reminder that I'm not twenty anymore. And don't get me wrong; I'm totally fine with aging. Lots of things get better as you get older. But the truth is, even as I age I want my skin to look and feel young. That's why I started using the Opal Sheer Collagen Serum on those areas and within a few days, I already started to see that the lines looked a little less noticeable. Yes!! This serum also keeps my skin super soft for hours.
The Black Onyx Mask is another one of my faves from the Lionesse gemstone skincare ollection. I actually don't like sheet masks; sacrilege, I know! I much prefer masks that I can apply with my hands and massage into my skin. They just feel so much more satisfying and in my mind, more effective. This mask has a very subtle, but really nice warming effect on the skin when you apply it on your skin which makes it feel extra indulgent. It's also infused with Sweet Almond Oil to make your skin insanely soft once you rinse the mask away. Honestly, it's one of the best facial masks I've ever used… and yes, I've tried a ton of masks in my life. This amazing Onyx-infused mask is now part of my regular weekend skincare routine. It's so indulgent and the perfect skincare treatment during an at-home spa session.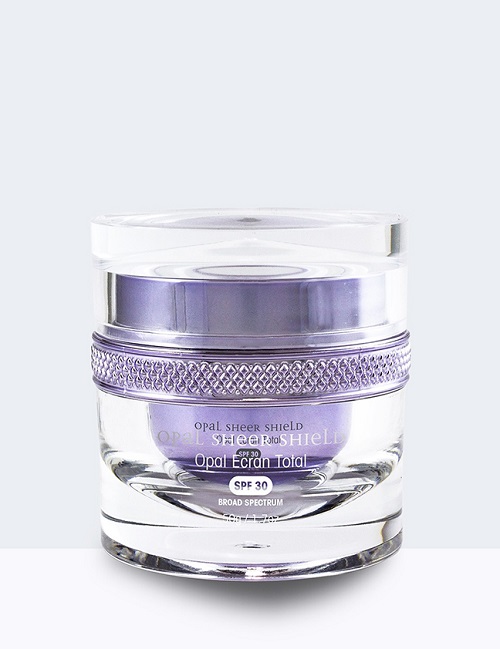 Last but definitely not least is Lionesse's Opal Sheer Shield. All it took was one horrible, painful sunburn a few year ago to make me devoted SPF wearer. I'd gotten away with never wearing sunscreen my entire life. I'm talking hours-long beach sessions without a drop of sun protection and I was totally fine for years and years. Then one week while I was vacationing in the Caribbean with my family, I felt this awful burning sensation when I was showering after some fun in the sun. When I got out the shower, my skin was flaming red and irritated almost everywhere that was exposed to the sun. I had to spend the rest of the trip indoors or hiding in the shade of an umbrella. I'll never forget that feeling.
Ever since then, I relgiously use sunscreen every day. Yes, every. single. day. Even in the winter. Even on gray, gloomy days. It's a skincare essential, no questions asked! Not only do I never want to experience sunburn again, but exposure to UVA and UVB rays can definitely age the skin prematurely. From dark spots to fine lines, the damage is real and can be permanent. Who wants that??
I know that it can be hard to remember yet another product to apply in the morning, but that's why I love when SPF is already in a moisturizer. That way, you don't have to remember to put it on separately. Lionesse's Opal Sheet Shield contains SPF 30, so you're getting maximum sun protection in addition to all the skincare benefits in the moisturizer itself. It's hydrating, smoothing and protecting your skin, too!
If you wear sunscreen, then you know it can sometimes be chalky and drying. And if you have skin that's already dry, that's a very bad thing. Fortunately, that's not the case at all with Lionesse's Opal Sheer Shield. It's nice and rich and creamy and keeps my skin glowy and dewy without any white, chalky residue whatsoever, all while protecting me from the sun's harmful rays. It really is one of the best facial creams with SPFs out there right now. 
In addition to the Opal and Onyx collections, Lionesse also has collections infused with other gemstones to target even more skincare issues. If you want to focus on improving the look of your eye area, the Amber Collection is the way to go. Lionesse has four different products designed to combat everything from fine lines to dark circles. There's even a serum dispensed via syringe that delivers incredible smoothing of deep wrinkles around the eyes.
If unlocking a more radiant complexion is your goal, then be sure to explore the White Pearl-infused products from Lionesse. There's an exfoliatior that's super gentle, but effective in sloughing off dead skin cells that can dull your complexion. It's safe to use no matter your skin type and will help help your skin look revitalized and healthy. There's also a White Pearl night cream that will ensure you wake up with glowing skin that looks lit from within. Just apply it after you've cleansed your skin at night right before you go to bed and let it work its magic while you sleep. If you want to go the extra mile, sleep on a silk pillowcase. When you wake up, you won't believe your eyes. Just be prepared for the compliments and for people to ask what skincare products you're using! Yes, it's that good.
Need skincare with the ability to seriously slow the signs of aging. Make it your business to get your hands on Lionesse's Morganite Cream. It contains powerful ingredients and is specially formulated to hydrate dry skin and strengthen weak skin that's prone to develop fine lines and wrinkles. After using it for just a few weeks, you'll unlock the youthful glow you've always wanted.
Chances are you're done buying holiday gifts for everyone else, it's time to treat yourself! And what better way to show yourself some much-deserved TLC than with a few new decadent skincare goodies to keep you looking your best? Plus, with months of cold, dry weather ahead, your skin is certainly going to need some extra attention and affection over the next few months. The timing couldn't be better to start using Lionesse's gemstone skincare products. All of winter skincare issues women so commonly experience during this time of the year will be no match for Lionesse's effective solutions. 
The editors at SheFinds wrote this post on behalf of Lionesse and received compensation as part of our agreement.