There are times when a bit of peek-a-boo bra or even a slip of panty (seriously, just a slip) can look incredibly fashionable and current. But whereas Kendall Jenner can get away with wearing a black bralette under a sheet white shirt and not one of her equally trendy employers will bat an eyelash, the rules are a little different for most of us. And that's when it becomes handy to know, once and for all, how to make your bra and underwear invisible under clothes.
It's no secret that many of today's fashions, including formal gowns, are designed to show off as much skin as possible. But, skin, and not undergarments, are the real draw with these ensembles. The next time you're wondering which bra to wear with a sheer top or how to make a dress or thigh-high maxi skirt work around your undergarments, consider these solutions.
1) Body Tape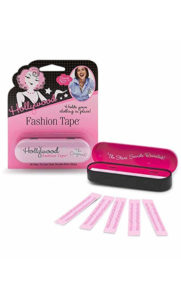 Ever wonder how models and actresses look so … hoisted up and put together on camera, despite wearing nothing more than a few pieces of fabric? The answer is body shape tape, like Hollywood Fashion Tape, which is a specially designed medical grade adhesive tape that can be used to create cleavage and hold your breasts in place so that you can, maybe, get away with wearing no bra at all. Imagine that. The tape is waterproof, transparent, string, but thin, and share nothing in common with duct tape, thank goodness. You can also purchase double-sides tape that adheres to both your skin and clothing.
2) Adhesive Bras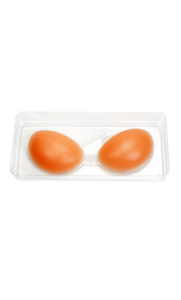 Adhesive bras, or sticky bras, literally stick to your breasts to hold them up and in place and, according to many users of the product, seem to work best if you have a smaller cup size. With that said, some women are reporting success with products like the Balconette Wing Stick-On Bra, which has underwire and side panels (though it's backless) for additional support.
3) Nu Bra Ultralite Backless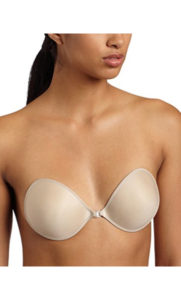 Made from reusable silicone adhesive, this lightweight, backless bra offers more support that stick-ons, but suits cup sizes that range from A to E. A center clasp offers adjustable cleavage enhancement and you can wear it with everything from tanks to backless gowns.
4) Nude Thong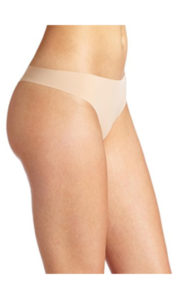 There's really no way around it, even if you're a fan of boy shorts or classic bikini briefs: a nude thong is one of the best undergarments you can own if concealing your undergarments is the goal. Wear it under a tight white dress or white pants — it won't show.
5) Nude Slip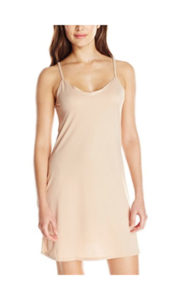 Take a cue from the older generation: slips are a simple and affordable undergarment that can be worn under slightly sheer dresses or skirts to conceal your underwear and bra. They even help reduce chafing and friction and make your clothing look smoother.
6) A Bra That Fits Well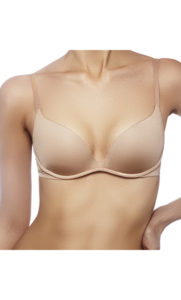 Sometimes the best solution is the simplest one yet: visit a quality bra shop and have yourself fitted for a bra. If your straps are always slipping or you feel like your bra is wearing you, there's a solid chance you're wearing the wrong size bra. Our bra sizes often change throughout our lifetimes — wearing a well-fitted bra is one way to ensure your clothing looks better and that your undergarments stay where they belong — on you.