As you get older, shopping for your mom can definitely get harder. Either your mom already has everything she wants (so her answer is always "Nothing!" when you ask what she wants) or you just can't find a gift that truly resembles how grateful you are for her. And that is why you should definitely take her on a little mother-daughter trip instead.
I mean think about it, isn't your mom always saying how much more time she wishes you got to spend together? So it makes perfect sense to get away for a few days, just the two of you, and have fun making memories. It will definitely be more special than gifting another material item.
Whether you want to go all out and head to the Caribbean or want to travel domestically, there are so many great options to choose from. Here are our top three destinations that you should look into booking ASAP to surprise your mom with.
Hyatt Zilara, Jamaica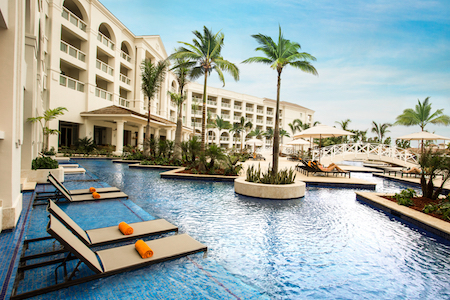 You can't go wrong with an all-inclusive resort, endless drinks and food..sign us up! And the Hyatt Zilara is at the top of our list. Not only is it an adult-only resort, but it also has stunning oceanfront views and a world-class spa. Spend the day by the lagoon-style pool and then indulge in a delicious dinner at one of the seven restaurants and enjoy the live entertainment. Trust us, you both will come back feeling refreshed and definitely relaxed.
Monteverdi Tuscany, Italy
Is your mom dying to take a trip to Europe? Then make all of her dreams come true with an authentic and unforgettable trip to Tuscany. While staying at Monteverdi, you can not only take a cooking class with the Executive Chef but you can also spend a day at their luxurious spa, where they offer Hammam treatments. Without a doubt, this will be a trip she talks about for years to come.
Wyndham Grand Clearwater Beach, Florida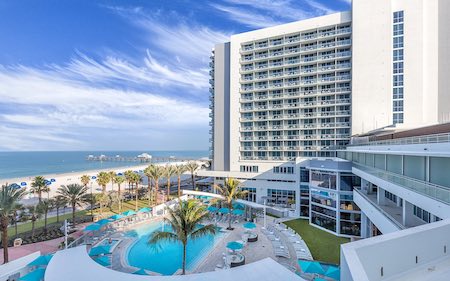 Still want to enjoy time at the beach but don't want to go too far away? No worries. The Wyndham Grand Clearwater Beach is an upscale property that so happens to sit on the #1 beach in America. You can not only spend time at the resort by the pool or at the spa but you can also explore Clearwater Beach by doing some local shopping or head to the boardwalk. And if you happen to be there on Mother's Day, well you're in luck. The hotel has partnered with jewlery brand Kendra Scott to debut a one-day-only pop-up Mobile Color Bar where you and mom can create custom jewlery in minutes! Jewelry, brunch and the beach? Sounds like a perfect day to us!
With Mother's Day right around the corner, this is the one gift you can't go wrong with. Believe us when we say it will be a Mother's Day she will never forget.