After Oprah declared her love for CJ by Cookie Johnson jeans, we pricked up our ears and got pretty excited when we learned that today, Oprah (with the help of Joe Zee of Elle, Mary Alice Stephenson from Harper's Bazaar, and O's own Adam Glassman) will be giving us tips and tricks on looking slimmer (including hiding those cankles) simply by changing up our shoes and handbags.  Here's a sneak peek at some of their excellent advice:
1. Joe Zee advises women with wider feet to try out Stuart Weitzman's Elastorama boot.  It accommodates a broader foot without looking like it, so your tootsies stay slim-looking and comfortable.
2. Everyone agrees that commuting to work in supportive shoes is a must-do; however, trekking in scuffed sneakers certainly isn't.  The group recommends Cole Haan's Air Maggy ballet flats, which feature Nike technology (which happens to be one of Oprah's faves when it comes to shoes).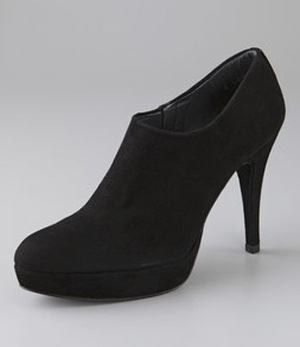 3. Stephenson notes that booties, when cut lower at the ankle, help to elongate the leg.  But more importantly, the show invents a new term for the look – "shabooties."  Get yours with Stuart Weitzman's Cover Up boots.
4. For a woman carrying a backpack to work, Joe Zee doesn't sacrifice form or function.  He simply swaps in a very cute and very useful messenger bag from Lucky Brand.  (And it's in a great shade of purple, too).
5. Cankles may seem like a permanent affliction, but hiding them with black socks (as one of the show's guests has tried to do) isn't the solution.  Rather, elongate the entire area with a pair of neutral heels – Adam Glassman recommends Kate Spade's Susie heels in pale blush patent.
Whether it's a cure for cankles, tips on tying a scarf, or advice on wearing the right bra, Oprah wants to make sure you're put together properly.  And so do we, which is why we've put together the best clothing for dressing thinner, along with figure-flattering jewelry to top it off.  Plus, whether you're well-endowed or sport a smaller chest, don't worry, because bras for big busts and the right options for smaller ones are out there, just waiting to mold themselves perfectly to your torso.