It looks like Paula Abdul borrowed her niece's bat mitzvah dress when she arrived at VH1's Do Something Awards on Monday night. The puke green, a-line dress does not show off her svelte shape and perky personality. And with those monster platform heels, the outfit's message seems to read "14 year old hooker" (but hey, we like the clutch).
What She Did Wrong:
Other than Paula's dress being from the junior's department, it's kind if 1980s, Brat Pack-era. And that silk lining at the bottom – gross.
We're also pretty sure Paula's shoes came from an adult costume shop. Paula's only about 5 feet tall, but an elegant stiletto would have done the trick.
What She Should Have Done:
A mini, form-fitting dress is ideal for someone of Paula's size. This Satin Ruffle dress ($100) is glam enough for a red carpet because of the intricate ruffles, but also sexy enough to show her tiny bod.
If Paula wants to add some bling to her ruffled LBD, we recommend this Kenneth Jay Lane Twisted Chain necklace ($88). It's simple, but certainly not subtle – just like the ex Idol judge.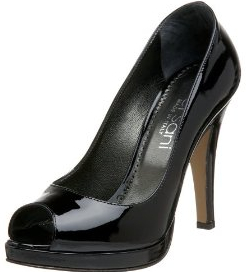 Someone tell Paula that black patent leather doesn't need to look like S&M. These Versani Peep Toe platforms ($181.47, down from $329.95) offer a slight platform with a sharp stiletto, giving Paula those extra few inches she loves.
Check our more celebrity style with our Red Carpet Re-Do posts. Shop our guides to the best celebrity dresses and the best celebrity shoes. Sign up for SheFinds to receive exclusive fashion updates.