The Playboy bunny and Hugh Hefner duo Halloween costumes have always been an iconic look long before Playboy founder Hugh Hefner passed away last month. Although, these costumes are sure to be a go-to Halloween look since the news broke. Dressing up as the bunny is a fun flirty look and you can easily pair up with your boyfriend to go as Hugh and one of the Playboy bunnies for Halloween. With just a few simple and affordable pieces you can create the best Playboy bunny and Hugh Hefner Halloween costumes this year that anyone has ever seen.
Playboy bunny Halloween costume: 
Okay, first thing's first, you'll need to think of what you can wear out as a Playboy bunny. While you could totally opt for a lingerie look, you can also choose a costume that has the same vibe but covers you up a bit more. This silky black corset top from Amazon comes with matching underwear and is less than $15.
Amazon Women's Fashion Black Corset Top and Thong Panty 2 Piece Set Convertible Straps ($14.49)
You can easily slip on a pair of black shorts over your underwear to complete this look as well. This tight pair of black yoga shorts off of Amazon would match well with your black corset top. This option doesn't cover you too much, but it covers you up just enough for the flirty Playboy bunny look.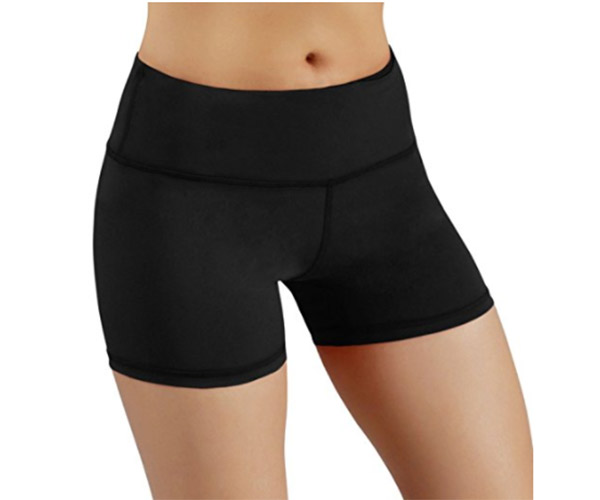 Amazon ODODOS by Power Flex Yoga Shorts for Women ($9.98-17.98)
Of course you'll need bunny ears when dressing up as a Playboy bunny. This Amazon accessory kit comes with bunny ears, a bunny tail, and a baby pink bowtie–and is all under $10. This is definitely a must-have for your costume this year.
Amazon Funny Party Hats Bunny Ears and Accessories ($8.89)
Your shoe choice can be simple and one that comes straight out of your closet. We recommend finishing off your Playboy bunny costume with a pair of black pumps–or any of your favorite go-to pair of heels.
Hugh Hefner Halloween costume: 
Now, onto the Hugh Hefner costume. Your significant other will for sure need his own Hugh robe for his Halloween look. Amazon offers an amazing dupe for less than $50– note, the price varies depending on the robe size that you order. It definitely looks exactly like the one Hugh used to wear, so you can't go wrong with this option!
Amazon Rubie's Secret Wishes Men's Playboy Hugh Hefner Smoking Jacket Costume ($37.59-45.82)
He'll also need a simple pair of black pants to wear. Of course he can pull out any pair of black pants the he already has in his closet, but these Hanes sweatpants make for a comfy option come Halloween night. Plus, buying another pair of sweatpants never hurts, right? Just like the robe, the price of these knit pants varies depending on the size that you order.
Amazon Hanes Men's Solid Knit Pant ($9.99-18.00)
We can't forget about footwear. Your boyfriend can continue to keep his Hugh Hefner look extra comfortable with these cozy black slippers. Hugh was often seen wearing a pair of black loafers, but these affordable slippers achieve the same look. You can score a pair of your own for less than $20 off of Amazon.
Amazon Clpp'li Mens Slip On Slippers ($17.49)
We've got all of the tips for what you'll need to DIY your own Halloween costume this year. For more costume inspiration, make sure to check out this year's best pop culture Halloween costumes.
[Photo: twitter.com/hughhefner/media]