There are sure to be heated discussions on the movie version of The Time Traveler's Wife, centered around whether it was faithful enough to the book. Having never read the bestseller by Audrey Niffenegger, the film seemed perfectly entertaining if lacking in tension. The same can also be said about Rachel McAdams' bohemian wardrobe in her role as the titular wife.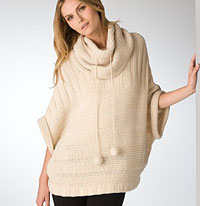 As an artist, you'd expect her clothing to be a little funky – maybe mixing pieces and eras to create something unique. Yes, there were some prairie skirts and flutter blouses early in the film, but as much of the action takes place in Chicago, the weather lends itself to coats and long sweater jackets. She wears them well, but I just expected more from a successful, creative woman than a standard white sweater. The cowl neck/convertible hoodie on the Alice + Olivia Wool Pom-Pom Poncho ($367) would have been a more fashionable choice for a chilly winter evening.
Where she did go right was the long winter coat topped by a Mongolian (or Persian or Tibetan) lamb fur collar. Sitting in the heat and humidity makes this sound downright treacherous, but if you've never experienced a Chicago winter, count yourself lucky. It's perhaps a little early for coat shopping, but to get a similar look, your best bet is going the vintage route or trying a faux version like the Michael Kors Faux-Fur Collar Cardigan ($249.50).
For more top picks to keep you clad like Rachel McAdams in The Time Traveler's Wife, check out our guides to cardigans.  And for more fashionable movie reviews, take a look at The September Issue and 500 Days of Summer.