I was lucky enough to nab a ticket to a Sex and The City 2 screening last night, and the crowd was littered with fashion people like Tommy Hilfiger, Ivanka Trump, and that crazy Kelly Bensimon. While the movie was great, we saw some ridiculous clothing choices that weren't for everyone. Here are four trends from the movie (along with a few spoilers) that you shouldn't try at home:
1. Don't Show Your Underwear: Bras and underwear were front and center throughout the film when they definitely shouldn't have been.  Samantha wore a thong around her ankles in the office (a man wasn't there) and Carrie's bras kept on peeking out from under her form fitting dresses. Instead, go for Spanx, which Miranda endorses in the movie, or flesh tone My Skins undergarments.
2. Don't Wear A Ball Gown In the Bedroom: Throughout the movie, Carrie worries she and Big are becoming a boring old married couple, so to compensate, she wears long gowns fit for a gala in her New York City apartment. Although they look beautiful on film, we suggest you go with our guide to the best flattering lingerie instead.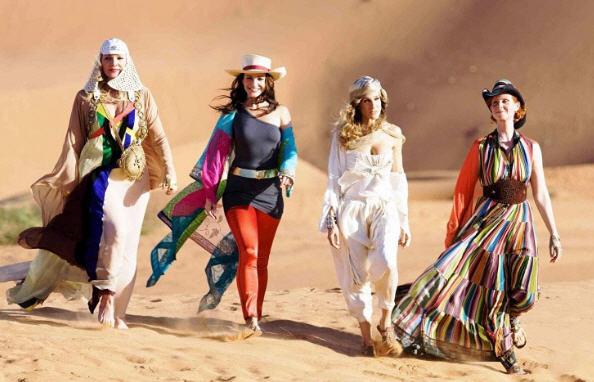 3. Mix And Match Prints With Caution: When the girls rode on camels in Abu Dhabi, they wore way too many clothes and prints. Granted, a gay servant in the movie named Abdul dressed them, but they looked completely ridiculous.
4. Don't Wear White Or Vintage Valentino While Baking Cupcakes: Charlotte is grappling with being a mother in the movie, but she could probably make things easier if she didn't wear a white Valentino pencil skirt while baking. No, you don't have to look like a slob because you're a mom, but try some CJ by Cookie Johnson jeans or tees that flatters your shape instead.
See our Sex and The City 2 movie page, get your SATC 2 movie tickets now, get some looks you can actually wear from Sex and The City 2, and then see our guides to the best white dresses and the best skinny jeans.