Forever 21 is famous–err, infamous–for their designer knockoffs. First there was the Celine trapeze rip-off and who could forget all of these. But even still, we're still pretty shocked when we find that the retailer literally carbon copies something iconic.
Case in point: the Givenchy Rottweiler. Everyone from Rihanna and Nicole Richie to Kanye West and Liv Tyler have rocked tees and sweatshirts emblazoned with the ferocious mutt cementing its icon status. But rather than let Givenchy have this little victory, Forever 21 had to go and copy (again). Here's the Givenchy Rottweiler: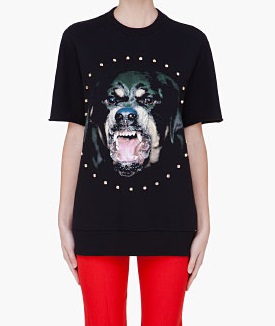 Givenchy Rottweiler Crystal Accent Sweater ($865)
And this is the Forever 21 version:
Forever 21 Studded Dog Muscle Shirt
The similarities are, well, can you even tell the difference? We can't. Except, of course, that the Givenchy Rottweiler tee will set you back $865, while the Forever 21 Studded Dog Muscle Shirt only costs $15.80. We'll ask again: in cases of blatant knock-offs such as this, where do you stand? Is Forever 21 going too far with their designer knock-offs or do these rip-offs make you love Forever 21 more? Share your thoughts in the comments.
[Photo: Lee Oliveira]
Shop the best white denim, floral print shoes and half frame sunglasses.