The secret to healthy, glowing looking skin? Making sure it has proper nutrients from both the inside and the out.
We all know there are lots of topical moisturizers and serums that promise to regenerate skin cells and stimulate collagen production, but sometimes creams just don't cut it. If you also want to feed your skin the goodness that it needs from within, you need to invest in STUNN Collective's brand new all-natural supplement duo. These AM and PM supplements are vegan, non-GMO and cruelty- and gluten-free. They're not made with any fillers or chemicals, but instead are formulated using herbs, extracts, and adaptogens. The result when you start taking these supplements? A noticeable boost in your skin's elasticity and hydration. But that's not all! These supplements also improve cognition and energy and supporting a calm, positive mood. Pretty incredible, right?!
Here's a closer look at the two new supplements:
STUNN AM, $92 for a one time purchase, $74 a month
The morning supplement is basically a big ol' drink of water for your skin, providing it with the hydration it needs to repair and regenerate skin cells for a soft, smooth and glowing complexion. It also contains ingredients such as Peppermint and Gotu Kola that work to fight free radicals and boost collagen. While doing all of this for your skin, it also aids in improving clarity and focus. There's even a little Green tea in here that gives you some natural caffeine for that much-needed increase in energy without the crash or jitters.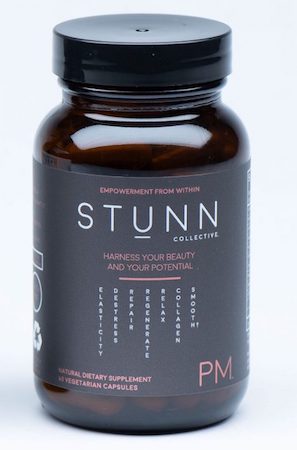 STUNN PM, $92 for a one time purchase, $74 a month
After you've had a productive day, de-stress and get some calm, relaxing, and quality sleep with the PM supplement. The combination of Valerian Root, Passion Flower, Lavender Flower will work synergistically to help your body rest. This supplement also works on your skin throughout the night, improving its strength and elasticity (think of it as a workout for your skin), hydration, tone, and texture. You'll wake up with radiant and rejuvenated skin.
Ready to give these new supplements a try? Use code SHEFOUND at checkout to enjoy 20% off your first order. And pro-tip: buy both supplements at once and you can save even more!
GET YOUR STUNN SUPPLEMENTS NOW
The editors at SheFinds wrote this post on behalf of STUNN and received compensation as part of our agreement.