Swisse Wellness, the Australian brand known for high-quality and effective supplements, just made optimizing your health a whole lot easier. Their brand new Swisse Ultiboost Jellies are a must-have for when you're looking to give your body, brain or complexion a much-needed boost.
How do the new Ultiboost Jellies work? Available in three flavors, these individual, single-serve jellies are a fun and effective alternative to pills, powders, and gummies. Like all Swisse Wellness products, these jellies are made with premium and effective ingredients like Green Tea, Manuka Honey, Goji Berry and more. Even better, they don't contain any gelatin, gluten, soy, dairy, artificial colors, flavors or sweeteners.
Here's what makes adding Swisse Ultiboost Jellies to your lifestyle even easier; they are all under $25 and 20% OFF on Amazon! Super convenient, right?
Want to give these game-changing new supplements a try? Learn more about the three varieties–Beauty Boost, Immune Support, and Focus Boost–below to find the right ones for you.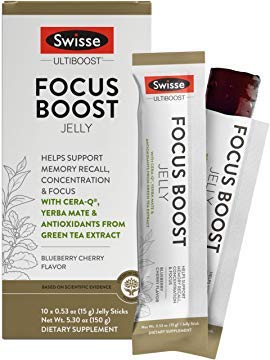 Swisse Ultiboost Focus Boost Jelly Sticks, 10 count ($25)
Have a big meeting or exam coming up? Be sure to take one of these beforehand! Made with Cera-Q, Yerba Mate and Green Tea Extract in a Blueberry Cherry Flavor, this supplement helps to support healthy brain function, memory recall, concentration, focus and overall better mental performance.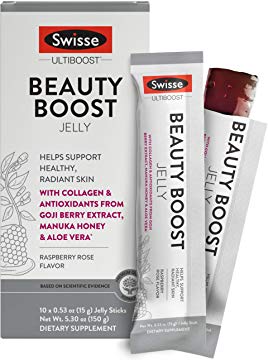 Swisse Ultiboost Beauty Boost Jelly Sticks, 10 count ($25)
Achieve healthy, radiant skin with this jelly that is super rich in antioxidants including Goji Berry extract, Manuka Honey and Aloe Vera. Not only will it help protect the skin from oxidation and aging, but each jelly also contains 1 gram of marine collagen!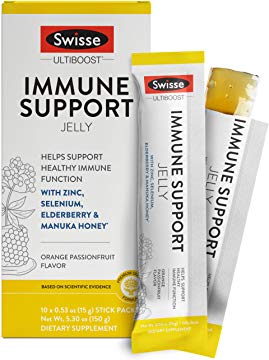 Swisse Ultiboost Immune Support Jelly Sticks, 10 count ($25)
Be sure to keep one of these packets in your purse, gym bag, or car to always have on-hand for those times when you just aren't feeling your best. Made with a powerful combination of Zinc, Elderberry, Selenium, and Manuka Honey, these jellies will help support and maintain a healthy immune system.
SHOP SWISSE ULTIBOOST JELLIES NOW
SheFinds receives commissions for purchases made through the links in this post.
The editors at SheFinds wrote this post on behalf of Swisse Wellness and received compensation as part of our agreement.