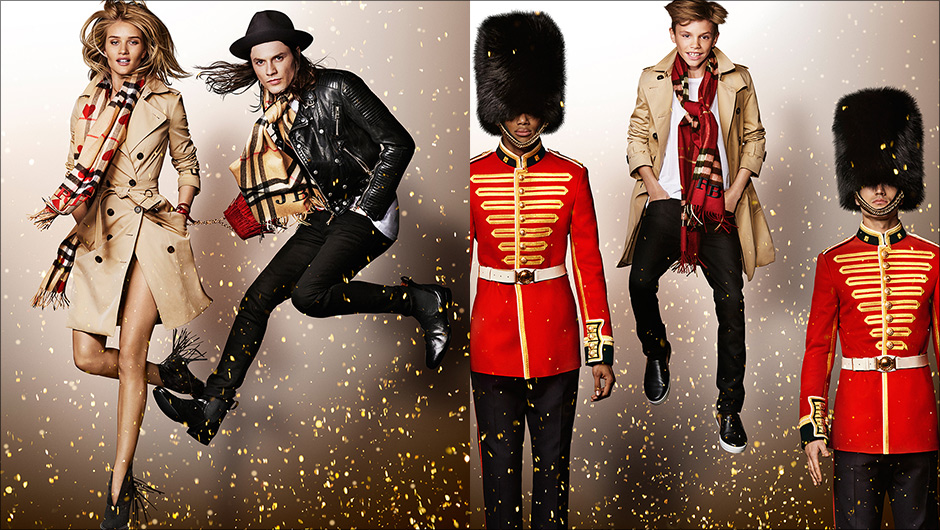 Believe It! Burberry Has Beautiful Gifts For Everyone On Your Holiday Shopping List
It's no secret that Burberry has gorgeous ready-to-wear clothing, handbags and accessories for you, but have you considered visiting them for friends and family on your holiday gift list? If not, consider this your wake-up call. Burberry is the gift that's sure to please whether it's for your mom, best friend or boss. To help make your holiday shopping a little less stressful, we did the "hard" work of rounding up a bunch of amazing options for beauty-lovers, trendsetters and everyone in between. Shop them below--and while you're at, you can totally treat yourself to a little something, too! Check Wool and Cashmere Blanket Poncho Suede Clutch Bag in Tiered Fringing Burberry Kisses - Military Red No. 109 Fur Pom-Pom Beanie My Burberry Festive Eau Du Parfum The Kensington - Mid-Length Heritage Trench Coat The Bucket Bag in Tiered Suede Fringing Sandringham Fit Cashmere Trench Coat The Classic Cashmere Scarf The Classic Cashmere Scarf in Check And Hearts The Medium Banner in Leather and House Check Thomas Bear Charm in Check Cashmere Horseferry Check and Leather Continental Wallet For more great gift ideas, head over to us.burberry.com now!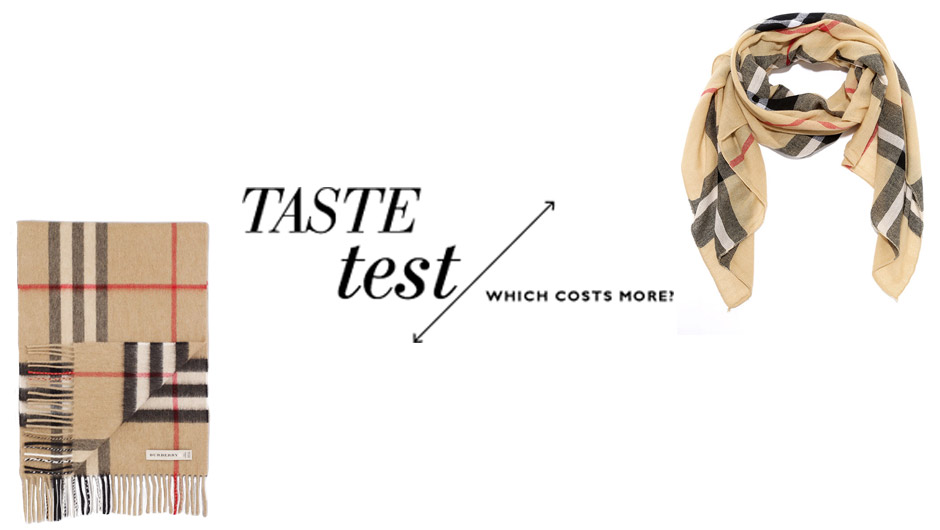 Can You Tell Which Plaid Scarf Costs $457 More Than The Other?
Truth be told, the classic tan Burberry scarf is something I have always wanted to own ever since I was a little girl. When you think of timeless fashion, this scarf is definitely on the list. It's signature color scheme and plaid pattern is recognized everywhere. Needless to say, when I would see women wearing this highly-coveted scarf, I could only hope to have it for myself. While the original Burberry Giant Check Cashmere Scarf retails at $475, I found a lookalike that does the original scarf justice. It's the Cute Beige Scarf from Lulu's, which retails at $18! But my question to you is, can you tell which one costs $457 more than the other? Don't miss the three ways to wear a fur vest and Kourtney Kardashian's suede skirt.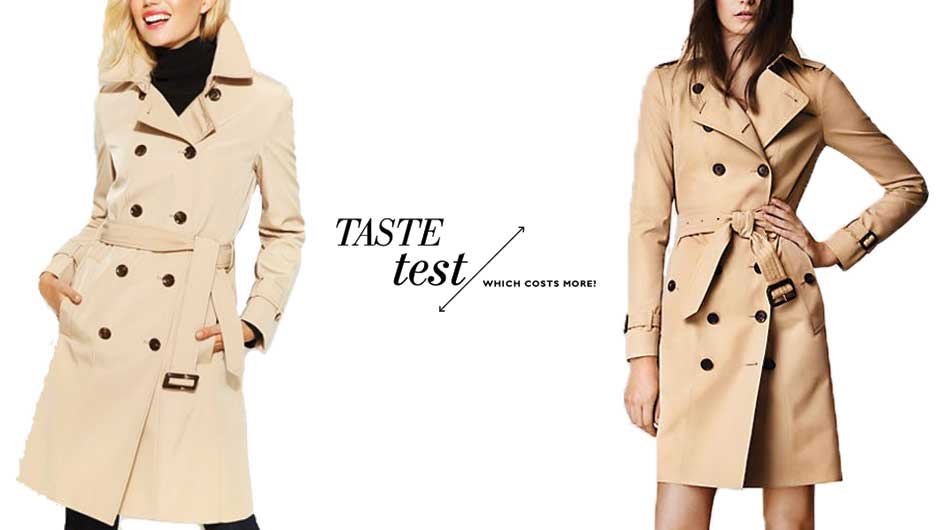 Can You Tell Which Trench Coat Costs $1,795 More Than The Other?
The Burberry trench coat is iconic. It's a fashion staple that is so timeless that, if anything, it only gets better with age. The cult coat is practically draped in glamour and prestige...which would explain the hefty price tag. So until I can treat myself to the real deal, I decided to search for a lookalike that will do it justice! I came across a trench coat from Calvin Klein that's literally $1,795.02 cheaper than the original. Can't beat that! But my question to you is, can you spot which one is more expensive?! And don't forget to check out: Zendaya Calls Out A Magazine For Retouching Her Body, The More Easy Spirit Shoes You Buy, The More You Save At Macy's, and Chris Rock Is Hosting The Oscars! #YesPlease.
The Iconic Burberry Trench Just Got A Major Update…
If there is one item every woman aspires to own it's a Burberry trench coat. It's one of those investment pieces that never goes out of style and looks good year after year. The Gabardine trench coat is obviously a classic, but this fall Burberry gave its iconic trench a few stunning updates--cashmere weight and vibrant colors! Burberry's new Color Cashmere Trench coat collection includes over ten vibrantly beautiful shades: Parade Red, Dusty Peony Rose, Cherry Pink, Pale Orchid, Plum, Dusty Mint, Teal, Empire Blue, Indigo, Umber Yellow, Black, Camel, Pale Grey and White. They're all beautiful, so good luck deciding on just one. Once you find a favorite, though, you won't be disappointed. Stunning color aside, these trenches are warm, flattering and the perfect addition to your coat closet. Trust us--you'll be reaching for it over and over again on cool fall and winter days. Ready to find your new coat? Click the link below to treat yourself to a gorgeous new Burberry Color Cashmere Trench. SHOP BURBERRY'S NEW COATS NOW!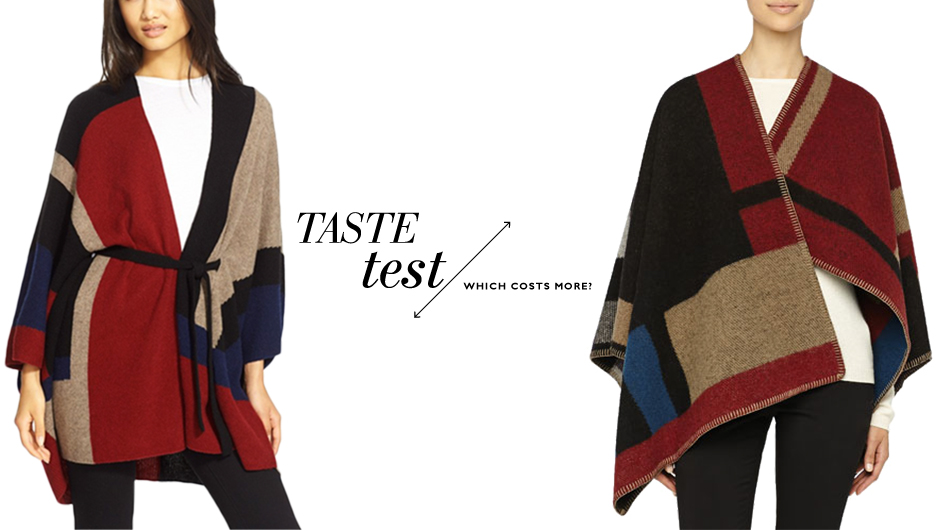 Can You Tell Which Colorblock Poncho Costs $997 More Than The Other?
I am still dreaming about last year's Burberry blanket poncho that every "it" girl had, including my all-time fave Sarah Jessica Parker! Not that I could even afford it if it were still in stock today, but the cost of this gorgeous colorblock poncho still hurts almost a year later... it was retailed at $1,395.  But, I've found the silver lining and it's a poncho by Joie that looks almost identical to the original. The best part? It's over $900 cheaper! Halle-freaking-lujah. And here's my question for you, can you tell which one is more expensive? Did you guess correctly? Which one do you like more? Let us know in the comments below! And don't forget to check out: Selena Gomez Opens Up About Her Lupus Diagnosis & Chemotherapy Treatment, H&M's Beauty Collection Is Finally Here!, and 14 Millennial Abbreviations You Need To Keep In Your Daily Vocab.
14 Fashion Obsessions From 2014—How Many Do You Own?
Another year (nearly) down and now's the time to look back at all the surprising, awesome, and, sometimes, cringe-worthy fashion trends that we fawned over in 2014. Who knew that we would be channeling Jerry Seinfeld for our #normcore clothing needs? Or searching for a shop that wasn't sold out in Mansur Gavriel bucket bags? Also, metallic temporary tattoos were kind of a thing, along with Beyoncé lyrics serving as the perfect form of expression for a graphic sweatshirt. Check out our slideshow to find out which fashion obsessions of this year you already own, and share in the comments below which ones you're hoping to see in 2015, too.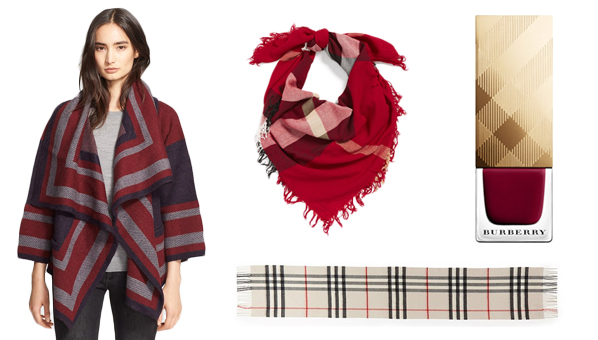 14 Great Gifts To Buy From Burberry If You Can't Afford The $1400 Poncho
Blanket coats and ponchos are what's trending at the moment, and you can thank Christopher Bailey of Burberry for that. He sent countless of them down the runway for Fall 2014, including the highly coveted one we put on our Going, Going, Gone holiday gift list (you can even to monogram it!) which countless celebs from SJP to Olivia Palermo to Rosie Huntington-Whitely have worn. Sadly, the poncho will set you back nearly $1400, and if you don't have that kind of cash to spend on ONE Christmas gift this year, how about looking to Burberry's many other great giftable items, like polish from their beauty line or their classic scarves? These gifts are just as classic Burberry as a monogrammed poncho, but definitely not as expensive. Check out our slideshow above.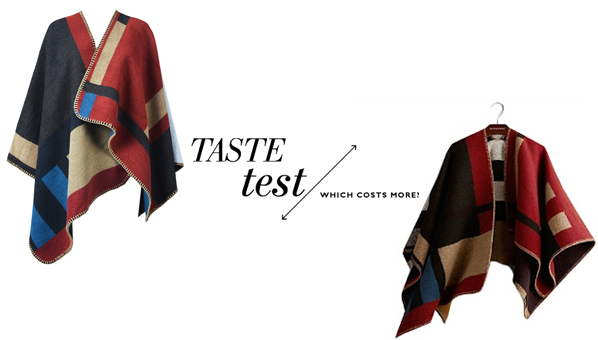 Can You Tell Which Poncho Costs $1,355 More Than The Other?
The Burberry colorblock poncho is probably the most-wanted fashion item this fall. That's why it made our Going, Going, Gone holiday gift list. Yes, celebs like Sarah Jessica Parker own the cape (monogrammed, obvs), but you know an item has truly reached must-have status when it is knocked off. Which is exactly the case here. The only major difference between these two ponchos is the price tag. One costs $1,395, and the other just went on sale for $39.90 (down from $69.99). Can you tell which one is more expensive? Answer: The one on the left is the Contrast Color Basic Poncho Coat ($39.90) from Choies, and the one on the right is THE Burberry Colour Block Check Blanket Poncho ($1,395). Did you guess correctly? Which do you like more? Let us know in the comments below! Test your fashion savvy some more with: leather totes, slip-on sneakers and leopard sweaters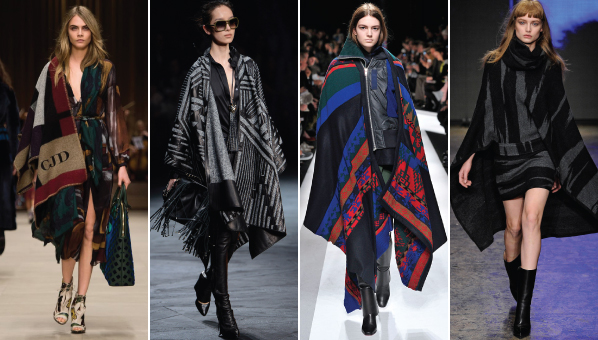 The Warmest Coat You Can Buy This Fall Is Basically A Blanket
You know the feeling. The coziness that comes with wrapping yourself up in a blanket as you lay on the couch for a night full of Netflix. And designers like Burberry, Roberto Cavalli, Sacai, DKNY, and Etro want to keep you just as comfy this fall with blanket coats that could easily double as a throw for your living space. Pair it with a casual top and denim pants, or give your evening look a layer of cool by throwing your blanket-coat over a short dress and tights. Check out our slideshow if you dare to wear this new fall trend. Check out more fall trends: burgundy, stretch-back boots, and the top 5 jackets you need right now. [Photo, L to R: Burberry, Roberto Cavalli courtesy of Splash News, Sacai, DKNY courtesy of Splash News]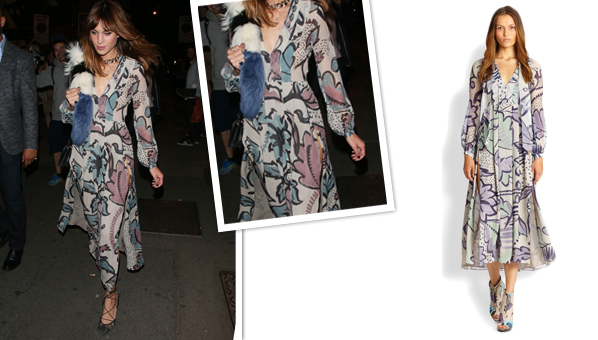 Alexa Chung's Printed Burberry Dress Is A Totally Reasonable Fall Splurge
If there is a season for busting out the black card, fall is it. Not only are there so many good trends to invest in, but it's really not a good look to try to make your summer clothes work in the dead of winter. And so, we present one of many fall splurges that get out stamp of approval--Alexa Chung's Burberry Prorsum Floral Silk Dress ($2,595). Yes, the price tag is quite steep, but this is Burbery we're talking about. And like their plaid, these handpainted prints are soon to become iconic so you should make the investment now. Just select your size, proceed to checkout, close your eyes and click Submit. Burberry Prorsum Floral Silk Dress ($2,595) Don't miss Cara Delevingne's cool tee, Kourtney Kardashian's trench coat and Jessica Alba's leather pants. [Photo: Splash News]
Burberry's New Skincare Line Promises To Make You Look Like A Flawless Model
Since they've already mastered trench coats and perfume, and made their luxury makeup debut, it only makes since that Burberry would get in on the skincare game. The British brand is good at everything else, so why not? According to InStyle, Burberry has plans to release a skincare line to compliment their successful makeup collection. For the skincare line, Burberry will collaborate with an unnamed "expert in the field" to ensure that users look and feel as flawless as the models in their makeup ads. But who will it be? Unfortunately, the brand is being really secretive and won't reveal any details relating to their new line. We don't even know when the launch date will be or what type of products it will include. Typical. Guess we'll just have to be on the look out all year, because this one is bound to sneak up on us. While you're waiting for Burberry's skincare line, check out these other beauty products: hair removal, Smashbox Full Exposure palette, and best summer nail polish colors [Photo: Splash News]
Burberry's New Sunglasses Are Inspired By Their Trench Coats–Except Way Cheaper
If you've got the coins to splurge on a Burberry trench...God bless you. If you're a person of more humble means that still loves the British label's famed outerwear, you might want to check out their latest line of sunglasses, inspired by their iconic coats. The shades have the same sort of details you'll find on the trenches: metal hardware mimicking the hook-and-eye closures, leather temple tips inspired by the trench's belt buckle, and, of course, Burberry's famous check print accenting the inner arms and nosepads . So, if you can't shill out a thousand dollars for one of their jackets, these shades are like a good consolation prize--prices start at $190, which, for designer sunglasses, ain't too shabby. You can shop the Trench Collection at Burberry, but if you're also willing to spend on an actual coat to match, click through the slideshow to check out some of our favorite trench styles. SHOP THE TRENCH COLLECTION NOW Don't forget to check out: J.Crew's sale one sale,  Cara Delevingne's cool graphic tees and what to do about nipple hair and other embarrassing beauty questions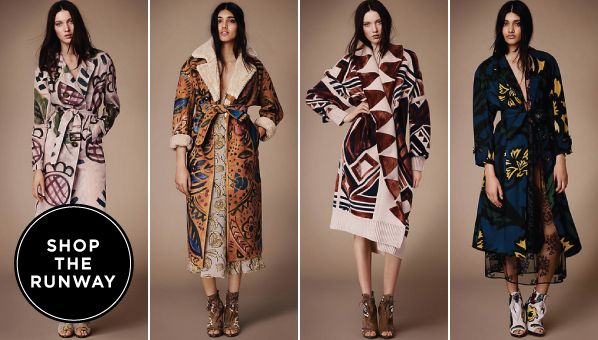 Shop Burberry's (Almost) Check-Free Fall 2014 Collection Straight Off The Runway
Back in December, we told you that Burberry might lose the rights to its signature check print. Why? Because the brand hasn't used it enough in the past three years. Whatever that means. Anyways, it doesn't look like the British fashion house is too concerned about giving up it's title as the king of all things red, black and tan check. Burberry's Fall 2014 collection just hit the runway earlier this morning and there was barley a check print in sight. Instead, Christopher Bailey showed coats, dresses and bags with hand-painted florals and geometric patterns. This collection will definitely go down in fashion history as one of Burberry's most different and refreshing collections--and you can be a part of it. The Fall 2014 designs are available to pre-order now. Get your hands on the first-of-its-kind Burberry collection before March 3rd. SHOP BURBERRY FALL 2014 NOW And don't forget to check out: customize your own Stuart Weitzman shoes, celebrity news from the weekend and get Taylor Swift's Rag & Bone boots
Is Burberry About To Lose The Rights To Their Signature Plaid Pattern?
We all know plaid is killing it this season. So we were so surprised when we got word that Burberry, the company who put this print on the map, might be losing their rights to their signature red, black and tan check. Chinese authorities ruled that other companies can lawfully use the Burberry pattern on leather goods, since the British brand hasn't used it enough in the past three years. What constitutes enough? We have no idea. But Burberry is currently appealing this ruling. The whole debacle has been going down since August 2012 when a division of the Lubida factory in China filled a complaint to the Trademark Office over the right to use Burberry's iconic print. No surprise here: Burberry had previously sued Lubida for creating knock-off bags. Sounds like a fashion lawsuit that will go down in history. No official decision has been made yet, so Burberry still has the sole right to use their check pattern. But what will happen if the Chinese court doesn't rule in the British brands favor and other companies start using the red, black and tan print?! What do you guys think? Can Burberry survive this major shake-up? Let us know in the comments below!  Click the slideshow to shop some Burberry plaid items, it could be your last chance to get the original print! And don't forget to check out: the best Cyber Monday sales, why you should buy beauty products online today and L.A.M.B. x Burton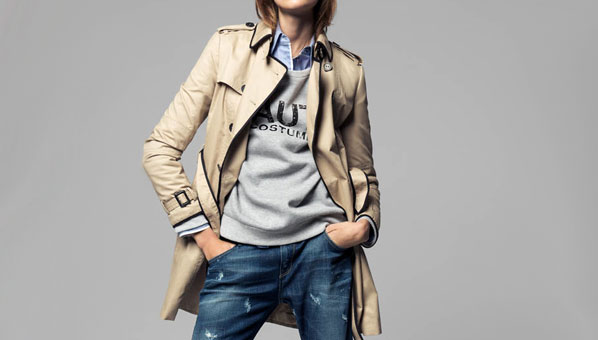 Classic Trenches For Fall: This Should Be Your No-Brainer Purchase Of The Season
When Apple taps the top executive of an iconic fashion brand, people take notice. Angela Ahrendts, CEO of Burberry and the woman who dusted off the old British brand and made it seem like new again, is an expert when it comes to making consumers happy -- and the trench coat proves it. When you think of "trench coat," you think Burberry, and that is thanks to Ahrendts herself. She made Burberry's trench coat the must-have piece from the line, but she also made trench coats in general a must-have piece in and of itself. From Katie Holmes to Beyonce, Rihanna to Miranda Kerr, there are probably very few household names, including those of your family members, who don't have a trench in their closet. If one of those names happens to be yours, then we've rounded up the best fall trench coats just for you! The best part? This is one buy you can wear year after year, because this is one practical and stylish trend that will never go away. [Photo: Mango]
Burberry Is Already Using The New iPhone 5S At London Fashion Week
It's only the first day of London Fashion Week, but the Brits are already outdoing New York City and offering much better digital access to backstage shenanigans and the runway shows themselves. Guess the race to be the first to do anything on the newest everything really never stops. The new iPhone 5s was just announced three days ago and isn't even available for pre-order yet. But that's not stopping tech-savvy Burberry from getting ahead of the rest of the world and using Apple's newest technology to bring fashion to the masses. With Apple's brand new iSight camera, which auto-stabilizes images and immediately corrects exposure even on real-time panorama shots, Burberry will begin to build up excitement leading up to the brand's spring/summer 2014 show on Monday, Sept 16. Fans and fashion-lovers can see photos and watch videos taken exclusively with the iPhone 5s uploaded on all of Burberry's social media channels and the Burberry site starting today. Watch the video below to get a glimpse of what you'll be seeing over the next few days from the Burberry and Apple fashion-brought-to-you-by-tech collaboration.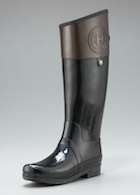 Can You Tell Which Equestrian-Style Rain Boots Cost $200 More?
The Hunter Two-Tone Riding Rain Boot on the left costs $195, $200 less than the Burberry Rubber Wellington Boots on the right ($395). Shop our guides to the best rain gear, stylish rain boots, and embellished Hunter rain boots.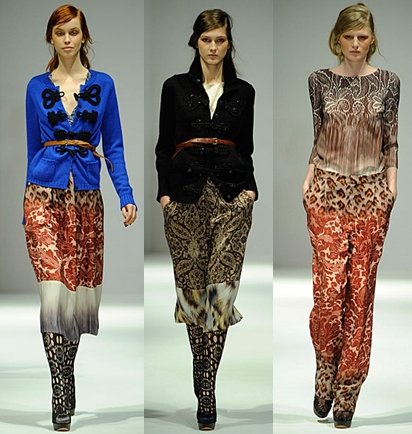 Use Your Sick Days Wisely: Watch The Last Day Of London's Fashion Week Today From Your Laptop
In case you couldn't get enough /#mce_temp_url# - who could? - London fashion week has already begun. With runway shows featuring Topshop, Burberry, and Kinder Aggugini, we are definitely getting our fashion fix this week. So be sure to check out today's schedule of livestreams and sit back, relax, and let London's Fashion Week come to you. (more…)
It's Raining At London Fashion Week; Stay Dry And Livestream Burberry Prorsum Now
London Fashion Week is off to a great start -- this weekend, Issa London showed some gorgeous princess-worthy dresses, and just now, Burberry took the stage. Celebs in attendance include Kate Bosworth and Rachel Bilson.  If you're trans-Atlantic ticket got lost in the mail, see what's happening across the pond from the comfort of your computer chair instead. Plus - for the first time ever - download music from the show on iTunes immediately, using the on demand feature. (more…)
Can You Find Which Khaki Trench Coat Costs $520 Less Than The Other?
Can you tell we're wishing for spring to hit so we can banish our winter coats? See if you can tell which is the better deal, below: Keep yourself guessing with all of our Taste Tests. Shop our guides to the best trench coats and the best jackets. Join our e-mail list for exclusive fashion updates.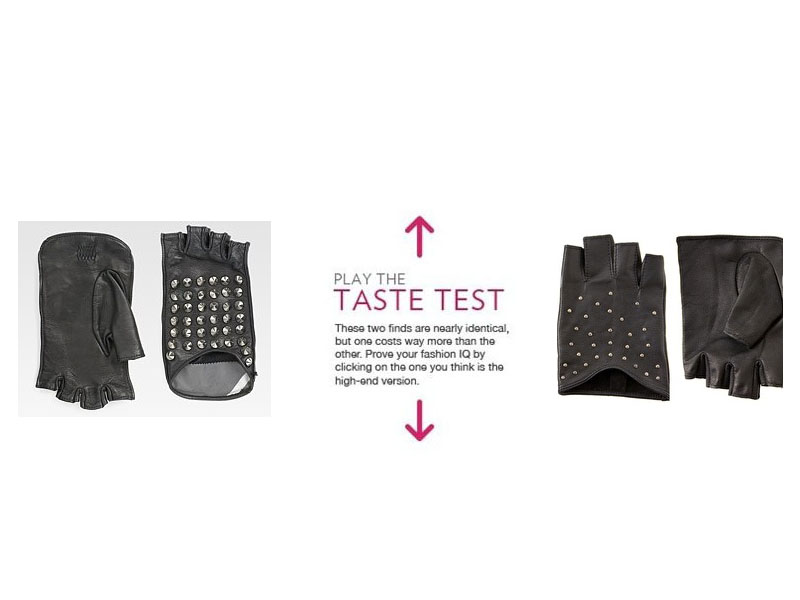 Can You Tell Which Studded Fingerless Gloves Cost $234.50 More Than The Others?
Find more designer lookalikes with all of our Taste Tests. Shop our guides to the best gloves and the best fingerless gloves. Join our e-mail list for exclusive updates.
Turtlenecks Are So 5th Grade: 5 Stylish Scarves To Get Instead
Since it's not getting any warmer, it's time to load up on the scarves - especially those on-sale for the holidays. Give them as gifts or, as we prefer, just wrap yourself up in them and (hopefully) fight the winter winds. Check out these 6 scarves you need right now: The Snood: When the scarf and hood got together earlier this season, we celebrated with a warm neck, ears, and face. Try a simple Topshop Jersey Snood ($28) or Diane Von Furstenberg's Alyssa Snood ($225) to ease yourself into this new trend. Cashmere: Cashmere scarves, like skinny jeans, will always and forever be a wardrobe necessity. Grab a simple one, like this J.Crew Cashmere Scarf ($69.50, down from $98), in any of the 5 neutral colors. Love Quotes Scarf: Keep up with the celebrity styles with this Love Quotes Fringe Scarf/Wrap ($88). This scarf has been on Lauren Conrad, Nicole Richie, and Kim Kardashian - now it's your turn. Pocket Scarves: Forget the cold hands this winter with a pocket scarf, like this one by Rag & Bone / JEAN ($115). The pockets hang down low to keep your hands extra warm even if you're not wearing a jacket. Burberry: The classic plaid and soft cashmere of both of these timeless scarves will never go out of style, just out of stock. We suggest getting this Icon Check Cashmere Scarf ($315) before it sells out yet again. See all of our favorite winter trends for yourself. Shop our guides to the best heavy scarves, the best cashmere sweaters, and the best winter gloves. Join our e-mail list for exclusive fashion updates.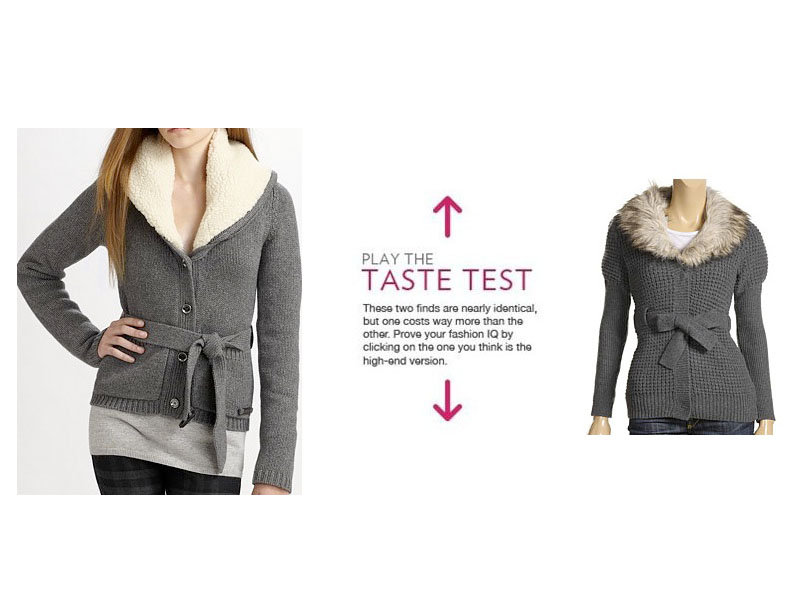 Can You Tell Which Faux Fur Trim Sweater Is Burberry And Which Is Juicy Couture?
Looking for no-fail holiday gifts? Check out our holiday Sold Out list 2010, and Part 1 of Oprah's Favorite Things for 2010. Then see all of our sales and deals, best find of the day posts, and online sample sales, too.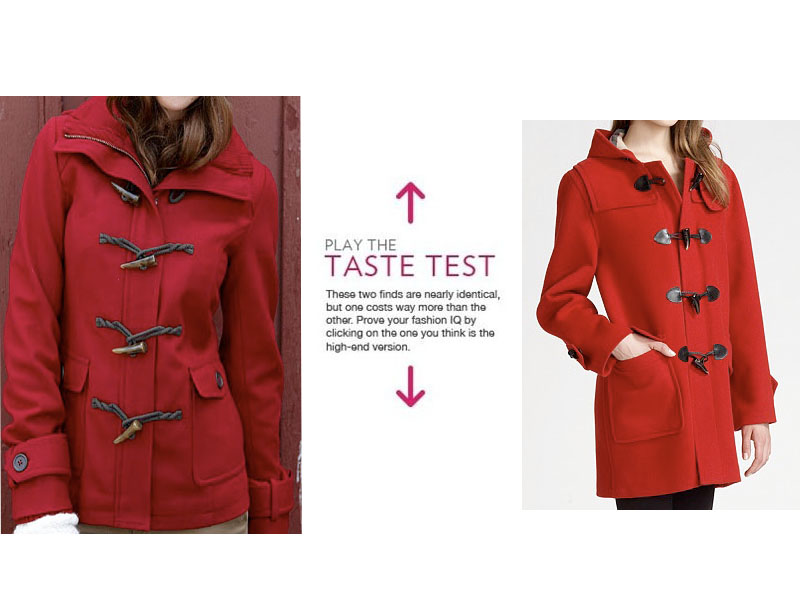 Can You Tell Which Red Toggle Coat Costs $700 More Than The Other?
Looking for no-fail holiday gifts? Check out our holiday Sold Out list 2010, and Part 1 of Oprah's Favorite Things for 2010. Then see all of our sales and deals, best find of the day posts, and online sample sales, too. Follow the author of this post on Twitter @bridefinds.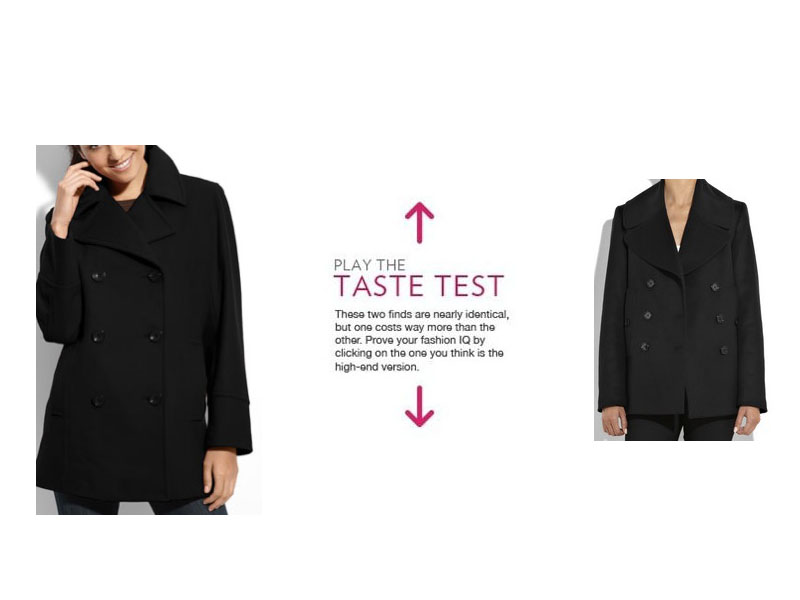 Can You Spot Which Black Peacoat Costs $500 More Than The Other?
Test your fashion IQ with more of our Taste Tests and for more, shop our guides to the best peacoats, trench coats and all the hottest coat trends.  Join our mailing list for exclusive fashion updates.
Can You Tell Which Belted Trench Coat Is DKNY And Which Is Burberry?
Check out all of our Taste Tests and shop our guides to all of the best trench coats, rain gear and the best fall fashion. Subscribe now for exclusive SHEFinds e-mails.
Breaking: Burberry Suing Body Glove Over Check Patterned Phone Cases
The debate over fakes is hitting a cell phone store near you. According to a lawsuit they filed on Friday, Burberry (who also sued an NYC boutique earlier this summer) is alleging that phone case maker Body Glove copied their notorious - and copyrighted - check design. The case in question (above) is so popular, it's sold out at AT&T stores (we found one for the iPhone on Amazon - buy at your own risk). If found guilty, Body Glove will have to stop production of their self-proclaimed "Burberry-like" cases, and cover Burberry's legal bills. But the case begs the question - does anybody think a Burberry lookalike case at a mall kiosk is the real deal? We certainly hope not. Stay up to date with all of our news posts, including other knock-off cases. Shop our guides to the best laptop cases the best and handbag organizers. Join our e-mail list for more exclusive updates.
Watch Fashion Week Shows Without An Invite Thanks To Live-Streaming
Fashion Week invite get lost in the mail? Fret not, as many of your favorite designers are streaming their Spring/Summer 2011 shows live from the runways this season. On Saturday, you won't want to miss Alexander Wang at 5pm via Style.com/Live and on Sunday at 1pm, tune into DKNY's show on the brand's Facebook page at Facebook.com/DKNY. Oh, and if you haven't bookmarked MarcJacobs.com already, do so now as the site will be live-streaming the Marc Jacobs show on Monday at 8pm and the Marc by Marc collection on Tuesday at 4pm. For a full list of live-streaming shows, check out the schedule at nymag.com's The Cut blog. Taking things a step further, Burberry has introduced its "Retail Theater." On September 21st, 25 Burberry boutiques worldwide will live-stream the brand's S/S 2011 show during an exclusive event where customers will be able to order items immediately on iPads provided in the stores. [caption id="attachment_90420" align="aligncenter" width="200" caption="Akris Resort 2011"][/caption] Neiman Marcus is also stepping its tech game up and will stream live video of the Akris Fall 2010 and Resort 2011 collections during today's annual Crystal Charity Ball luncheon and fashion show in Dallas, where viewers can immediately buy a select number of looks from the shows. Computers just got chicer. While it's always fun to see what next season has in store, find great picks to wear now in our guides to the best fall handbags, leather jackets, and must-have belts.
Week In Review: More Drama Over Fakes (This Time It's Burberry), Target Collabs On Gilt, More
Must-Reads: Burberry sued an upscale boutique for selling - gasp - fakes. You read it here first. We are loving Simon Doonan's non-hoochie Halloween costumes for Target. We went behind the scenes at the SINE offices. Maybe these bad decisions are to blame for American Apparel's bankruptcy. Shop Target collaborations on Gilt 30 days early. (If you missed today's Tucker sale, don't worry, we have options for you). Michelle Obama's Banana Republic top is still available - act fast if you want one. Taste Tests: Can you tell which oversize green sweater costs $185 more? Can you tell which gray skinny jeans are Vince? Or which printed ballet flats cost $50 less? Sale Alert: Marc by Marc Jacobs is 70% off at Saks. The perfect pair of jeggings we've ever tried is on-sale and from Paige Denim. Jonathan Aston tights are $5 - stock up. Celebrity Style: Molly Sims wants to give Britney Spears a much-needed makeover. We helped. We want what Lo Bosworth has. Guess which Gossip Girl shuts it down in street clothes. Beauty: Get the new fall lipsticks straight from the runway. Screw $300 face creams, Jennifer Aniston's secret weapon is $2. Check out our weather-proof, portable solutions. Guides to Check Out: We tracked down the best leather handbags, earrings, and vests.
Breaking: Burberry Sues NYC Boutique Variazioni For $2 Million Over Fakes
We broke the news 2 weeks ago about Cartier suing sample sale site Hautelook for selling fakes, and now Burberry is suing  Variazioni, the upscale New York City boutique for $2 million on the charge of selling fake versions of its clothing in its stores. According to official court documents SHEfinds obtained, the merchandise, including quilted jackets, raincoats, shirts, zip-up jackets and sports pants as well as labels, tags, and packaging were found to be "not authentic." However, this is not Variazioni's first time selling faux Burberry. In June 2009, Burberry purchased jackets and shirts from the store,  and Varizioni admitted to selling 86 knock-offs and signed an agreement to only sell authentic Burberry in its stores. Now have a $2 million case (and we'd imagine some pretty pissed customers) on their hands. Opt for the splurge and shop real Burberry from Saks or Net-a-Porter. Then check out our guides to the best trench coats and our guides to the best work pants. Sign up for  the SHEFinds newsletter to receive exclusive fashion news.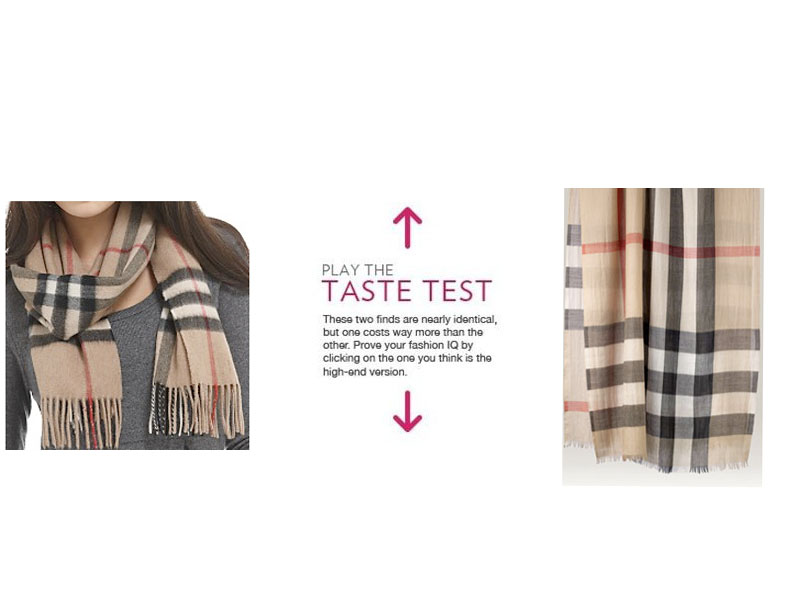 Can You Tell Which Burberry Cashmere Scarf Costs $540 More Than The Other?
Find more lookalikes with all of our Taste Tests. Shop our guides to the best winter scarves and the best cashmere. Subscribe to SHEfinds for fashion and style news in your e-mail.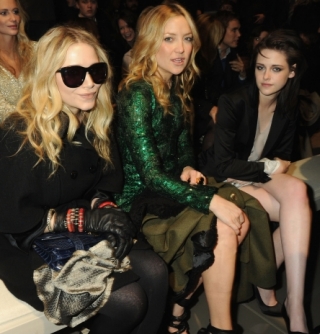 Burberry Makes Fashion History, But We're More Interested In The Front Row: 3 A-Lister Styles To Get Now
While yesterday's Burberry show made fashion history--livestreaming the show online (and in some major cities, in 3-D!) we were more interested in the sparkly shiny front row and it stars pulled off hard-to-wear trends. Kate Hudson, Kristen Stewart, Claire Danes, and Olivia Palermo showed that Burberry is more than just overpriced trenches--it's all about sparkles, nude colors, and platform sandals for spring. We're so there. Here are some affordable pieces that will help you look like you deserve a ticket to fashion week next season: Kate Hudson and Olivia Palermo both weren't afraid to shine in these sparkly stand-out pieces. They stuck with clean lines which made the sequin less overwhelming and look more polished than, well, disco. This Victoria's Secret Sequin Blazer ($159) has a the boyfriend shape that we love, and can be belted like Olivia Palermo's jacket. The navy blue sequins make the sweater look rich, not cheap, which is important when dressing with sequins. Kristen Stewart and Claire Danes wore delicate, feminine pieces in nude colors that would look good for any formal occasion. Claire's nude platform sandals will go with practically anything--and (we can't say it enough) make your legs look longer and slimmer. Stewart's silk knotted skirt might not work for all figures, but this gray James Perse rouched skirt ($125) is a simpler, more wearable alternative. And these Via Spiga Milicent sandals ($215) will do the trick. See what else Hollywood starlets are wearing in our celebrity style guide, or check out our round up of the best trench coats.