People Are Freaking Out Over This Naked Sweater From Calvin Klein & We Don't Really Get It Either
This Is How Calvin Klein Orders His Coffee So It's The Perfect Color Every Time
Tired of getting the wrong amount of milk in your morning brew? Uggh, we've been there. A smidge more or less milk than desired and the cup of Joe you've been dreaming of is effectively RUINED. Honestly, it's difficult to communicate your milk preferences to someone who isn't you. A 'splash' means something different to everyone. Buuuut, thanks to legendary fashion designer (and master coffee-orderer) Calvin Klein, we're beginning to think our days of disappointment are over... Rumor has it, Sir Calvin Klein leaves a Pantone swatch in his kitchen for his chef to reference of the exact color he prefers his coffee. Okay, you probs don't have a chef, but the concept behind this is BRILLIANT. Find your tone of choice, grab a swatch, keep it in your purse to whip out whenever the question of milk level arises! Find your swatch here! Don't forget to check out: Every 'Smart Girl' Needs To Know Kris Jenner's Shoe Hack and Hacks For Saving Every Last Drop Of Your Favorite Makeup [Photo: Shutterstock]
Kendall Jenner, Justin Bieber & More Celebs Strip Down In The Latest Calvin Klein Ads
Thank you, Calvin Klein, for your latest ads featuring a near-naked Justin Bieber. That's right, The Biebs along with Kendall Jenner, Fetty Wap, Kendrick Lamar, FKA Twigs and more celebrities appear in the fashion brand's latest campaign and reveal what they do in their Calvins. See their answers below: https://www.instagram.com/p/BBBY-0DRCz8/ https://www.instagram.com/p/BBBT7yYAvl3/ https://www.instagram.com/p/BBBRjsTDo1S/ https://www.instagram.com/p/BBDBAz4xC9Q/ https://www.instagram.com/p/BBBZBMsk18a/ https://www.instagram.com/p/BBBtuy_xC42/ https://www.instagram.com/p/BBBSGI8i-m3/ https://www.instagram.com/p/BBBlGvKxC5k/ Don't forget to check out: The best conditioner for dry hair and J.Crew socks are like mini blankets for your feet! [Photo: Instagram]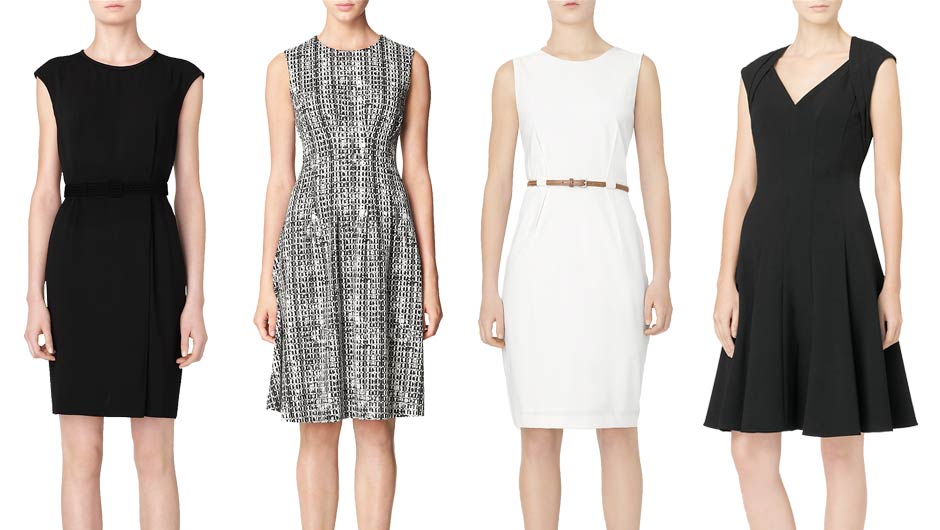 These Perfect-For-Work Calvin Klein Dresses Are An Extra 45% Off Today
It's spring and finally starting to feel like it (at least in some places), which means the time to wear work dresses is now. Luckily, sale items at Calvin Klein are an extra 45% off today. With dresses staring at just $39, that's a total savings of up to 70% off! And if CK is good at anything, it's cute, work apropos dresses. Get one. SHOP CALVIN KLEIN NOW [Photo: 2 Pocket Belted Sheath Dress, Abstract Print Sleeveless Fit + Flare Dress, Cream Belted Sleeveless Dress, Pleated Sleeveless Fit + Flare Dress]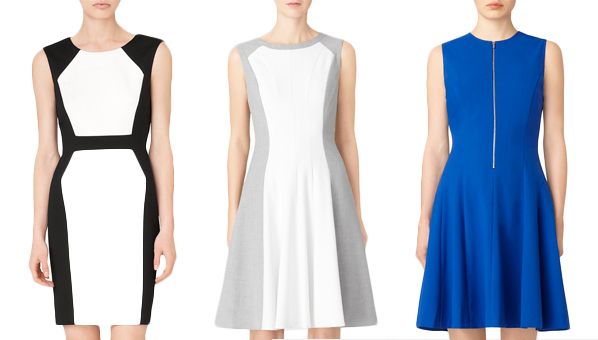 Calvin Klein Has Tons Of Cute Work Dresses On Sale For Just $30 Today
If it's getting harder and harder for you to get dressed every morning, you're not alone. We're at that point in the year when we're all desperate to start wearing new spring clothes, but it's really not warm enough to bust them out yet. Enter Calvin Klein's sale on sale, which honestly and truly could not have come at a better time. Right now all sale items are an additional 40% off with code EXTRA40 at checkout. Now before you get distracted by all the good deals, allow us to point you in the direction of the dresses. There are tons of perfect-for-work dresses on sale for $49 and $99, but they could be yours for just $30 or $60 with the coupon code. Whether you're an LBD kinda girl or want to embrace some color, you'll definitely find a few you can't resist. Go stock up now! SHOP THE CALVIN KLEIN SALE NOW! Be sure to check out spring's best trench coats, Reese Witherspoon's cool sneakers and pretty black and white skirts.
It's Friday And All Sale Items At Forever 21 Are An Extra 30% Off, Baby!
We couldn't think of a better way to start the weekend than with a little (or big) Forever 21 shopping spree. And that's just what we're about to do considering they recently added over 500 fall-appropriate items to their sale section and with the code TAKE30 you'll get an extra 30% off those already-reduced prices. I'm not quite sure what they're thinking over at F21 headquarters since this stuff is so cheap, but I know what I'm thinking. I'm about to go H.A.M. Click through the slideshow for five other sales that are going on right now, so you can save big time this weekend. And don't forget to check out: Theory friends & family sale, J.Brand jeans on sale and $1000 to Sam Edelman.
That's A Lot Of Look, Jessica Alba — Shop Her Leopard Print Jeans & More If You Dare
Jessica Alba has taken her obsession for brightly colored jeans to another level with her Current Elliott The Stiletto in Multi Airbrush Leopard ($248), which boast not one, but two crazy hues in mint and light pink against an equally unique print. The actress and founder of eco-friendly The Honest Company made her loud look even louder with a neon-clad LNA Aruba V Neck Tee ($62) and trendy mirrored STUNglasses Flare ($18) in a bold red wayfarer frame. We suppose Alba tried to pare down the look with a black blazer and a pair of Calvin Klein Women's Ashley Pump ($79.83, on sale from $98) heels, but with so much going on in her ensemble, we're not sure if that exactly worked. If you're fashionably daring enough to try this look, here's where you can shop it: LNA Aruba V Neck Tee ($62) Current Elliott The Stiletto in Multi Airbrush Leopard ($248) Calvin Klein Women's Ashley Pump ($79.83, on sale from $98) STUNglasses Flare ($18) Shop more celebrity style finds: Carrie Underwood's Kate Spade purse, Kate Middleton's Paige jeans, and Ashley Tisdale's comfy cool outfit.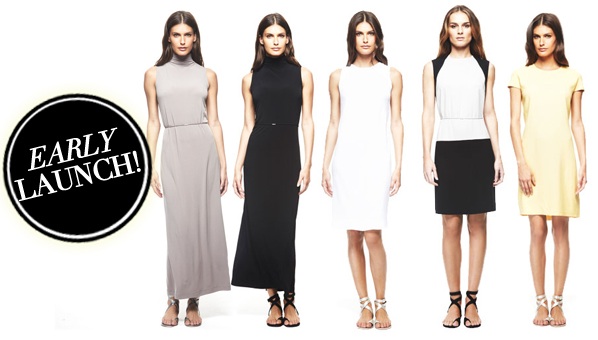 Early Bird: Francisco Costa For Calvin Klein At Macy's Launches Ahead Of Time
When we heard about Francisco Costa for Calvin Klein, the newest Macy's collaboration, we jumped at the chance to get you a sneak peek of the collection, and have been eagerly awaiting the launch since. Well, brace yourselves, because the much-anticipated collaboration is here--a full day early! SHOP IT BEFORE IT SELLS OUT While we always love to watch Francisco Costa's runway Calvin Klein Collection line for its minimalist lines and clean aesthetic, considering those high-end pieces start at $500 (and go into the triple digits), it's not exactly our go-to brand. So we have this Macy's collaboration to thank for bringing us all of these classic, structured pieces for under $200!  (In case you forgot, he designed Jennifer Lawrence's now-famous fire-engine red Calvin Klein gown that made headlines and helped put her on the fashion map during the Academy Awards. )He's on fire lately! Judging by past Macy's collaborations--alums include Giambattista Valli and Karl Lagerfeld--this collection will sell out fast. Don't delay! For more on Macy's collabs we're excited about, check out the upcoming Nicole Richie For Impulse At Macy's and Brazil Themed Exclusives at Macy's.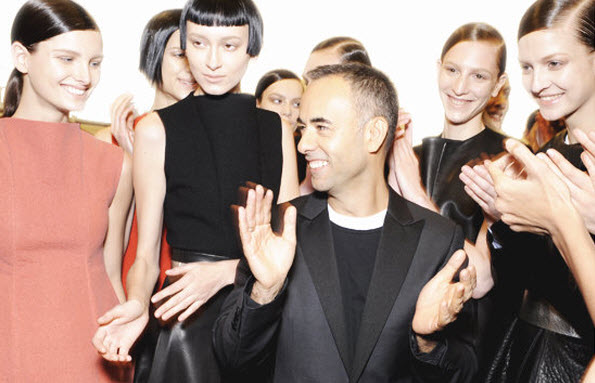 Get A Sneak Peek: Francisco Costa For Calvin Klein At Macy's
Remember when we told you Francisco Costa's making a diffusion line for Macy's last month? Well, that sure happened quickly. The collaboration, Francisco Costa For Calvin Klein-- hits stores on May 15th--that's less than a week--and we've got our hands on a preview of the goods before they go public. The capsule collab, which consists entirely of resort-wear dresses, will be a part of Macy's A Magical Journey To Brazil campaign, and Brazilian-born Costa stuck to a classic, sharp, and straightforward vacation-wear vibe for his goods. These gorgeous frocks, in limited fabrics--crepe and viscose jersey, as well as colors--grey, pale yellow, black, and white, stand out for their tailoring and their simplicity. Think Calvin Klein Collection from the runway without the price tag--dresses start at $135 and max out at $180. Start planning your next vacation in St.Barts...or St.Croix...or Monaco with Costa's collab (say that three times fast) and browse the entire collection in the slideshow above. Or, if you can't wait, shop SHEFinds' guide to wrap dresses, black dresses, and sheath dresses now.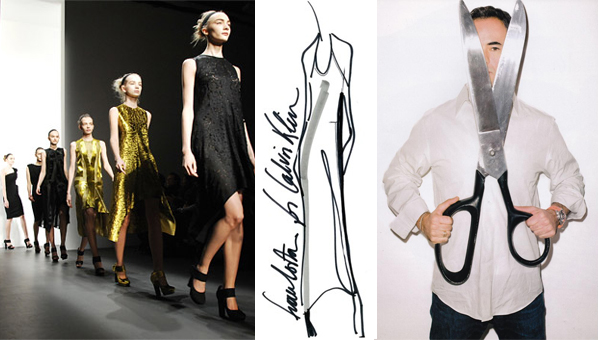 Collaboration Virgin Francisco Costa Tapped As The Next Macy's Impulse Designer
Calvin Klein head designer Francisco Costa, a collaboration virgin up until this point, has just been confirmed as the next Macy's Impulse designer (you may remember past collections from Doo.Ri and Karl Lagerfeld). Under the name Francisco Costa for Calvin Klein, the capsule collection will include dresses priced $135-$180 -- a first for Calvin Klein Collection. The line even has a theme! To go along with Macy's "Magical Journey to Brasil" promotion, the collection is inspired by Costa's home country of Brazil. Martine Reardon of Macy's told WWD that his inspiration, Really came from some of the architecture in Brazil and the sunset on the horizon there. So don't expect the bright colors and bold prints that Brazilian designers are known for -- but instead, the clean lines and neutral palette that is signature to Calvin Klein. For more collaboration news, check out Alberta Ferretti for Macy's, Brigitte Bardot for Maje, Prabal Gurung for Sally Hansen.
CK One Debuts Cosmetics (We're Having Major Middle School Flashbacks)
Calvin Klein's Ck One (of gender-neutral '90s fragrance fame) has announced plans to release a full line of cosmetics. (Where's Marky Mark?) The line will be made up of 130 pieces, including Gloss Eyecolor Pencils and Pure Color Lipsticks in the pigment-rich shades you see above. According to Thomas Burkhardt, vice president of marketing for Calvin Klein fragrances, the products are designed to "define"and "add intensity," rather than "transforming" the customer — the goal is to "embrace individualism" and "defy stereotypes." We're down with that. Prices start at $13 and the line will be released exclusively to Ulta in April. Shop our guides to the best eyeliners, eyeshadows, and mascaras.
Ends At Midnight! Everything Calvin Klein Is 40% Off, Plus Free Shipping
Calvin Klein, the king of minimalist fashion, is having a sale so big, I can barely contain myself. I have a knack for only really liking things that happen to be full price...but now you can browse Calvin Klein's site without having sticker shock: get 40% off ALL CLOTHING, plus free shipping over orders of $150. Have a great weekend! Check out ALL of this week's best sales and deals, best find of the day picks, and browse our guides to Spanx swimwear, Oprah's favorite jeans, CJ by Cookie Johnson jeans, and sunglasses.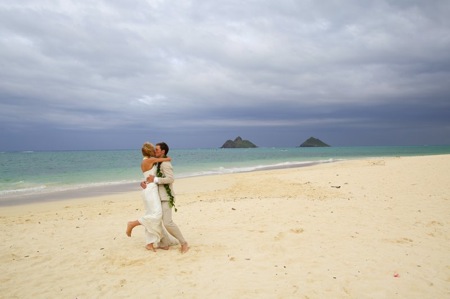 Under-$250 Destination Dresses: Go Ahead And Splash Around In Those Wedding Photos
Let's face it: if you're having a destination wedding the last thing you want to worry about is stuffing your suitcase with a poofy, fussy wedding gown, only to find it crinkled and ruined when you get there. Lucky for you, beach brides, there are plenty of under-$250, destination wedding dresses - and we found them. Now go play in the ocean, will you? (more…)
A Manhattan Wedding With A Bird's Eye View And Bird Theme — Get Inspired
Name: Erin Henk and Jason Allen Wedding date: October 11, 2009 Location: Manhattan Penthouse, New York City (more…)
Avoid A Wedding Day Meltdown: Shop Actually-Pretty, On-Sale Mother Of The Bride Dresses
So maybe you and mom don't have the same exact taste in fashion, but don't let her ruin your wedding day (and photos) with a grandma-like gown. We've found several fashionable mother-of-the-bride dresses on sale, that will accentuate your big day instead of making it tacky! (more…)
Only On BRIDEfinds: First Photos Of Shopbop's Wedding Boutique (!)
If you're engaged and already obsessed with Shopbop, the beloved site is about to become your wedding go-to in T minus 13 days. On March 15th, the Shopbop Wedding Boutique will open, and we have the first photos of the gowns and dresses from it - including stunners from Calvin Klein, Thread Social and Catherine Deane. (more…)
Found: 5 Things We Want From The Oscars (Natalie Portman's Earrings, Gwyneth Paltrow's Dress, More)
The Oscars are here, and we don't know if Natalie Portman will win the Best Actress yet, but we do know that we want the Tiffany purple tassel earrings she's wearings. And Gwyneth Paltrow's metallic Calvin Klein dress... and Mila Kunis' lavender Elie Saab gown, and Marisa Tomei's sapphire earrings. The list goes on, and here's what we loved -- and found -- from tonight's red carpet: Runner-ups for the evening: Amy Adams' navy L'Wren Scott, Jennifer Hudson's tangerine orange Versace gown, Anne Hathaway's vintage red Valentino and Scarlett Johanson's maroon lace Dolce and Gabanna gown. For more red carpet coverage, check out our Oscar Twitter stalking, then see our slideshow of the worst Oscar looks of all time, and catch more celebrity style like Anne Hathaway's Rachel Zoe-approved looks and get Gwyneth Paltrow's Grammy shoes.
Calvin Klein Just Started — Watch Now
Calvin Klein's fall 2011 show is about to start -- and if you're not Kerry Washington, Zoe Saldana, Kate Bosworth or one of the other celebrities in the front row, then you're probably more apt to watch it from your couch or desk. Calvin Klein just Tweeted this photo of Creative Director Francisco Costa previewing the looks. Can't wait! Luckily for you, Calvin Klein is having a 30% off President's Dale sale right now. Shop it to me: Check out more great shows from this week: Milly Michael Kors Derek Lam for eBay Sophie Theallet Herve Leger Vera Wang Betsey Johnson
Get Your Wedding Shoes For Half Off At Bloomingdale's After-Christmas Sale
If you need great shoes for your wedding, but don't want to shell out a fortune for them, take advantage of all these after-Christmas sales. Like the one at Bloomie's, where you can find the perfect shoes, jewelry and accessories for up to 50% off. Check out our picks: These expensive-looking Calvin Klein "Cara" Jeweled Peeptoe Pumps ($97.30, down from $139) are under-$100 today. Cash in. If you're looking for an off-white, silky pair, these Caparros "Precious" Asymmetrical High Heel Sandals ($34.50, down from $69) are perfect. If you're a sucker for designer labels, these Badgley Mischka "Xavier" Rosette Platform Sandals ($114, down from $190) are an amazing find today. Ditto for these Badgley Mischka "Xoa" Jeweled High Heel Sandals ($100, down from $200) which have a gorgeous jeweled buckle detail. For more great wedding shoe styles, check our guides to the best white wedding shoes, designer wedding shoes and inexpensive wedding shoes.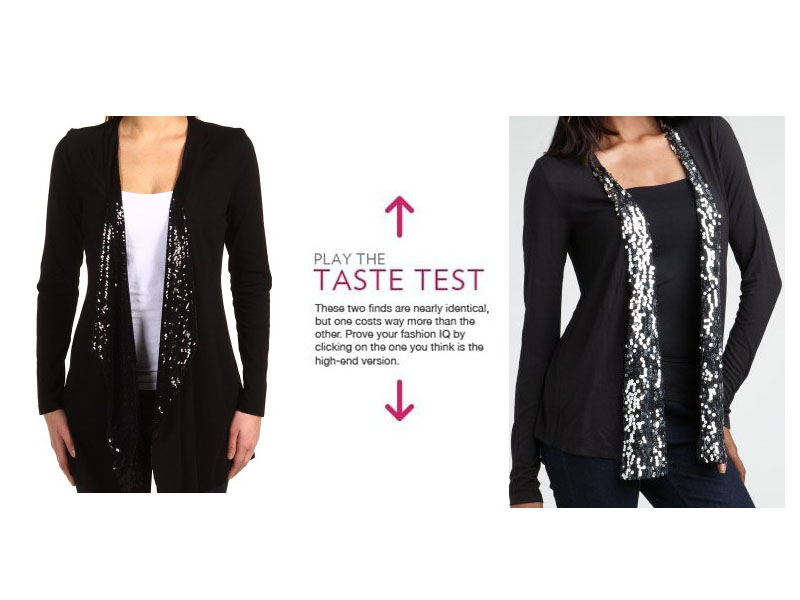 Can You Tell Which Draped Sequin Cardigan Is Calvin Klein And Which Is Charlotte Russe?
Test your fashion IQ with all of our Taste Tests. Shop our guides to the best sweaters and the best cardigans. Subscribe to our e-mail list for SHEFinds in your inbox.
Slimming Calvin Klein Coats Are 33% Off (It's All About The Belt, Baby)
If you're in the market for a cozy, slimming winter coat (who isn't?) look no further than these on-sale belted Calvin Klein ones. The wool coats are sleek enough for the office, but also stylish enough for a Friday night. A warm winter coat is one of life's essentials, so take advantage of Nordstrom's 30% sale: The hood on this Calvin Klein Hooded Wrap Jacket ($129.90, down from $198) makes it an extra warm one. And the 33% off price tag will warm your heart, too. This Calvin Klein Seamed Wrap Coat ($129.90, down from $198) is my editor's pick. If you're looking for a textured style, this Calvin Klein Wrap Topper ($129.90, down from $198) is 33% off and ready to join your wardrobe. You will love the drapey collar on this Calvin Klein Diagonal Twill Wrap Topper ($129.90, down from $198) it is so on-trend and chic. More sales and deals: 4 Gossip Girl Dresses For Under $100 70% Off Sam Edelman shoes 70% Off at Shopbop 80% Off Stila Makeup 30% Off Tory Burch 25% Off at J.Crew 40% Off at Bloomingdales 50% off Beauty at ULTA 20% Off at Couture Candy Looking for no-fail holiday gifts? Check out our holiday Sold Out list 2010, and Part 1 of Oprah's Favorite Things for 2010. Then see all of our sales and deals, best find of the day posts, and online sample sales, too. Follow the author of this post on Twitter @bridefinds.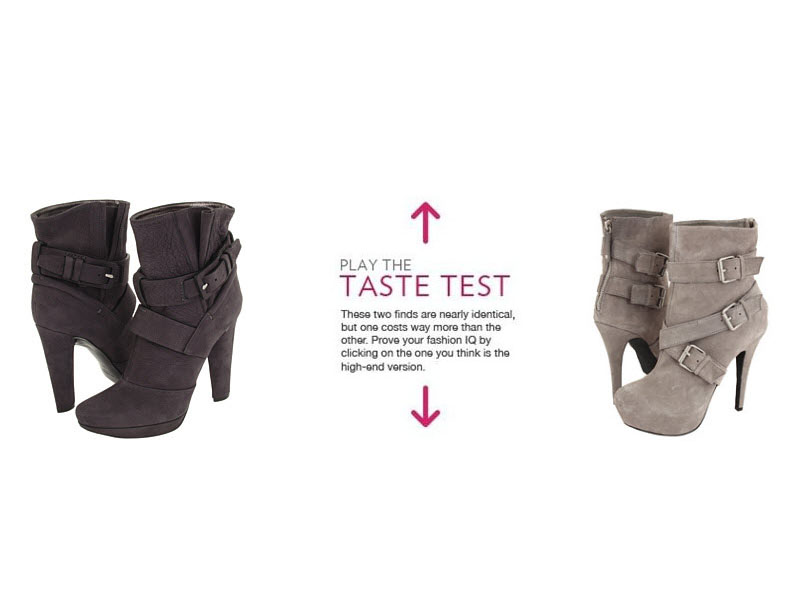 Can You Tell Which Suede Buckle Booties Are $565 More?
Test your fashion IQ with more of our Taste Tests, and don't forget to shop our guides for the best booties, clogs and cage booties.
Daily Links: Mad Men Nail Polish, Janet Jackson's Furry Campaign Issues, More
1. Janet Jackson changes her mind about being anti-fur with her newest campaign for Blackgama, the luxurious fur label. At least she looks good. [People Stylewatch] 2. The Mad Men fashion craze continues with nail polish. The show's designer, Janie Bryant, has teamed up with Nailtini to create 4 shades for fall inspired by the show. [Stylelist] 3. Calvin Klein will finally be launching a line of control top leggings and tights called UltraFit in the fall for only $14 a pair. Keep an eye out at Bloomingdales, Macy's, and Lord & Taylor. [The Frisky] 4. Two news reports (and very serious shoppers), Drew Ellis and Lisa Satayut, tied the knot in the shoe aisle of a Michigan T.J. Maxx while people still shopped. [The Michigan Sun] Stay up to date with our Daily Links of gossip. Shop our guides to the best leggings and the best slimming pants. Subscribe now for exclusive fashion updates and news.
Calvin Klein Hates Shorts, Says You Must Sweat For Fashion
At an outdoor event in the Hamptons this weekend Calvin Klein - donning dark slacks on the hot evening - proclaimed his strong dislike for the nighttime shorts look that stars like Gwyneth Paltrow have made so big this summer. "I think it's inappropriate," Klein said. "We're all sweating. That's what happens; you have to sweat sometimes." We couldn't disagree more. The shorts look is hot and there are many ways to show off those tanned, tones legs and still be classy enough for dress-up or nighttime events. The proof is in the pudding: Black silk tie-shorts like these BCBGMAXAZRIA Micro Sateen Shorts ($118) are as dressy as a skirt. Pair them with a crisp white tee and extra long gold chain for a cool going-out look. These majorly discounted Elizabeth and James Flared shorts ($73.50, down from $245) are super-flattering and still available in all sizes. You will want to live in these incredibly soft and comfortable Oonagh by Nanette Lepore Cotton Pleated shorts ($38.99, down from $98). Dress them up for a night out with a bright ruffled top and high peep toe pumps. Find the best shorts for your shape, plus must-have blazers right now, and then see our guide to celebrity denim,  celebrity style sunglasses, plus more celebrity style posts.
Zoe Saldana and More Show How to Keep It Simple Yet Sexy in Calvin Klein
Diane Kruger (the new face of CK beauty), Zoe Saldana (the new face of CK underwear) and AnnaLynne McCord wowed on the red carpet of Calvin Klein's runway show at Berlin Fashion Week in these understated, yet still incredibly sexy simple dresses by the designer. The solid colors and simple cuts make these dresses easy to try at home: If you love the color of AnnaLynne's dress - this Calvin Klein Satin Bustier dress ($168) is spot on. The flattering style is perfect for work, cocktails and more. A well-fitting white dress can go a long way - try this Calvin Klein Sleeveless dress ($79) and see for yourself. The white makes skin look tan, and the simple silhouette does wonders for your silhouette. If you prefer black, an understated LBD can't do no wrong; try this sexy Calvin Klein Sleeveless dress with pleats ($69.30, down from $99) which hugs in all the right places. Keep the shoes simple and neutral too, with these hot Calvin Klein Felecity Vachetta Platform sandals ($129). You will love the criss-cross straps and side buckle. A black patent peep toe is also a classic way to go; you will love these Calvin Klein Kinsey Pearlized Patent high heels ($99) for work and going out. Don't you love when a show works for both? What other classic staples do you need help with? Check out our guides to slimming pants, summer dresses, blazers and wedges.
Get Out Your Knee Highs: Calvin Klein Revives The White Clueless Mini Dress
As if! We're having flashbacks of '90s fashion in all its patent leather, mini backpack glory: Calvin Klein's creative director Francisco Costa has revived the classic white mini dress from Clueless, and we couldn't be happier. The scene when Alicia Silverstone's character Cher tries to pull off the band-aid sized dress is one of our favorites from the movie - and the reason Costa decided to create the limited edition version for Confederacy. Be a total Betty in this white Calvin Klein "Clueless" Limited Edition Dress ($915). Or go for red - like the dress from the movie's poster - with this Calvin Klein "Clueless" Limited Edition Dress ($915). Try the look at home for a lot less with this Ella Moss 'Cora' Crochet Overlay dress ($159). The white dress makes skin look more tan, and the crochet detail is cool. Or try a more modern version like this Splendid Vintage Whisper mini dress ($57.50, down from $115). The racerback and pocket tee are super flattering - and more 2000s. Check out all of our sales and deals, plus our deal of the day posts, best find of the day picks, and more: summer dresses, oxfords flat sandals, skirts, cheap swimwear and Spanx swimwear and the best sunglasses.
Daily Links: Meghan Fox Bares All For Armani, Calvin Klein's USB Stick Sunglasses, More
1. Meghan Fox leaves nothing to the imagination with her Fall/Winter 2010 Emporio Armani underwear campaign, a more spiced up look from her ad for Armani underwear last year. Now that Armani has Meghan Fox and Christiano Renaldo, any chance they'll model underwear together? [Stylelist] 2. Goodbye little black dresses, hello Diane Von Furstenberg colorful frocks. Her wild prints and patterns are all over the red carpet seen on Jessica Biel, Cameron Diaz, and Naomi Watts. Check out more celebrity style. [Radar Online] 3. Calvin Klein allows us to relive our Harriet the Spy days with their newest pair of sunglasses ($159.99) that turns into a portable USB memory stick. [StyleFrizz] 4. A new study shows women spend $300 more on their vacation wardrobe and treatments in preparation than the hotel and flight itself. Save money by traveling to Istanbul for 65% off. [Refinery 29] Don't be left out--read our daily links posts every day. Shop our buying guides to the best maxi dresses, the best sunglasses and the best summer hats. Subscribe to our newsletter for even more updates.
Weird, But Cool: Wrist Cuffs For Face Washing Time
What: On The Cuff ($8) Why: At least twice a day, I hunch over my bathroom sink and wash my face, trying to get more water in the sink than on the floor. Problem is, the water runs from my hands down my arms, to my elbows, then onto my feet (you get the picture). I find this annoying. But, I wipe my arms when I wipe my face and am done with it. However, someone found this just annoying enough to come up with something--essentially a sponge-like bracelet that stretches to fit over your wrist--that solves the problem. And it works. That is, if you want to add another step to your routine. However, if you take into account that you can wear them to wash dishes or your car, what's another step, right? Get Yours: onthecuff.net Check out our beauty guides for stay-put waterproof makeup, amazing self-tanners, and the best mascaras out there.
Taste Test: Which Boyfriend Jeans Will Cost You Big Bucks?
Test your fashion skills with our other Taste Tests. And check out our denim guides for more styles that fit every budget.
Latest From MomFinds
Deal of the Day: Up to 60% Off Maternity Dresses at Gap.com Here are a few heat-wave friendly dresses we found at GapMaternity.com on sale for up to 60% off. Forget the Pack n' Play. Go for a Window Crib! Carrie McLaren, guest blogger on Boing Boing, uncovered a funny little artifact of parenting days long gone: The Window Crib. Go Pretty and Green with Ec-Oooh-Chic Products Do you have to give up pretty, floral and feminine to go green?  Not at all with Ec-Ooh-Chic.
Solution: Say Pshaw To Shemergencies With A Little Kit That Packs A Punch
What: Shemergency Survival Kit, $20Why: Is there anything worse than that sinking feeling that comes along with an away-from-home fashion emergency? A snagged stocking, a broken nail, a revealing rip or post-garlic breath can be debilitating if you're out of your comfort zone and don't have a quick fix on hand. Luckily, Ms. & Mrs. offers up a veritable superheroine's stash of much-needed fashion fixes that combats just about any wardrobe malfunction or beauty blunder. Keep this portable pack stashed in the back of your desk drawer—you'll never again have to endure that "uh-oh" feeling that comes along with a personal care emergency, and, once word gets out, you'll become your office's go-to gal for minor maintenance issues.Get Yours: amazon.com Check out SheFinds' Guide to Office Drawer Essentials for more desk drawer must-haves.
Tina Fey + Mad Men = Sarah Palin
I'm going to do the appropriate thing here: leave politics and pregnancy behind, and talk about Sarah Palin's style. There have been negative things said about Palin's hair. Maybe she should cut it, maybe she shouldn't be wearing that butterfly clip. But really, couldn't it be so much worse? The color reminds me of Tina Fey's, and when Palin's bangs are thick and sideswept, she looks even more Fey-esque (always a positive adjective). The teased thing she does in the front sometimes reminds me of the ladies from Mad Men, and harstylist Mika Fowler of the chic Gavert Altier salon, is predicting a return of the beehive this season. The Times Online rightly points out that Palin's separately-colored separates are a big step in the right direction from Hillary's two-piece tangerine suit, and while this jacket isn't a complete style coup, it definitely beats a shapeless silhouette. Extra points for coordinating the belt and the camisole. I also really appreciate a visible light-colored collar outside a black suit jacket. And a black suit jacket in general (second reference to Hillary's orange disaster). Sure, she may not have style icon status and she's not inspiring Jackie O comparisons like Michelle, but there's some good [style] stuff there, in my opinion.It looks like a lot of people are of the same opinion, at least as far as the glasses go: there's been a run on the Kawasaki 704, her rimless librarian-chic specs. For a similar suit-separates style, try a smart jacket with a bit of detailing, like this one from Magaschoni Collection ($532) and classic black trousers ($158). To get Palin's blazer-and-silk-collar look, a classic black blazer ($198) works best. A silk blouse ($69) with a collar that's not too out-there lies nicely over the lapels, and won't create too much bulk under the jacket. See, you can be a controversy-creating Alaskan Republican too. Sarah Palin's shoes are also making headlines - actual headlines, like in the WSJ - even though a rep for the company told the WSJ they're geared towards 20somethings who go clubbing. If you want your own pair of Palin's Naughty Monkey peep-toe pumps, go to Endless and snatch one up before they sell out like her glasses. Is Palin breaking stylish ground, or should she have updated her look long ago?
Designs For Count Me In: Faite Designs
What: Believe In You Heavenly Clutch Why: She is a favorite and full of spice... a clutch with enough room for all the essentials! The "Believe in You" Heavenly is great for daytime and is versatile enough for a night out. Adorable with a touch of sophistication and fun, this handbag by Faite Designs adds just the right amount of style to any ensemble! Made from quality upholstery material, this bag makes quite a statement.About the Designers: Faite Designs was founded by Krista Golichowski and Sally Steadman in August of 2006. We are two friends turning a dream into reality. As lovers of fashion, design, and handbags, creating Faite Designs has been a very exciting adventure. Things have been happening quickly and though we are just in the beginning stages there is much more to come! Proceeds to be Donated: 15%Get Yours: $44.95 @ faitedesigns.comCount Me In promotes the growth of women owned businesses and is the leading national not for profit provider of online business loans, resources, and community for women entrepreneurs. Beginning in September and continuing through Jan 1st, SheFinds will feature original accessories by independent designers. A portion of each sale will go to Count Me In. With each purchase, you are contributing to the development of women in business.
Designs For Count Me In: Bath-a-holic
What: Lovely Lotion in Lavender & Vanilla Why: This body lotion has great moisturizing properties. It doesn't take much to be effective. It contains emolliants like Shea Butter, Grapeseed, Jojoba & Avocado Oils along with a mulitvitamin for the skin with Vitamins A, C, D & E. Silk Proteins are also included to provide an extra kick to the skin. It is Paraben and SLS free. The Lavender & Vanilla is a calming and yummy aroma that soothes the soul. About the Designer: Bath-a-holic is committed to providing high quality products for those who wish to have as few additives as possible and who love to pamper themselves and those around them. Our products cater to those with sensitive skin and a commitment to ecologically friendly products. Proceeds to be Donated: 15%Get Yours: $16 @ bath-a-holic.com Count Me In promotes the growth of women owned businesses and is the leading national not for profit provider of online business loans, resources, and community for women entrepreneurs. Beginning in September and continuing through Jan 1st, SheFinds will feature original accessories by independent designers. A portion of each sale will go to Count Me In. With each purchase, you are contributing to the development of women in business.
She Finds Was There: 1407 Broadway Party With Lydia Hearst…
...and it was swanky, swanky, swanky. Fashion week is only as good as its after parties, and last night's shindig, which celebrated the 58th anniversary of iconic Fashion District building 1407 Broadway (yes, in Manhattan, buildings have birthdays, too) was quite the scene. America's Next Top Model winners Jaslene Gonzales and Caridee English were guests, though honestly I couldn't distinguish them from among the crowd of other incredibly good-looking, well-heeled folks. Someone I did spot: Tommy Hilfiger, who arrived late in the game, flanked by large men in dark suits. Anyway, as you can imagine, I was snapping shots left and right. Here, some of my favorite outifts from the night.How great is this burnt orange, vintage Pierre Cardin coat? Obviously you can't find it around these days, so try wearing this bright (slightly less-bright, but bright nonetheless) Cole Haan ($389.99) over a dark or neutral-toned fitted dress. The way this woman so naturally strolled over to the photo wall and struck a pose, I'm going to have to assume she's a model for the designer Zahra Saeed (also present last night), whose clothes she was sporting from head to toe. Saeed's collection comes out in February, but until then you can get a similar look with a light-colored super high-waisted pencil skirt like this one from Roberto Cavalli ($1,275).I noticed these chunky gladiator sandals from far away and even abandoned my gin and tonic to catch their owner as she walked away. Believe it or not, they're from Forever 21--and they're not available online anymore. Linea Paolo makes a similar version - on sale for $65 at Nordstrom.
Fashion Week Diaries: Abaete Offers Corsets, Bike Shorts, And Nigel Barker
As a writer who has been to Fashion Week twice for SheFinds, I must report that we are moving up in the world (except maybe at Tracy Reese). From a polite double-checking of my invitation to a very civil and smooth entry to the show, this is the way these things are supposed to go! Even though most of us were on our feet for over an hour, everyone was civil and I would dare say in a good mood.The presentation was textbook: glossy white runway, stomping glamazon models, pumping soundtrack, and Nigel Barker in the front row (either he's cloned or he really does go to almost every show). Abaete's was an ambitious collection, showing a mixture of hand-stitching corseting as a graphic underwear-as-outerwear presentation and an early 90's homage to bike shorts - yes, you read that correctly. There were some very pretty dresses in the mix, however, and the two most wearable pieces in my opinion are shown above.A lot of the editors at the show were mixing very pretty white dresses with very aggressive black booties, like this Boulee Keira Ruffle Sleeved Dress in White ($415) and these Steve Madden Grinnd Black Studded Ankle Booties ($199). It's back to the tents with me tonight as I might get a chance to cover backstage. Wish me (and my aching feet) luck and stay tuned for more Fashion Week coverage.
Fashion Week Diaries: Gottex Shows Caped Swimwear, Audience Gets Rowdy
Before the lights went down for the Gottex swimsuit show last night, the tent was a mess. It was chaotic, crowded, and, eventually, downright vicious. Somehow, the seating just didn't seem to work out as people expected. Front row folks found themselves forced into second or third, late-arriving celebrity types found a full front row, and lowly fashion blog writers found themselves...standing in the back.And it was a long show too, ranging from bikinis to one-pieces to bikinis with ruffles to bodysuits with capes. A lot of time for this girl to be perched atop the new four-inch heels she bought to blend in with the crowd.The suits were haute couture, often metallic, always architectural in form. The preponderance of black and white again proved what I noticed in the audience at the Terexov show the other day, which is that two-tone is still a strong trend. But my favorite outfits from the crowd last night weren't structural black-and-white dress versions of the swimsuits onstage, but rather bold, colorful, sometimes even frilly dresses. I counted at least five people sporting these solid, textured, eye-catching dresses, all in bright colors - yellow, green, orange, and bronze. Susan Monaco makes a nice collection of similar dresses ($165): For the more ambitious - and affluent - among you, so does Valentino ($3,490): And the braided neckline on this Tory Burch dress ($495) is a nice take on the ruffled collar. And I just love this color! Even the night's most lovable front row attendee, Dr. Ruth, was feeling the colorful vibe in this vibrant turquoise shirt:
News Updates: Zoe Is Back, TopShop Comes To US (Virtually, First), And More…
Rachel Zoe is back in the spotlight in her reality show which premieres tonight on Bravo. Zoe is famous for creating mini style clones of herself out of Nicole Richie, Mischa Barton, and Lindsay Lohan. Looks like LiLo has moved on since then and is now scoping designers on her own. [NYDailyNews]Topshop's online premiere of its Fall/Winter 08 collection today coincides with the launch of its US dollar website. American frugalistas are also highly anticipating the opening of the first American store next month. [PRNewswire]Sheryl Crow has teamed up with Whole Foods to create a reusable shopping bag out of plastic bottles. The bag debuts in stores October 15th. In the meantime, how about toting your groceries in a Skeeda bag? [ShoppingBlog] Victoria Beckham shows her new dress line this week in private sittings with top editors and fashion insiders instead of through a show. Let's hope the frocks are more successful than her denim line. [WWD]
Deal Of The Day: Up To 30% Off Patent Peep-Toes At Piperlime
You can wear these tough-looking shoes in dark neutrals all the way into winter – tights are definitely fair game when it's too cold for bare toes.A more covered-up sandal like the not-quite-aptly named Fairy ($70, were $98) from BCBGirls will look just right with transitional summer-to-fall clothes. Even though the heel on these mary-janes ($80, were $110) is quite high, the buckles and simple shape make it appropriate for work.Sort of like the now-ubiquitous peep-toe bootie but not quite, these Kenneth Cole Reaction slingbacks ($60, were $89) will offer more support than most sandals. More sales and deals to check out:KORS by Michael Kors footwear is now under $90 at 6pm. Score new shades at 30% off at the Armani Exchange sunglasses sale. Save $20 on orders of $75 or more when you pay with PayPal at SmartBargains.
Fashion Week Diaries: A Caravan Of Tide Promotion
Mercedes-Benz pretty much stays out of everyone's accidentally-on-purpose-mussed-up hair in the tents – you won't see models at DVF walking with steering wheels (but can't you kind of see Saturn putting that in the next PR finalists' contracts?). Not always the case with corporate sponsors outside the Bryant Park bubble. Personally, I thought the shamelessness of all the Tide promotion at the Style360 Fashion Show Caravan (sponsored by Tide Total Care) was delightfully amusing:Exhibit A: Attractive woman handing out single-use packages of Tide at the door.Exhibit B: Some charmingly un-fashion-y Italian Tide VP making a little speech before the show.Exhibit C: When the music pumped up, the first lyrics we heard were "Get your clothes nice and clean, put your clothes in my washing machine…We're gonna wash, rinse, spin!" No seriously, I frantically wrote them down so they'd be exactly right.Exhibit D: The clothes! Each designer had at least one "Tide Total Care inspired outfit." Suffice it to say that the right color palette for a bottle of detergent isn't always the right color palette for ready-to-wear. On the left is a blue jersey sun suit (not a bathing suit, a sun suit) under a tangerine cellophane anorak. At right, a Ronen Chen ball gown that's about three steps removed from an actual Costco-sized Tide bottle.More subtly lovely were spectators' retro-inspired pumps. Conical heels and slightly rounded toes make these more bearable than pointy-toed stilettos, and, apparently, you can get them for cheap. One fresh-faced attendee was wearing a black version from Charlotte Russe ($23). It's currently available in five colors that are not black. My tan stacked-heel pair is from H&M, but since H&M still refuses to build e-commerce capability, check out Seychelles' similarly retro-inspired pumps ($90) at Nordstrom.
Fashion Week Diaries: Expose And Walter
There was no way I was getting into Marc Jacobs. So when I got the chance to go to Expose—a suite that showcased new talent—I jumped. Yeah, I wanted to get the lowdown on the up-and-comers so I could dish the dirt and we could all score pieces before prices go through the roof. But let's be honest, I also signed up hoping that newcomers would play fast and loose with the giveaways, trying to endear themselves to editors. The big white room looked like the fashion version of a college fair: each designer sat at a little table flanked by racks of clothes or a tower of accessories. Neither Anna Wintour nor her minions were anywhere in sight. The "Editor with the Highest Profile" award (at least while I was there) went to Dana Avidan, In Style's Market Editor, with an editorial assistant from Seventeen and an editor from Accessories, a trade mag, at a safe distance. While many of the designers have already been featured by major mags (Vogue, Harper's, etc), part of the "emerging" thing means that most don't have stuff available on the web. (Prices, on the other hand, have already... er, emerged.)Still, here's one designer I have my eye on:Australian designer Yeojin Bae loves dresses, and creates dresses I love. Floaty tiered dresses, beaded details, '20s inspired pieces... her new collection is gorgeous, and totally wearable. You can buy a few older styles here. Next on my weekend agenda was the Walter show with SheFindsKristin. Now going to your first fashion show is sort of like going to your first day of high school. You know that people do it all the time--regular people--and yet you feel nervous and fumbly and kind of cool, all at once.When we showed up at the Metropolitan Pavilion, my intent was to make a bee-line for the two front rows (the ones with the goodie bags on them) until I realized that all seats are numbered - and that I must get a number. I was not in the first two rows. My swag was two cookies and a single-wash packet of Tide laundry detergent. When the seats filled, it was obvious that the higher-ups had bequeathed their invites to grateful editorial assistants and assistant editors, who all wafted in wearing short, flowy silk dresses and open-toed shoes. Show highlights included the rock-star floral prints , which are sure to show up everywhere come spring.
Designs For Count Me In: Karen's Kitsch
What: Believe In You Bracelet Why: This bracelet is made from sterling silver, with 7mm, smoky, peacock pearls and faceted peridot beads with a sterling silver "believe" charm.About the Designer: I am a hard working, jewelry designing Momtrepreneur and when I saw Count Me In's motto "believe in you" and their colors, I just saw this bracelet in my mind's eye. I love that flash of inspiration that comes when something is just right.Proceeds to be Donated: 20% Get Yours: $80 @ karenskitsch.comCount Me In promotes the growth of women owned businesses and is the leading national not for profit provider of online business loans, resources, and community for women entrepreneurs. Beginning in September and continuing through Jan 1st, SheFinds will feature original accessories by independent designers. A portion of each sale will go to Count Me In. With each purchase, you are contributing to the development of women in business.
Fashion Week Diaries: Demoted At Tracy Reese
I knew yesterday's Tracy Reese show would be madness, but Ms. Reese and her people have always been good to SheFinds, providing us with seats and goodie bags at the past few shows. Unfortunately, this time, I was abruptly directed to the standing room line. Tracy, what happened? But that's ok, because while in line for 40 minutes, I was able to check out what my fellow standing fashionistas were wearing. And the one big trend at Tracy Reese -- belts. From sweaters to dresses to jackets, ladies were belting anything they could get their hands on. Once inside I could peer out from my third tier standing position at the front row and catch glimpses of Fern Mallis, who looked underwhelmed, Miss J Alexander, who left his afro at home, and Brandy who -- as NYMag pointed out-- was quite giddy (maybe tipsy?) throughout the show. My favorite front row outfit was worn by this one unidentifited woman, who left before I could snap a photo: an oversized white bow tie blouse and crisp black blazer. It was more brilliant than the clothes walking down the runway.
News Updates: Fur's Not So Popular This Week, Pooch's Wedding Dress Gets Pricey, And More…
Fur was under attack this weekend at NY Fashion Week when PETA managed to get three protesters onstage at the DKNY show before they were escorted off the premises. At least Donna Karan's new line has not a fur in sight. [NYMag]Designer outfits for dogs were showcased at Pet Fashion Week, which started on August 22nd and included such elaborate ensembles as a $10,000 doggie wedding gown. We'll let you know what to wear to the nuptials if you're invited. [WSJ]Calvin Klein hosted a $3 million party last night on abandoned train tracks. We're thinking guests went to Calvin's new ecommerce site for their party outfits. [NYDailyNews]At an event yesterday, Eva Longoria Parker and Niles Barker revealed their favorite flavors of M&M's candy. We were there to hear the incredibly important announcement, so check back with the blog later for our review. [Racked]
Designs For Count Me In: Azante Jewelry
What: Sterling Believe Necklace Why: This simple, yet meaningful necklace is created with facetted jade gemstone, a gray freshwater pearl and sterling silver "Believe" charm. This elegant Charm Ring is suspended from your choice of a 16", 18" or 24" sterling silver snake chain. About the Designer: Cheri Larson, the jewelry artist that founded Azante Jewelry, created the Believe necklace as a reminder to all women to believe in yourself and follow your dreams. "As a 2007 finalist in the Make Mine a Million $ Business contest, I witnessed the strength of this organization in empowering women entrepreneurs. I'm honored to have the opportunity to help create awareness for Count Me In." - Cheri Larson Proceeds to be Donated: 25% Get Yours: $39 @ AzanteJewelry.comCount Me In promotes the growth of women owned businesses and is the leading national not for profit provider of online business loans, resources, and community for women entrepreneurs. Beginning in September and continuing through Jan 1st, SheFinds will feature original accessories by independent designers. A portion of each sale will go to Count Me In. With each purchase, you are contributing to the development of women in business.
Designs For Count Me In: Cortese Designs
What: Angel Trumpets and Earthtones Orchid Reflections Laptop Bags Why: These Cortese Business/Laptop Bags have been custom designed to feature the official Count Me In colors and logo. Both the "Angel Trumpets" & "Orchid Reflections" artworks were created from Debra's original photos. She selected these particular images, which not only naturally exhibit the selected Count Me In fashionable earthtones of spring greens, warm browns, and yellows, but also energetically now share the vitality and vision of economic independence for women... the theme of the Count Me In program. About the Designer: Debra Cortese has created two custom images in her trademark "Nature's Energy" style on Laptop Bags for Count Me In. Cortese Count Me In, easy care microfiber Laptop Bags are ideal for carrying your laptop, papers and personal items. Carry one of these unique Count Me In Laptop Bags and Share the Positive Energy of Success!Proceeds to be Donated: 10% Get Yours: $129.95 @ debracortese.com Count Me In promotes the growth of women owned businesses and is the leading national not for profit provider of online business loans, resources, and community for women entrepreneurs. Beginning in September and continuing through Jan 1st, SheFinds will feature original accessories by independent designers. A portion of each sale will go to Count Me In. With each purchase, you are contributing to the development of women in business.
A Find: Luxe Towels for Youthful Skin
What: Kumi Kookoon's silk towels and silk slippers Why: We live in the spa age: Pampering is no longer a special-occasion luxury but a necessity we've come to expect—and need. With those crazy work hours, family responsibilities, and, of course, that fabulous social life, if we had it our way we would hit that spa (at least) every week. But, alas, we can't—well, most of us can't, anyway. Solution? Bring some of that luscious spa feel to your home. How about these magical towels by Kumi Kookoon that help prevent skin from aging? (No, it's not a hoax.) After using these, it'll be pretty hard to go back to those cottons from Bed Bath & Beyond. Not only are the towels made from 100 percent hypoallergenic silk but they also contain 18 amino acids with nutrients to help your skin stay young. And don't worry; they're machine-washable (in fact, they get softer as you wash them) as well as mildew-resistant. Drying yourself off never felt so good. To top it off, slip right into Kookoon's quilted mulberry silk slippers (extra-padded heel and all), which come in 12 colors and in a chic traveling bag. Price: Wash towel, $25; hand towel, $45; bath towel, $135. Slippers, $44. Find it: KumiKookoon.com has a whole collection of lush silk bedding, loungewear, baby bedding, and accessories.
SheFinds Solution: "Gone But Not Forgotten"
While I was standing at a local Clinique counter a few weeks back, another shopper announced, "They discontinued my foundation!" She was looking for a substitute, as I was. The company has retired my beloved Crystal Mauve Different Lipstick. If you too have had this experience, Clinique's "Gone But Not Forgotten" Service was created for you. I spoke with a very nice customer service rep who took all my information and promised to get back in touch in 4 to 6 weeks. Sure enough, five weeks later I've received an email saying Clinique has located one lone tube of Crystal Mauve. To locate your favorite discontinued Clinique product, call 866-707-2100 between 9 am and 5pm EST Monday through Thursday, or until 4pm on Friday. They 'll take your credit card number right then or wait until your item has been located. Find "Gone but not Forgotten" at clinique.com. "Gone But Not Forgotten" locates discontinued Clinique products
Deal Alert: Ship Your Shoes for Free
Enjoy FREE Standard Shipping on your entire online order when you purchase a regularly priced pair of shoes—from any brand! Can't decide, check out our finds for the perfect spring shoe... MICHAEL Michael Kors ´South Side Sling´ Sandal (97.95) This sexy semi-sandal has the requisite platform and it comes in black, chamois (tan), and spring white. For the perfect marriage of safari chic and metallic accents, get the Cindy Says ´Faith´ Wedge. (89.95) Work or play in a pair of Seychelles pumps. (64.95)