Can You Spot Kate Middleton's Baby Bump In The Royal Family Christmas Card?
Kate Middleton Just Showed Off Her Baby Bump For The First Time & She's Further Along Than We Thought!
Kate Middleton Just Revealed The Sex Of Her Baby And We're Freaking Out!!
Why This Pregnancy May Be Kate Middleton's Toughest One Yet
Kate Middleton's Due Date Was Just Released Accidentally By Prince William!
Kate Middleton Announced Her Pregnancy Weeks Ago, And No One Noticed
Breaking News: Kate Middleton Is OFFICIALLY Pregnant!
Here's How To Make A Kate Middleton Halloween Costume This Year
Duchess Kate Middleton has worn some iconic outfits in 2017, and they have included many neutral pumps and floral dresses that seem to fit just right. How does she do it, and how could you possibly not love her style? Most of all, how could you not want to copy it? It's actually pretty easy to recreate some of Kate's best looks. While you can pick up some of her styling tips for your everyday style, you can really go all out for Halloween this year. A few staple pieces can give you the most amazing Kate Middleton Halloween costume that everyone, especially you, will love. Let's talk dresses to get started. Kate typically keeps her look simple with flattering dresses that range from solid colors to fun floral prints. One of Kate's best looks is actually from her engagement announcement, which of course captured a huge media frenzy, so you'll probably immediately recognize this outfit. Plus, recreating her style from that day will make it easier for everyone else to figure out who you are on Halloween night, too. Back then, Kate Middleton's engagement dress came in at $535, but we have a much cheaper alternative. Pick up this ASOS navy blue dress for less than $50 so you can instantly become your own version of Kate by Oct. 31. The best part about purchasing a dress for your Halloween costume is that you don't have to worry about pairing a top and bottoms together. Just pull a dress over your head and you'll be ready to go. ASOS Slinky Knot Back Kimono Dress ($44.50) You can pair your dress with black high heels, which also help to give you some extra height. If you'll be on your feet all night, or don't necessarily want to be taller, you can opt for black flats like these Steve Madden ones from DSW instead. To be honest, any neutral shoe could work, but you can purchase these Aldo pumps to really get the Kate Middleton look. Stessy Black Women's Pumps ($90) A fun accessory to add to your royal Halloween costume is nothing other than a Great Britain flag. I mean, you can't go wrong with ordering this $6 mini flag to top off your outfit. And, it's small enough to put in your purse if you don't feel like carrying it around all night after arriving to that costume party. 4x6 Inch Mini Stick Hand Held UK Great Britain Flag ($5.19)  How else could you give off duchess vibes on Halloween? A big (faux) diamond ring of course! While Kate Middleton's engagement ring is royal blue, you can pull off the same idea with this Party City ring for less than $3. If you're willing to spend some extra money and truly channel Kate's look then you can buy this sapphire ring from Amazon for less than $20. Faux Diamond Ring ($2.99) Check out our other DIY costume ideas for more trendy 2017 costumes. You'll find everything you need to make a Salt Bae Halloween costume or a unicorn-themed Halloween costume. [Photo: Splash]
The Princess Is Officially More Stylish Than Kate Middleton
What Is Pippa Middleton Wearing? She's Practically Naked!
Kate Middleton And Michelle Obama Both Swear By This Skincare Product, And You Should, Too
Kate Middleton Might Be Pregnant & We're Freaking Out!
You Have To See The New Summer Haircut Kate Middleton Debuted At Wimbledon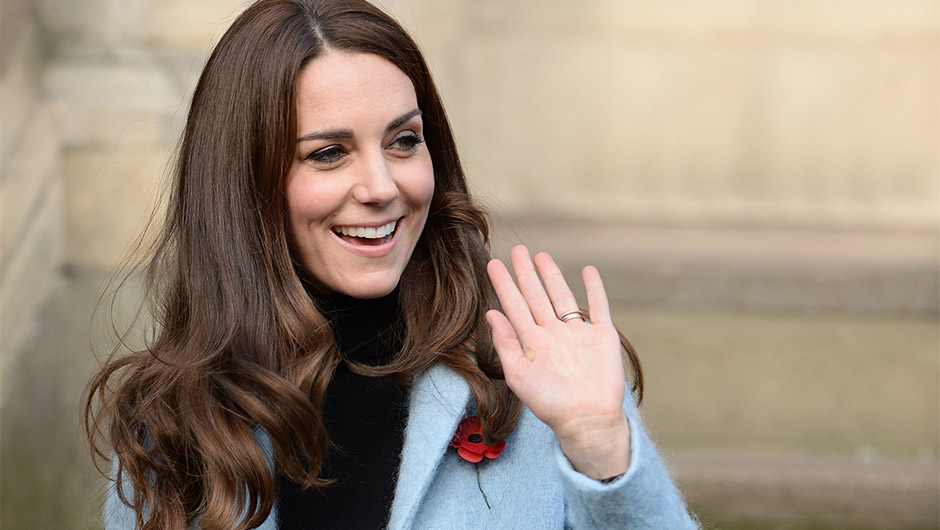 Kate Middleton Reveals The First Thing She Eats Every Morning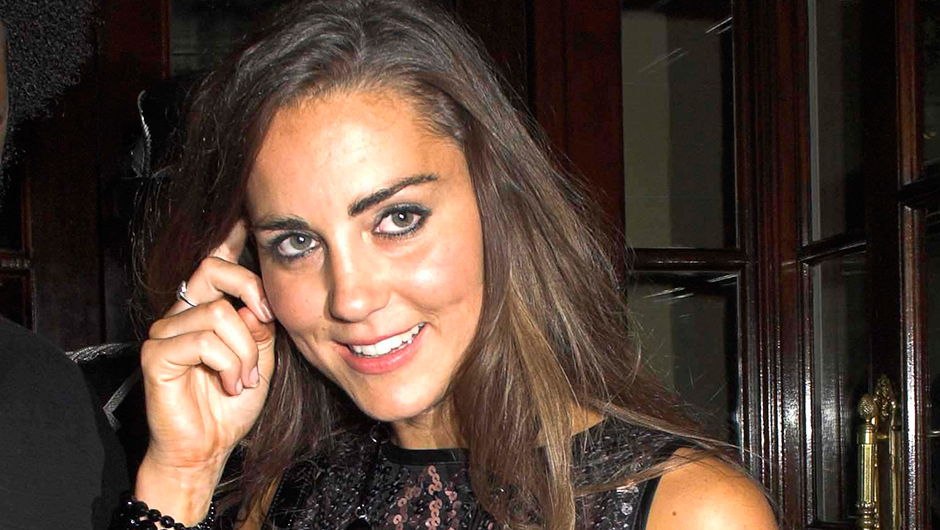 See How Much Kate Middleton's Face Has Changed Over The Years
This Is How Much Kate Middleton Spent On Clothing In 2016
One thing is for certain, we will always and forever look to Kate Middleton for style inspiration. When the Duchess of Cambridge wore items from brands we could actually afford, like Zara and Gap, we all rejoiced! Recently, though, it seems like her 2016 wardrobe got the royal treatment. Kate Middleton went from spending $53,000 on clothes alone in 2015 (basically, more than the national average salary in the U.S) to  an astounding $214,400 in 2016! We all cried a little inside knowing that we can no longer afford to look like we belong in the royal family. I guess when your everyday attire includes clothing from the likes of Alexander McQueen and Dolce & Gabbana, it will cost a little extra. According to reports, Prince Charles pays for Middleton's wardrobe. Does the Prince want to buy me clothes, too??? Don't forget to check out what the Kardashian-Jenners got for Christmas and the one thing Bella Hadid eats every day. [Photo: Splash News]
Get Pretty Much Everything Kate Middleton Has Ever Worn
Kate Middleton's Nude L.K. Bennett Pumps Are Still Available In Every Size! (Plus, There's A Huge Sale Happening!)
You know when Kate Middleton wears a pair of shoes, they must be good. She's always walking around and posing--there's no way she'd subject her royal feet to pumps the pinch and rub. So here's a tip: the L.K. Bennett Fern pumps that the Duchess herself has been wearing constantly for the last two weeks are currently in stock in almost every size over at lkbennett.com. Hurry (and you're welcome)! L.K. Bennett Fern Pumps ($345) Psst! While you're over at lkbennett.com, don't miss their friends and family sale. Tons of amazing items are 20% off for a limited time only with code FF2016 at checkout. Sadly, Kate's pumps are excluded from the sale, but here are some must-have goodies that are eligible for the discount. Sara Blue Cashmere Beanie Hat ($62.50, down from $125) Hebe Merino Wool Sweater ($105, down from $150) Megan Mini Crossbody Bag ($97.50, down from $195) Harley Suede Heel ($172.50, down from $345) SHOP THE L.K. BENNETT FRIENDS & FAMILY SALE NOW Be sure to check out the best drugstore beauty products and Kate Hudson's cute jeans. [Photo: Splash News; L.K. Bennett] *Note: Sale Valid 9/28 - 10/4! Excludes Shearling, Leather RTW and Signature.
Kate Middleton's Pretty Maxi Dress Costs Just $77–Find Out Where To Buy It
SHEfinds receives commissions for purchases made through the links in this post. Kate Middleton never ceases to amaze us with her style choices. While on the royal tour of India and Bhutan, the Duchess of Cambridge wore a beautiful, yet simple printed red maxi dress with lace-up flats. If you're interested in buying the Duchess' dress for yourself, we found it for you! It's from Glamorous.com and it is currently available for pre-sale. Glamorous Red Navy Border Print Lace Up Maxi Dress ($77.50) The Glamorous Red Navy Border Print Lace Up Maxi Dress ($77.50) features long sleeves with a lace-up front closure and a slightly cinched waist. The dress is expected to come back in stock on May 10. Middleton wore the dress while visiting a home for boys, a part of the charity Childline, near Delhi Station in New Delhi. She sported traditional flower garlands and red Tika spots while drawing with the boys from the home. Don't miss Megan Fox's growing baby bump and shop J Brand up to 60% off at THE OUTNET! [Photos: Splash News]
Find Out What Your Lip Shape Says About You
2016 is the year of lips, Kylie Jenner made sure of it. Obvs, you don't have to have collagen treatments to have an amazing, expressive pair. Every size and shape is beautiful and unique and says something different about its owner. What do your lips say about you? A) Thin Lips If you have thin lips like Duchess Kate Middleton, you are independent all the way. Not to say that you don't appreciate companionship, you totally do, but you don't need anyone to validate your sense of self-worth. When you set your mind to something, NOTHING can stop you — you're basically Beyoncé (with thin lips). [caption id="attachment_552669" align="aligncenter" width="383"] Picture by: James Whatling [Splash News][/caption]B) Full Lips If you have full lips like Miss Jolie, you have a natural desire to nurture those around you. Your friend group considers you a surrogate mother of sorts — you'd never dare let them down. While your selfless care for others is admirable, make sure that you're letting the right people in — don't let self-servers abuse your kindness! [caption id="attachment_552668" align="aligncenter" width="500"] Picture by: Xavier Collin/Image Press/Splash [/caption] C) Rosebud Lips If you have round, rosebud lips like model Lindsey Wixson, you're used to getting what you want. People are drawn to your carefree demeanor and personable approach — they want to please you. This is an awesome perk (obviously), but  you hate to feel like you're relying too heavily on others. Step back when you feel this way and try to think for yourself before you employ the help of friends. Picture by: Jackie Brown / Splash News Don't forget to check out: Find Out What Your Wedding Bouquet Says About You and Find Out What Your Belly Button Says About You [Photo: Ashley MacDonald]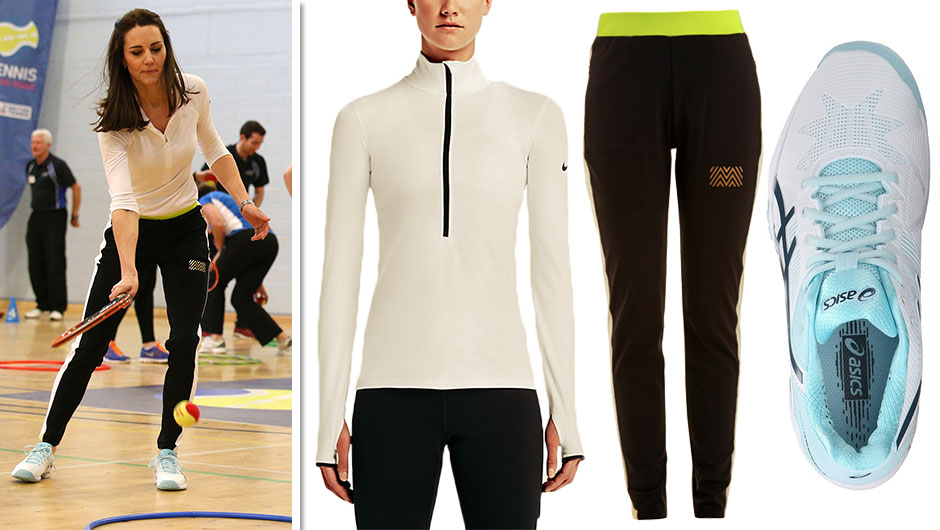 Steal Kate Middleton's Entire Workout Outfit #YoureWelcome
Kate Middleton looked totally stylish in her workout outfit as she took a tennis workshop at a high school in Edinburgh, Scotland. The Duchess of Cambridge wore a Nike Pro Warm Half-Zip 3.0 Top ($45.97, down from $60), Asics Women's Gel-Solution Speed 3 Tennis Shoe ($130) and Monreal London Tuxedo Track Pant ($250). Shop her entire outfit below! Nike Pro Warm Half-Zip 3.0 Top ($45.97, down from $60) Asics Women's Gel-Solution Speed 3 Tennis Shoe ($130) Monreal London Tuxedo Track Pant ($250)  Don't miss Kate Middleton's silk top and Vanessa Hudgens' moto boots! [Photo: Getty Images]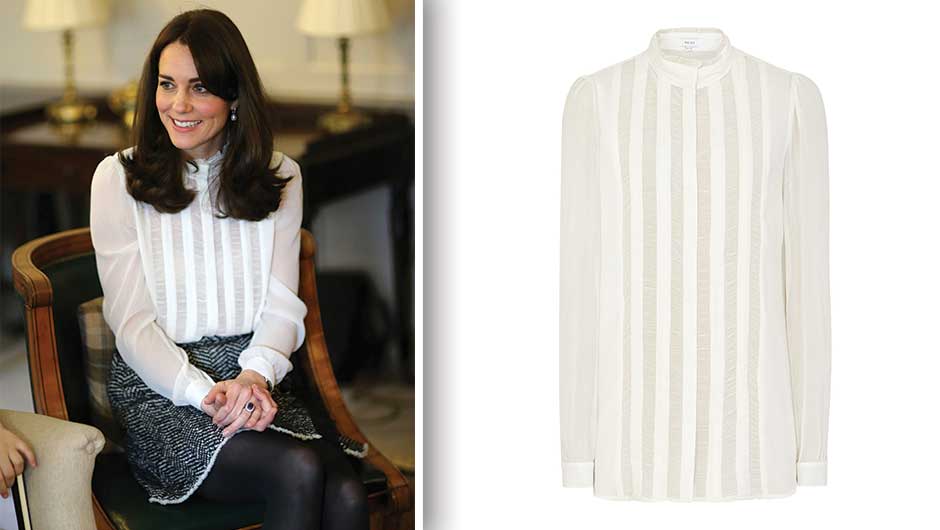 Kate Middleton's Top Is Back In Stock–But Not For Long
Kate Middleton took a day job at the Huffington Post (legit, just a day) where she guest edited the infamous site. And what does royalty wear to the office? A beautiful, elegant, and simple white blouse of course. Lucky for you, her REISS Vinnie Off White High Neck Shirt ($230) can become a part of your work wardrobe too. The conservative touches like the high neck and long sleeves are woven nicely next to the subtle sexy details of the see-through front stripe. Woman of power, this one is for you. Shop it below! REISS Vinnie Off White High Neck Shirt ($230) Don't miss out on more great A-list finds such as Katie Holmes' booties and Gigi Hadid's bondage bra. [Photo: Splash News]
FYI, Kate Middleton's Favorite Coats Are On Sale
Now that winter temps have officially hit, chances are you might be in the market for a new coat. Now you could click through all bagillion options on every department store's website or you could follow in the very fashionable footsteps of Kate Middleton and head over to Reiss. In the last few months, the Duchess has worn not one, not two but three different Reiss coats, which means they must be special. Even better than Kate Middleton's seal of approval, there are currently tons of Reiss coats on sale... include one of the exact ones she owns. That black and white check coat she's wearing in the pic above? Reiss' Rubik coat, which is still available in one more size: Reiss Rubik Coat ($467, down from $620) But rest assured, there are loads of other cute coats on sale, too. Check out our faves below: Reiss Sila Coat ($295, down from $495) Reiss Nicol Coat ($415, down from $545) Reiss Alba Coat ($445, down from $660) Reiss Gia Coat ($180, down from $465) Be sure to check out how to erase scars for good and Jessica Alba's cheap sneakers. [Photo: Splash News]
PHOTOS: See Prince George Attending His First Day At Nursery School
They grow up so fast! Prince George, 2, is off to school for the very first time, settling in at the Westacre Montessori School nursery in Norfolk. In honor of the grand occasion, the royal family released two official photos, taken by Kate Middleton, of their prince in his first-day attire. Oh so dapper, the mini-royal is rocking suede elbow patches and an adorable pastel backpack. Umm, can we get the number of his stylist...? https://www.instagram.com/p/BANErIsKZO2/?taken-by=kensingtonroyal https://www.instagram.com/p/BANFI58qZPz/?taken-by=kensingtonroyal Don't forget to check out: Sweet Celebrity Birth Announcements! [Photo: Instagram]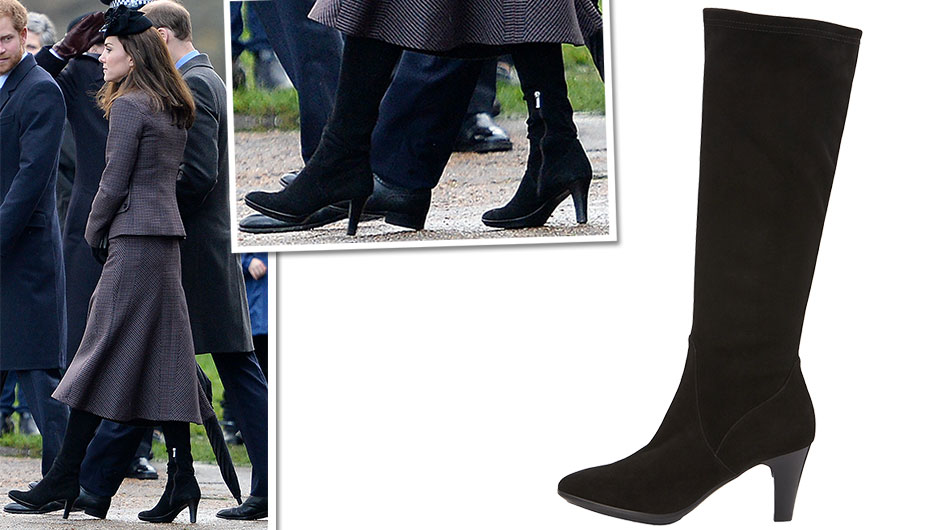 In Love With Kate Middleton's Boots? Here's Where To Buy A Pair For Yourself
Kate Middleton strikes again! The Duchess of Cambridge was pictured in Sandringham attending a Sunday mass. It's no surprise the Duchess' entire ensemble was classy and elegant, but our eyes were zeroing in on her gorgeous boots. She's been pictured wearing these boots several times so obviously, they are a must-have. Kate's black boots are made by Aquaitalia and, unfortunately, the exact style she owns is no longer made, but don't worry because there's an extremely similar style available. The Aquaitalia Damara Stretch Suede Knee Boot ($725) seriously deserves a spot in your closet. Shop for your pair below! Aquaitalia Damara Stretch Suede Knee Boot ($725) Don't miss 5 things you didn't know about Urban Outfitters and see Anne Hathaway's growing baby bump! [Photo: Splash News]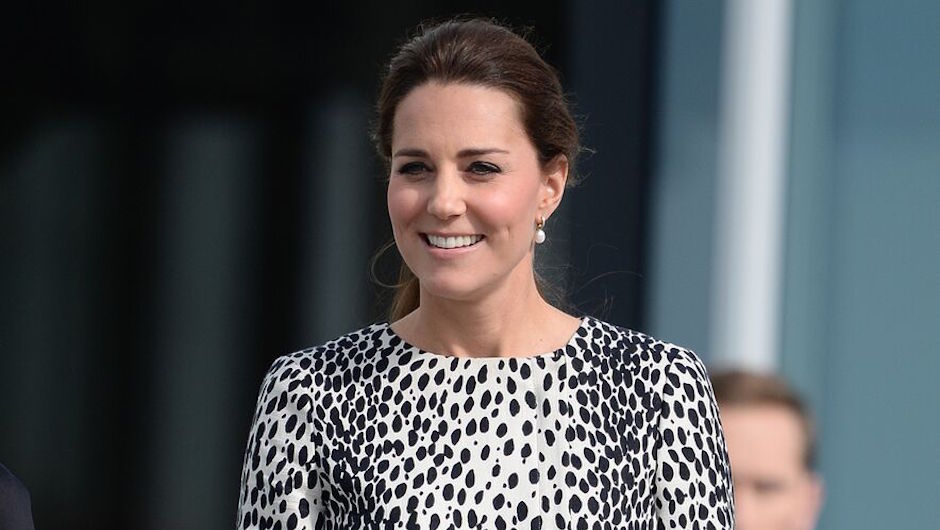 PHOTOS: Kate Middleton Takes New Pictures Of Princess Charlotte
The last time we saw Princess Charlotte was in her official christening photos. Luckily for us, the Royal family has released two new pictures of Charlotte! The photos were taken by the Duchess of Cambridge herself, Kate Middleton, and were shot at their home at Amner Hall, Norfolk earlier this month. https://twitter.com/KensingtonRoyal/status/670943000990740480 https://twitter.com/KensingtonRoyal/status/670944062405505025 "The Duke and Duchess continue to receive warm messages about Princess Charlotte from all around the world and they hope that everyone enjoys these lovely photos as much as they do." I mean...can she be any cuter?! Princess Charlotte turns 7-months-old this week. Don't miss the first picture of Ice-T and Coco's baby girl and see Anne Hathaway's growing baby bump! [Photo: Splash News]
VIDEO: Kate Middleton Delivers An Important Speech On Mental Health–Despite Her Fear Of Public Speaking
The Duchess of Cambridge may seem fearless and totally at ease 100% of the time, but she has an immense fear of public speaking. However, she faced her fear and delivered an important speech at the Place2Be conference in London regarding children's mental health. "I know that I was lucky. My parents and teachers provided me with a wonderful and secure childhood where I always knew I was loved, valued and listened to," she said. "But of course many children are not so lucky. Since beginning my work in areas like addiction, for example, I have seen time and time again that the roots of poor mental health in adulthood are almost always present in unresolved childhood challenges." Watch the video below to hear the Duchess' entire speech. [youtube]https://www.youtube.com/watch?v=N08iaGfhtmM[/youtube] Don't miss what you need to know about Adele's new album and 7 tips for giving the perfect wedding toast! [Photo: Splash News]
Treat Yourself To Lookalikes Of Kate Middleton's Knee-High Aquatalia Boots
Kate Middleton made us want something from her closet once again. The Duchess of Cambridge was spotted strutting through Dundee, Scotland in high-heeled knee-high boots that are totally on point. They're tall, sleek, black and a good heel height...what more could you want in a pair of boots? They're even weatherproof! Want a similar pair for yourself? Middleton's boots are from Aquatalia and they're a previous model of their 'Damara' boots. While her boots are no longer available for purchase, Aquatalia has come up with a newer 'Damara' edition, which are almost identical to the ones Middleton is wearing! Shop for yourself below! Aquatalia Damara boots ($725) For more celebrity style, check out Kate Upton's Blue Scarf and Selena Gomez's Turtleneck Sweater. [Photo: Splash News]
Princess Charlotte's Official Christening Photos Confirm How Perfect The Royal Family Is
Princess Charlotte had her christening last Sunday and the official photos have been released. Let's just say, these photos prove how insanely adorable and perfect the Royal family is. Princess Charlotte's official photos were taken by photographer Mario Testino. A spokesperson from Kensington Palace said in a press release, "The Duke and Duchess of Cambridge and their whole family had a wonderful day on Sunday and were delighted to share the special occasion with the thousands of people who came to Sandringham. They are very happy to share these photographs and hope that everyone enjoys them as much as they do." "It was incredible to be able to document four generations of the British Royal Family together – the monarch and three heirs to the throne – and very heartwarming to see the close relationship between them all," said photographer Mario Testino. Seated in the parlor chair are the Duke and Duchess of Cambridge (Prince William and Kate Middleton) with their children Prince George and Princess Charlotte and Queen Elizabeth II. Standing behind them are Michael, Pippa, James and Carole Middleton, Prince Charles, Camilla, the Duchess of Cornwall and the Duke of Edinburgh. Testino said, "Photographing Princess Charlotte's christening was an amazing experience. What impressed me the most was the energy of the family, and of that between the Duke and Duchess. One sees how solid they are together and one gets a sense of their strong family values." These photos are absolutely gorgeous and definitely capture the essence of the Royal family! Don't miss Pippa Middleton wears Charlotte Olympia pumps to the Royal christening and shop Kate Middleton's Sebago's! [Photos: Mario Testino / Art Partner Licensing]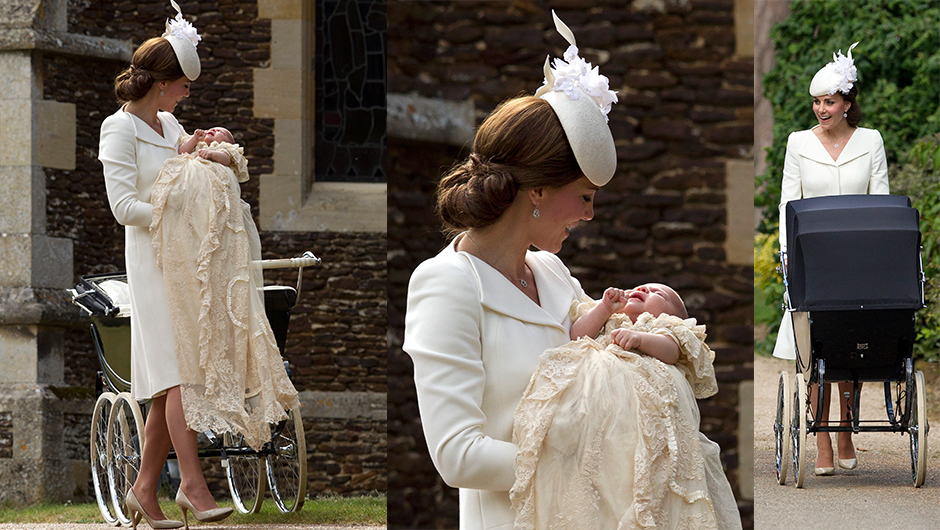 Kate Middleton Wears Alexander McQueen To Princess Charlotte's Christening
The Duchess of Cambridge is wearing an Alexander McQueen dress coat and a Jane Taylor hat. She's wearing McQueen just as she did for Prince George's christening and her wedding. Here are the first pictures of the family walking toward the church. https://twitter.com/KensingtonRoyal/status/617723653954867200 https://twitter.com/babykokos/status/617715309055746048 https://twitter.com/RE_DailyMail/status/617723718983413760 https://twitter.com/benjkendall/status/617715917523390464 Don't miss Princess Charlotte's godparents and 15 pairs of round-framed sunglasses to wear this summer! [Photo: Splash News]
Details On Princess Charlotte's Christening, Including Her 5 Godparents
It's a big day for the newest addition to the Royal family! Princess Charlotte's christening will take place at the Church of St Mary Magdalene, Sandringham. She will wear a hand-made replica of the Royal Christening Robe, made by the Queen's dressmaker, Angela Kelly. The original Victorian lace and satin gown has been worn by royal's since 1841 but has since been preserved. The Princess will be baptized in the Lily Font, which represents purity and new life. The christening will be an intimate service, as only the immediate family members and godparents of Princess Charlotte will be in attendance. Here's who got the invite: The Queen and The Duke of Edinburgh The Prince of Wales and The Duchess of Cornwall Mr. and Mrs. Michael Middleton, Miss Pippa Middleton and Mr. James Middleton Also in attendance will be Princess Charlotte's newly appointed godparents, none of whom is members of the Royal family. The Duke and Duchess have asked the following friends and family to be her godparents: Miss Sophie Carter: friend of Duchess Kate Middleton Mr. James Meade: friend of Prince William Mr. Adam Middleton: cousin of Duchess Kate Middleton The Hon. Laura Fellowes: cousin of Prince William Mr. Thomas van Straubenzee: friend of Prince William Maybe next time, Pippa? Don't miss 10 times Kylie Jenner and Kim Kardashian were basically twins and try to guess who these celebrity kids belong to! [Photo: Splash News]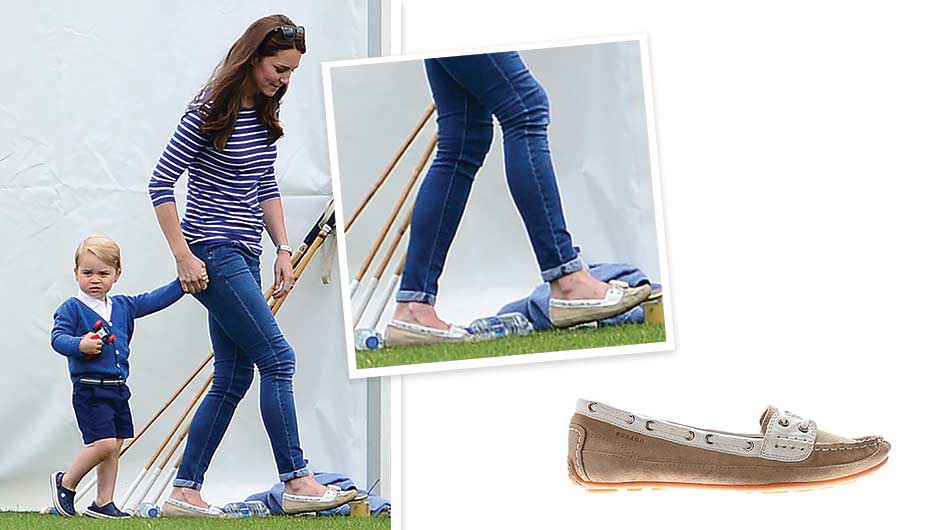 If Kate Middleton Is Wearing Sebagos, Does That Mean They're Cool Now?
I honestly haven't seen anyone rock Sebagos since my teachers in prep school, so you could say I was more than a little surprised to see the Duchess of Cambridge sporting a pair recently. For one of her first appearances since the birth of princes Charlotte, Kate Middleton wore these Women's Sebago Bala ($70.99, down from $94.95) and we have to admit: they don't look completely horrible. What do you think? Would you rock them? They're only $70... just saying. Women's Sebago Bala ($70.99, down from $94.95) Be sure to check out Vanessa Hudgens' wrap sandals, Jessica Alba's $65 sports bra and Gigi Hadid's striped dress. [Photo: Splash News]
The Royal Baby Finally Has A Name! Meet Princess Charlotte Elizabeth Diana Of Cambridge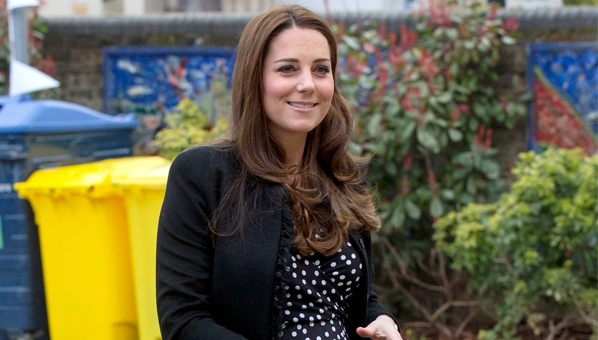 Kate Middleton Just Revealed Her Due Date For Royal Baby #2
The royal countdown is officially on, because Kate Middleton just announced more details about her due date for royal baby number two! Are you ready? Are you sure? Okay, here goes: she's expecting her second child to arrive "mid-to-end" of April. All of this was revealed when the Duchess visited Brookhill Children's Centre in Woolwich yesterday (while wearing an awesome ASOS maternity dress, by the way--naturally, it sold out immediately). Raise your hand if you're excited for more adorable royal baby photos! And don't forget to check out: comfortable heels you'll actually want to wear, actresses giving advice to young women and monogrammable tops [Photo: Splash News]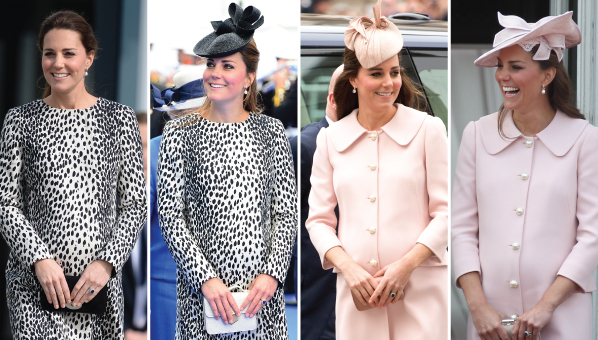 See Kate Middleton Re-Wearing All Her Maternity Clothes
Kate Middleton, aka Duchess Catherine if you're nasty, is known for her "laid back" royal style (she wears jeans! and the same outfit thrice!) and her maternity style is no departure from that. While pregnant with Royal Baby #2, Kate has been photographed in dresses and coats that she wore previously while expecting Prince George. Stars--they're just like us! Even if you have an enormous clothing budget like Kate, you still need to dip in to your closet for something to wear--especially if a typical day in your life means celebrating Queen Elizabeth's birthday or christening a cruise ship. Here's Kate, in her Hobbs London dalmatian coat on Wednesday at an art gallery visit: And here she is in 2013 while pregnant with George, at her final royal engagement before going on maternity leave, christening the 'Royal Princess' ship in Southampton: And earlier this week, she wore a baby pink Alexander McQueen coat to a special church service for Commonwealth Day: The same coat was a go-to for Kate while pregnant with George; she wore it to the Queen's birthday parade: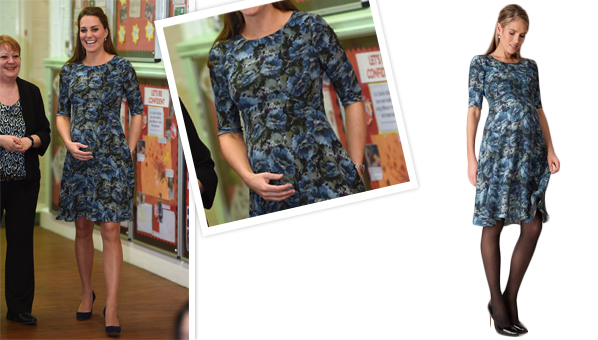 Kate Middleton Showed Off Her Baby Bump In A Floral Print Seraphine Maternity Dress
I'm pretty sure it's scientifically impossible for Kate Middleton to go anywhere without looking 100% perfect. If that ever happened, it would be a sure sign of the Apocalypse. Luckily, we're not there yet. The Duchess visited a pottery factory in Stoke-on-Kent, England yesterday to spend time with some of the children there, and her maternity style was as on point as ever. She wore a cornflower blue coat from the F/W '14 Max Mara Sportmax Collection, a Serpahine Florrie dress, Jimmy Choo shoes and an LK Bennett clutch. The best part? Her perfect Spring dress is available for pre-order. Get shopping before it's sold out! Seraphine Florrie Floral Print Dress ($179) Click through the slideshow to see more pics of Kate showing off her growing baby bump. And don't forget to check out: the 7 February collaborations you need to know, Margot Robbie's leather leggings and Rach Parcell's first jewelry collection [Photo: Splash News]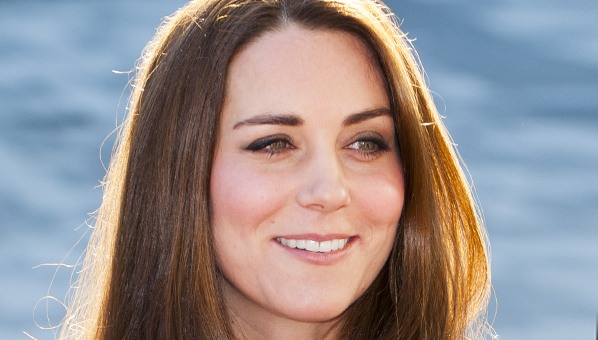 Have You Seen Kate Middleton On The Cover Of Woman's Day Magazine?
Kate Middleton is featured on the most recent cover of the Australian version of Women's Day magazine, and while that in itself may not surprise you, her picture certainly will. Mostly because, when you see it, rather than think, "My word, that is one lovely-looking lady," you'll probably do a double take and ask the nearest person to you, "Excuse me, sir, but did you know that Kate Middleton played one of the zombies on The Walking Dead?" Because seriously, guys, this most recent photoshop fail is that bad. We've seen this kind of terrible editing before with Reese Witherspoon's Vogue cover a few months back, but that was nothing like this. That one was more of a case of over-airbrushing, while this one, well, suffice it to say that once you've given the Duchess of Cambridge demon eyes and yellowing skin, there's just no going back. Retouching photos is a pretty common practice now, but it's images like this that remind us that maybe it's not the best practice. It goes without saying that Kate Middleton is one of the most gorgeous women out there, and while, sure, this cover may have sold copies for the magazine, it does her absolutely no justice. What do you think about this photoshop fail? Let us know in the comments! Seriously, just look at how bad this is. Also don't forget to check out: New Balance x Kate Spade Saturday, how to turn Oreos into mascara and Piperlime is shutting down [Photos: Splash News, Woman's Day]
FYI, Kate Middleton's Black Turtleneck Dress Is Only $99
Unless you've been on a social media hiatus, you're already well aware that Kate Middleton and Prince William are currently making their rounds in NYC. We've already seen Kate rock a stunning black and white coat and Tory Burch, but this black turtleneck dress takes the cake. Why? It's less than $100! Now let us be the first to tell you, you don't have to be pregnant to wear this dress. The curved empire waist is super flattering and all you need to dress this number up is a statement necklace and some heels. Place your order below ASAP! Seraphine Black Turtleneck Vanessa Dress ($99)  Don't miss Taylor Swift's knee-high leather boots, Jennifer Aniston's plaid dress and Jennifer Lawrence's shearling jacket. [Photo: Splash News]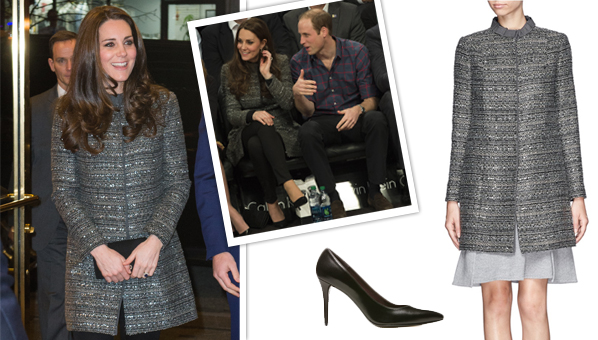 Kate Middleton Wore A Tory Burch Coat To Meet Beyonce & Jay Z
Last night, royalty met royalty when Kate Middleton and Prince William were introduced to Beyonce and Jay Z at the Brooklyn Nets game. Watch the shortest meet-and-greet ever go down: Kate wore a tweed Tory Burch coat, black jeans and Stuart Weitzman heels to meet Bey watch the Nets take on the Cleveland Cavaliers. She shared a large popcorn with her hubby and was even featured on the jumbotron. How American! There's only one size left of her coat, so you better make moves to get it! Bettina Tweed Coat ($475, down from $675) The Power Pump ($355, down from $375) [Photo: Splash News]
This Never Happens: Kate Middleton's Coat Is Still Available In Almost Every Size
Prince William and Kate Middleton officially arrived in New York City last night, and us Americans are super excited to have the Royals stateside. We get to stalk Kate's maternity outfits in real time! Which leads us to the coat she is wearing right now at the Harlem Child Development Center. She chose the Washington Crepe Coat ($1,038) by Goat for her visit. Guess what? It's still available in all but ONE size--that never happens! Get it before it sells out: Washington Crepe Coat ($1,038) [Photo: Splash News]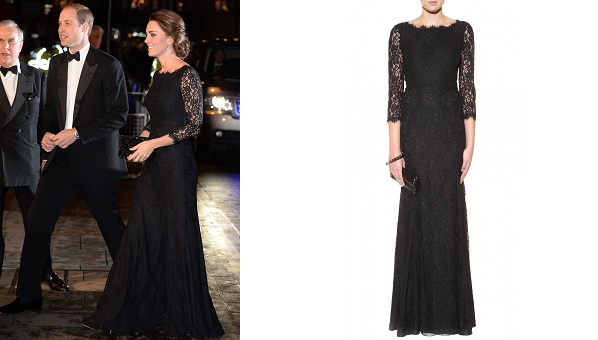 Hurry! There's Only One Size Left Of Kate Middleton's Black Lace DVF Gown
Know where Kate Middleton is right now? At a Royal Variety performance at the Palladium in London. Know what she's wearing? This sick DVF Zarita floor-length lace gown. If you like it, better act fast cause there's only one size left. Get yours below. DVF Zarita floor-length lace gown ($1,315) Can't find it in your size at MyTheresa? Check Net-A-Porter. For more celeb style, check out Jennifer Garner's skinny jeans, Jessica Alba's black bag and Beyonce's Topshop shoes. [Photo: Splash News]
Find Out When Royal Baby #2 Is Due
We haven't heard much from Kate Middleton since the announcement of royal baby #2 back in September. That is, until today. The palace released the following statement early this morning: "Their Royal Highnesses The Duke and Duchess of Cambridge are delighted to confirm they are expecting a baby in April 2015." Just in time for William and Kate's fourth anniversary! Has it really been that long?? Thankfully, the palace also mentioned that Kate's Hyperemisis Gravidarum (extreme morning sickness) is "steadily improving." She is expected to make a public appearance tomorrow. Bring on the maternity style, K.Midds. We're soooo ready for it. Check out the slideshow to see her best outfits from when she was pregnant with George. And don't forget to check out: Loeffler Randall's 20% off sale, the most ridiculous outfits ever and the truth about dating your ex again [Photo: Splash News]
Prince William And Kate Middleton Are Expecting Their Second Child
Congratulations are in order! After rumors circulated earlier this summer, it's finally been confirmed--Kate Middleton is pregnant with her second child! The palace released the following statement this morning: "Their Royal Highnesses The Duke and Duchess of Cambridge are very pleased to announce that The Duchess of Cambridge is expecting their second child." Of course this means that Prince George, who was born last July, will now be a big brother. We're thrilled for the parents-to-be! Not only because history has shown they make adorable babies, but also because Kate's maternity style is so on point. Congrats! [Photo: Splash News]
Smythe Somehow Made Blazers Cool Again–Just Ask Kate Middleton, Kate Hudson & SJP
I went to a boarding school that had a pretty intense dress code, so blazers admittedly have a not-so-good connotation in my mind. Stuffy? Stodgy? Old ladyish? Yeah, all not things I want to look like when getting dressed in the morning. I've basically boycotted blazers since my high school graduation--sans the occasional job interview--but then I came across Smythe. It wasn't long until I realized that tons of celebs--and umm, princesses!--were giving their blazers and jackets their seal of approval, so I decided to lift the blazer ban and check them out. And I have to say, as a girl who pretty much unequivocally hates blazers, these are pretty amazing. They have classic navy blue styles that just feel a little more special with the addition of a gold button here or there, plus they also do slimmer versions with more fashion-forward touches like a metallic wash or sharp shoulders. So whether you're not really into blazers like me or swear by them for you day-to-day look, you have to check out Smythe. You're gonna fall in love. Click through the slideshow to shop celeb-approved Smythe styles. Don't miss Jennifer Lopez's maxi dress, Kate Middleton's LK Bennett dress and Selena Gomez's flip flops. [Photo: Splash News]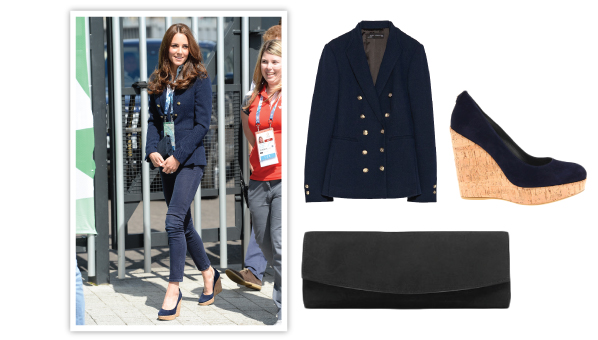 This Aint No Deja Vu–Kate Middleton Just Can't Hide How Much She Loves This Outfit
That's right, Kate Middleton has been spotted in this outfit not once, not twice, but four times now. And those Stuart Weitzman Corkswoon Wedges? They must be pretty comfortable if she keeps wearing them. But do we mind? Of course not! Power to her for recycling a solid look. This morning, Kate, Prince William and Price Harry stopped by the Commonwealth Games to watch the gymnastics portion of the annual event. All three royals were dressed down for the occasion, but Kate still looked perfect because really, when doesn't the Duchess look good? Kate wore a Zara Double Breasted Jacket in navy ($59.99, down from $139), Stuart Weitzman Corkswoon wedges ($398) and a Russell & Bromley Muse Suede clutch ($433.25). She wore this outfit to various events during the London 2012 Olympics, and also on the Royals Australia and New Zealand tour. Best part about her outfit? The Zara blazer is on sale! Zara Double Breasted Jacket ($59.99, down from $139) Stuart Weitzman Corkswoon Wedges ($398) Russell & Bromley Muse Suede Clutch ($433.25) And be sure to check out awesome sales going on from ASOS, Piperlime and Moda Operandi [Photo: Splash News]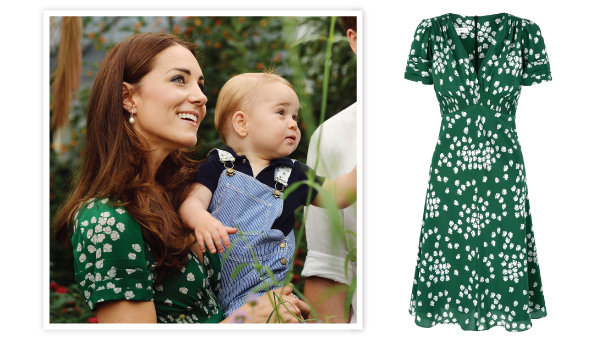 Kate Middleton's Green Silk Dress Isn't Sold Out…Yet
We know it's really hard not to focus on Prince George's cute little overalls in this picture, especially since it's his birthday and all, but did you see Kate Middleton's gorgeous green dress?  The Dutchess wore this Suzannah Budding Heart Silk Tea Dress ($639.82) on an outing with her family to celebrate George's first year, and it couldn't have been a better choice, since the Royal Family was at a butterfly exhibit and everyone knows butterflies love flowers. They must've flocked to her just like the paparazzi. But what's different about this dress is not that it has a great floral pattern, what is truly remarkable is that it isn't sold out yet! Believe it or not, there are still plenty of sizes left! So if you want to look like royalty, click the link below and shop! Budding Heart Silk Tea Dress ($639.82)  And don't forget to check out: Prince George's Birthday photos, Taylor Swift's dress, and Reese Witherspoon's crop top. [Photo: Splash News]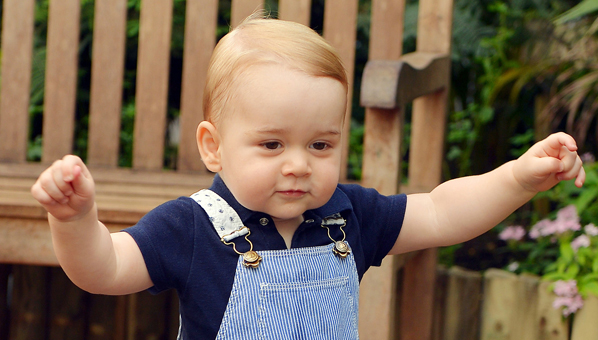 In Honor Of Prince George's First Birthday, The Palace Released This Adorable Pic
Kate Middleton and Prince William's son, Prince George, turns 1-year-old tomorrow. Can you believe it? It seems like not so long ago that we were stalking Kate's maternity style. In honor of George's first birthday, the Royal Family released a brand new pic of the adorable tot and we have to say, it's one of the cutest yet. The photographer who took the photo commented that Prince George was pretty hard to keep up with and looking at the pic we can definitely see that. Happy (almost) birthday, Prince George! PS: Wondering about where to get Prince George's overalls for your little one? They're Petit Bateau! Sadly, George's exact striped pair is already sold out (shocker), but you can get a lookalike pair sans stripes here. Be sure to check out Olivia Wilde's baby boy, Otis and Rachel Bilson's baby bump. [Photo: Splash News]
Is Kate Middleton Pregnant? This Photo Certainly Makes Us Think So
The internet has been going cray all week with rumors that Kate Middleton is pregnant with baby numero two. The timing couldn't be more perfect since little Prince George is turning one year old next Tuesday! Will he have a little brother or sister to play with by this time next year? This photo of the Duchess certainly makes us think so... Hand over a little teeny tiny baby bump?! Now all we need is the palace to confirm... [Photo: Splash News]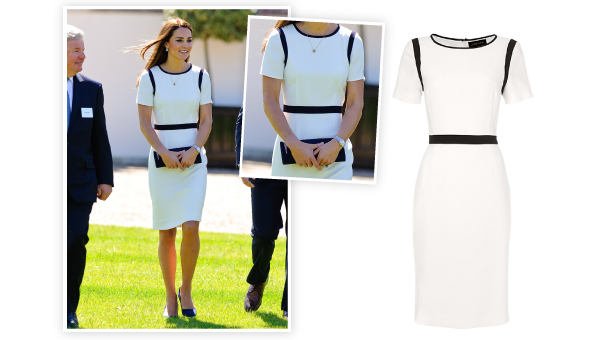 Kate Middleton's White Dress Is In Stock & On Sale–No, You're Not Dreaming
Another day, another Kate Middleton dress we wish we had. Luckily, this one is still in stock (but not for long!) and is on sale. The Duchess wore this Jaeger Contrast Waist Crepe Dress ($166.70, down from $252.57) while visiting the National Maritime Museum in Greenwhich. Want to look as flawless as the coolest chick in England? Score the dress below before it sells out. Jaeger Contrast Waist Crepe Dress ($166.70, down from $252.57) [Photo: Splash News]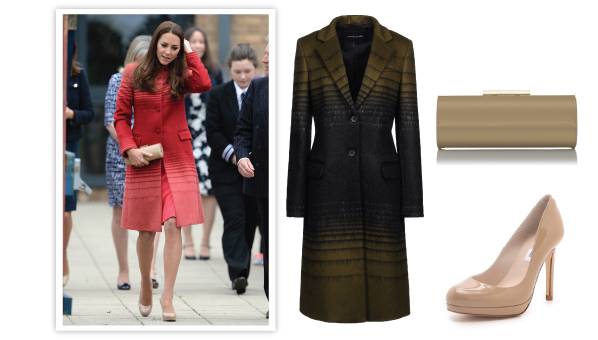 Only Kate Middleton Could Convince Us To Buy A Coat This Close To Summer
Just three days ago, Kate Middleton stepped out with her husband Prince William, and while they were out she had a major wardrobe malfunction that was caught on camera. But for her first official appearance since the couple's Australian tour, Kate and William, visited Strathearn, Scotland yesterday. Their first stop was Strathearn Community Campus in Crieff, where they were greeted by the sound of bagpipes and met with members of Scotland's Air Ambulance team. For the appearance, Kate wore a beautiful ombré red coat with a matching red dress and nude pumps. Though we could not find the coat in red, we did find the same Jonathan Saunders Coat ($1,138, down from $2,420) in a different color, and the exact pair of L.K. Bennett Sledge Patent Platform Pumps ($345) that the Dutchess wore. We're actually shocked that she wasn't wearing her usual Stuart Weitzman Corkswoon Wedges ($398), but I guess when you're on display as much as Kate is, you have to change up your outfit sometimes. If you want to dress like the Kate, (and why wouldn't you?) you should definitely check out her coat and pumps. Unfortunately, like everything else she wears, the coat is almost sold out. But if you're a size 6, you're in luck, because there are still some left. You better hurry, though! Kate's L.K. Bennett Avona Patent Leather Roll Clutch Bag ($295) is already sold out. Click through the slideshow to shop Kate's look. For more celebrity style, check out: Kim Kardashian's leather jacket,  Sarah Jessica Parker's dress,and Taylor Swift's romper. [Photo: Splash News]