Every beauty addict knows that Tarte's Shape Tape contour concealer is the BEST in the makeup world. There's a reason why one is sold every 26 seconds: it's long-lasting, easy-blending formula gives a smooth finish every time, and it never creases or looks greasy like other concealers. However, since it isn't sold at Sephora, it's a little hard to get your hands on. Yes, it is available online, but playing the skintone-matching game when buying beauty products on the web can go south very quickly. It's also constantly sold out, so you have to set your alarm and email updates daily to even try to get one. And at $25 a bottle (which isn't even an ounce!), it can get expensive to replenish your supply, especially if you contour on a daily basis. So, instead of draining your bank account and playing online guessing games, try investing in these dupes! Believe me, these bad boys do the job just as well (if not better, TBH) as the original Shape Tape we all know and love. So, test these concealers out and fall head over heels with them!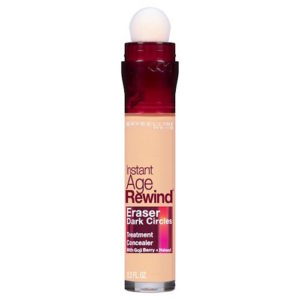 Maybelline® Instant Age Rewind® Eraser Dark Circles Concealer + Treatment ($7.99)
Maybelline's Instant Age Rewind concealer is such an amazing alternative, especially for it's price point (under $10, woohoo!). Popular YouTube beauty vlogger Ashley Ann has raved about this product before, and even listed it as her own dupe to the original Shape Tape. She does note that you may see a difference in application, but that's due to the Maybelline's sponge applicator. When blended out, they literally look THE SAME! For a fraction of the price, we might as well go get the drugstore dupe.
Wet n' Wild Photo Focus Concealer ($3.99)
This is probably the most popular dupe to the Shape Tape. Wet n' Wild's Photo Focus concealer has a freaky good resemblance to Tarte's cult-favorite concealer. And at only $3.99 a bottle, we're so ready to stock up on these for life. Beauty vlogger Marie Jay noted the similarities between the two in one of her videos, and people have sworn by this cheaper concealer ever since! Watch the video to see how similar these products really are: you'll definitely be as surprised as I was.
NYX has established itself in the beauty realm as one of the top brands at a ridiculously low price point. That's why its a no-brainer that their Gotcha Covered concealer is on this list! Although the packaging is much different than Tarte's, and it contains slightly less product than the Shape Tape bottle, the coverage from this concealer is jaw dropping! Beauty vlogger Aysia Loveless raved about NYX's dupe in her comparison video of the two concealers, but did note that the NYX concealer does have one downfall: it has a pretty oily finish, so you definitely want to use some setting powder before you step out for the day. But other than that, it gives amazing coverage, and its as anti-creasing as the Shape Tape, so we're definitely on board with this one!