Remember way back when (last year) when we told you about Dana Rebecca Designs Initial Ring? Well, Taylor Swift just posted a photo to Instagram wearing a "T S" version and now we want one more than ever.
She captioned the photo, "Band aids don't fix kitchen knife-related injuries." Yeah, you're right on that T.Swift, but a gorgeous personalized ring on your unscathed finger sure does help! Check it out below and buy one for yourself. Did we mention it's great for gifting too?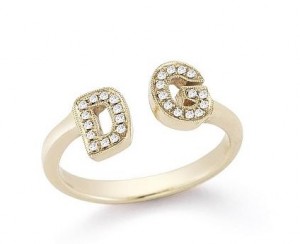 Dana Rebecca Designs Initial Ring ($660)
For more celebrity style, check out: Gabrielle Union's Memo Box Bag and Jennifer Lawrence's loafers.
[Photo: Instagram]