Eyeliner is my drug of choice. My face feels incomplete, naked, without a defined rim of Urban Decay "Smog." Don't get me wrong, I'm not high maintenance in the least — I'd gladly leave the house in sweat pants and a tattered tee if I were sure it wouldn't get me fired.
With eyeliner though, it's different, its application feels necessary. But, of course, a devotion to eyeliner has its own set of frustrations, chief among them: BREAKAGE. I'm sure you've felt the utter sorrow that envelops your soul when your sharpener lays waste to a brand new pencil. Often, the damage is irreparable, the pencil keeps breaking, never able to live up to its full potential.
If you've experienced this incomparable pain, I'm happy to report that there is a way to protect your favorite liners. It's simple, five minutes before applying eyeliner, stick your pencil of choice in the fridge or freezer. Doing so will solidify the lead and improve its chances of surviving the death trap that is your sharpener. Now, go forth and sharpen to your heart's content!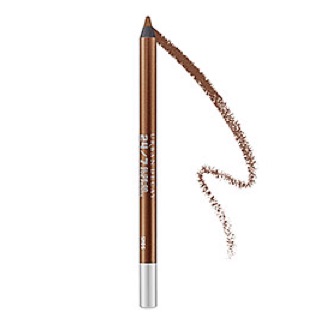 Urban Decay 24/7 Glide-On Eye Pencil ($20)
Don't forget to check out: These Are The Bodysuits Every Girl Will Be Wearing At Coachella This Year (And After) and 8 Cheap Drugstore Eyeliners With The Best Customer Reviews And Ratings
[Photo: Urban Outfitters]