Hailey Baldwin and Justin Bieber are the Brangelina of our time. LOL, maybe not, but the media firestorm they've ignited certainly bears resemblance to that of 2005's most controversial couple. Their mash-up name isn't as smooth (Jailey? Hailstin?), but when you combine the first syllable of their names you get "Hail Jus," which seems oddly prophetic.
It's been a wild ride for Hail Jus. J. has been mad desirable since he hit puberty a couple years back. Obviously, there were the Selena Gomez days (Jelena, much smoother mashup)… And then there was whatever happened between J. Biebs and Kendall Jenner — something that prompted Selena to sever all ties with the Jenners and Kardashians and delete all Instagram pics taken with Kendall and Kylie… Kendall has appeared in the Hail Jus romance as well, but as (we assume) a mutual friend of both parties. So here it is, everything we know so far about the IT couple (that, um, might not actually be a couple… Right now they're going by "friends who kiss"). From 2009 to 2016 — and beyond, this is Hail Jus.
2009: Seven years ago, Justin meets Hailey, and it's SUPER awkward.
2011: Hailey and dad Stephen Baldwin stop by J. Biebs' world tour. Jittery 2009 Hailey has left the building, and 2011 Hailz (while still accompanied by father) goes as far as to take a pic with future paramour Justin.
Coincidence or not, 2011 is also the beginning of Jelena. Hailey makes clear via Twitter that she's super supportive of S&J's union, calling it a "teenage dream," in case anyone wanted Steven Baldwin's fifteen-year-old daughter's opinion.
January 2014: Jelena has been pretty unstable for the past three years, but as of early January 2014, it's ON. Justin tells Selena (by way of Twitter) that he loves "the way you look at me."
April 2014: Selena turns her back on friends Kendall and Kylie Jenner. Jelena is OVER (for now). Do we have a Jendall situation on our hands??
November 2014: Despite his many misdeeds, Justin Bieber holds strong to his relationship with God. In late 2014, Bieber was spotted at NYC's Hillsong Church with presumed gal-pals Hailey Baldwin and Kendall Jenner. Is this a love triangle or a prayer circle? The truth remains unclear.
December 2014: Hailey tells E! that she and Justin Bieber are just "good friends."
Fall 2015: Justin pokes fun at Hailey on Instagram, calling Stephen Baldwin the "coolest Baldwin I know." Could Biebs be kissing up to his future father-in-law…?
December 2015: Rumors surface of a Justin/Kourtney Kardashian fling. They've since been dispelled, but we sense there's more to this story…
NYE 2015/16: Justin Bieber posts the photo seen around the world. There he is, making out with his pal Hailey Baldwin. Just friends? Sure…
January 2016: Kendall is sick of Bieber fever! What ever it was they had between them, it's over now and KJ is all about Harry Styles. Reportedly, Kendall is tired of hearing about BFF Hailey Baldwin and sister Kourtney Kardashian's fixation on the pop-star. Enough is enough!
Early February 2016: Hailey arrives at Kanye's fashion show in J. Bieb's car. Oh, and LOOK, she's Lampshading!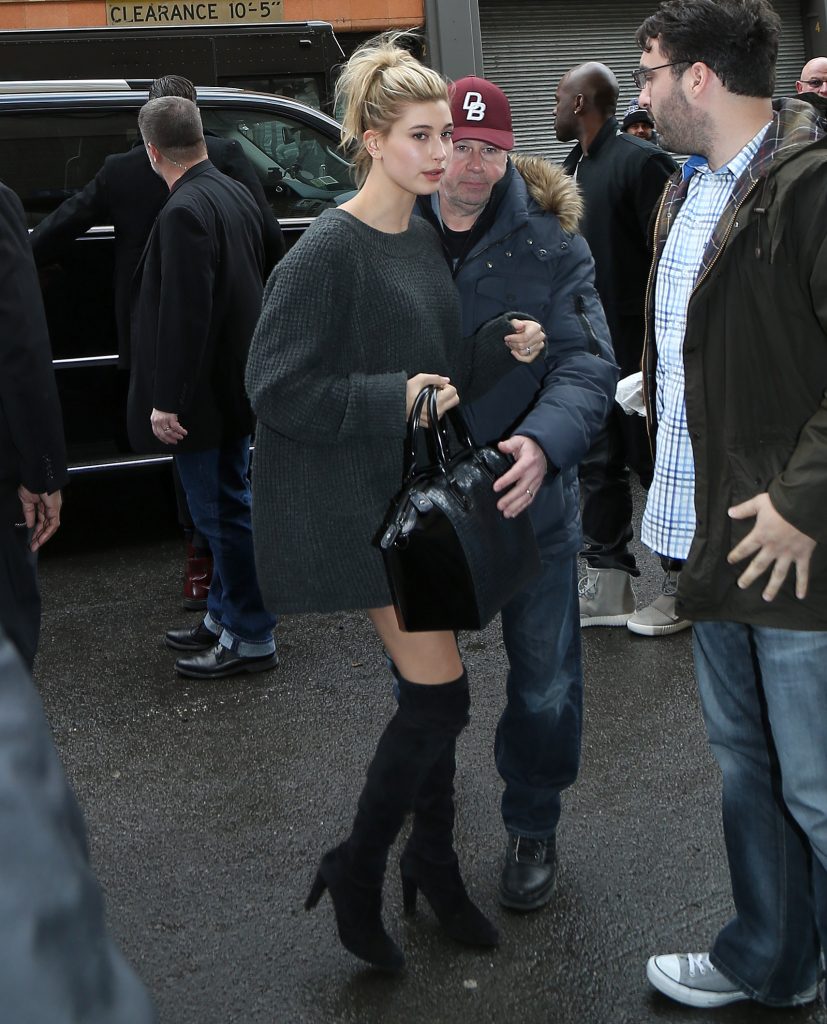 February 8, 2016: WTF?! Hailey is spotted hanging with a Bieber look-alike in NYC…
February 11, 2016: J. Biebs' GQ cover story hits stands. He still refuses to admit he and Hailey are an item, but gives us something even better, telling GQ: "What if Hailey ends up being the girl I'm gonna marry, right? If I rush into anything, if I damage her, then it's always gonna be damaged. It's really hard to fix wounds like that. It's so hard.… I just don't want to hurt her." Justin just wants to preserve the love they share!
February 15, 2016: Kourtney Kardashian attends Bieber's post-Grammy party in this slinky lace ensemble… Suggestive, no?
April 2016: After a brief tabloid reprieve, talk of Kourtney and Justin's alleged affair is back on high alert. According to an anonymous source from People Magazine, Kourt and Biebs "..have hooked up a few times, including recently. It happens in L.A." Okay, so is Hailey B on the backlog now…?

Don't forget to check out: Miley Cyrus & Liam Hemsworth: A Timeline Of Their Relationship and VIDEO: Justin Bieber And James Corden Carpool Karaoke To The Grammys
[Photo: Instagram]