Oh, dark circles. Where do I even begin? I've always been a little self-conscious of my undereye circles because they are pretty dark. I've seriously tried dozens of undereye concealers and nothing seems to work. Aside from dark circles, I have oily skin so my concealer creases really easily.
Recently, I heard about a brand new makeup company called Onomie, which boasts an "advanced formula and affordable luxury." Founders Lauren Hoffman and Kal Vepuri truly believe in simplifying women's beauty routines and delivering real results at a fair price. Hoffman is a former skincare developer and Vepuri is an investor in companies like Warby Parker and Reformation.
Hoffman says, "Onomie clinically tests its product to validate for our customers that this is not a 'sprinkling' of skin-care ingredients. Our formulas are designed to work like skin care, despite also looking and performing like makeup. Most companies don't clinically test their products, because they are selling a story or concept that sounds credible, but wouldn't hold up if they clinically tested the performance. Skin-care-infused makeup is a story that has been told before, but they don't show you how and to what extent the product improves skin."
Currently, Onomie sells two products: A.C.E. Illuminating Eye Treatment and Bright Concealer Elixir. The Illuminating Eye Treatment is a "line correcting highlighter with 10% Vitamin C." It instantly brightens eyes and reduces fine lines and wrinkles. It also helps prevent future damage. The Bright Concealing Elixir is a magical product. It's a lightweight concealer that instantly corrects dark circles while clinically reducing dark circles over time. How do I know it's a magical product? I've tried it myself!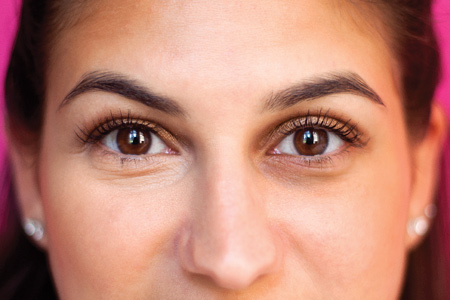 Onomie offers their concealer in 10 shades! Not many makeup brands provide such an array of shades to choose from. I am shade 4 Hypatia, which is good for "light to medium skin with peach undertones." Obviously, you can tell which eye has the concealer and which doesn't. I applied a liberal amount under my eye, gently tapping with my ring finger to blend. Instantly, my eyes looked more awake and bright. It went on smooth and didn't crease nearly as much as other top brands usually do. To be honest, it creased a little but I think it's just inevitable with my oily skin. The Bright Concealer Elixir lasted all day long, even in the summer heat.
I definitely recommend this brand if you have trouble with dark undereye circles. Onomie offers a try-at-home program, which allows customers to try the concealer and highlighter for one week. For $3 you can choose three concealer shades and one highlighter shade to try. Also, Onomie guarantees their products. If you aren't satisfied after 30 days, you are eligible for a refund. Can't beat that!
Don't miss Jenna Dewan-Tatum's new haircut and 9 celebrities who make bank from their side jobs!