This Blogger-Approved Tee Will Definitely Get You Some Double Taps On Instagram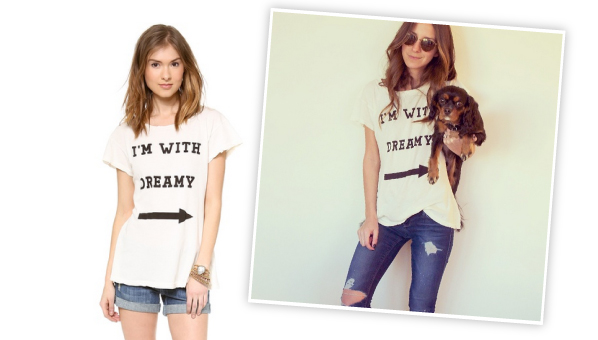 I don't know about you, but I like to follow my favorite style bloggers on Instagram. It's the best way to keep up with them and also a good reality check…my life will never be cool enough to get over 100 double taps (30 means I met like Beyonce or something).
Anyways, I was scrolling through my feed and saw Something Navy's photo with her adorable dog. Not going to lie, I was more into the shirt than the pup, but he (she?) is still a cutie. A couple days later, I'm doing my usual Shopbop stalking, and what do ya know? I found the shirt to buy! And no surprise, it's by Wildfox. That brand just GETS ME, know what I'm sayin'?! If you're feeling the I'm With Dreamy T-Shirt ($64) like me, here it is. We promise it will get you some Insta likes, just like this style-blogger herself.
I'm With Dreamy T-Shirt ($64)
And don't forget to check out: Alexander Wang x H&M, celebs that love French Connection and Banana Republic x Roland Mouret
[Photo Credit: Instagram]