I've documented my struggles with acne a lot on this site–and the changes that I've made in recent years that have vastly improved it (bye, bye adult-acne-twenties–hello, mostly-clear-skin-thirties).
For one, I quit Proactiv which made a huge difference. Here's my detailed account of that experience, and a reminder of how my skin looked before and after: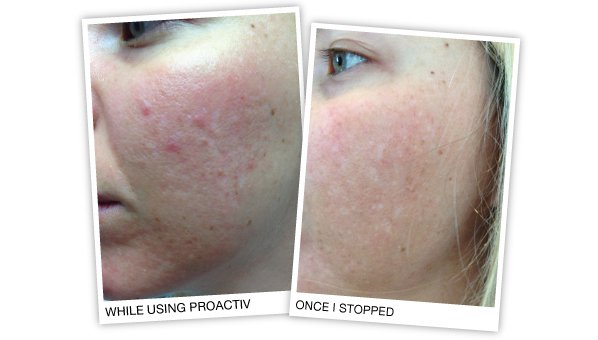 Initially, I thought that other factors like diet didn't play a huge role in my skin. My dermatologist had told me that something like drinking milk vs. not would make a difference of about 10% or so on my overall complexion, and I believed him. Proactiv was solely to blame for my constant break-outs. Right?? It was an easy scapegoat, and for about 10 months or so I continued to drink skim milk after quitting Proactiv and I was pleased with how my skin looked.
After giving birth and breastfeeding for a couple months (my pregnancy was the reason I quit Proactiv, FYI), I was ready to lose the pregnancy weight and I found a program called the Bikini Cleanse to do so. In the Cleanse, you can't drink dairy milk, even skim, you can only have unsweetened almond milk. I had never drunk almond milk before, but for a week straight it was the only thing I had and I got hooked on the flavor and the concept that it was a lower calorie alternative to milk (almond milk has 60 calories per cup, compared to 102 calories in 1% or 86 calories in skim). After that point I switched over to almond milk completely, and no longer had any dairy milk in my diet (I only drink milk in my coffee–I don't eat cereal or drink glasses of it–I mean do any adults do that??).
The benefits to my skin were immediate–I had even less redness in my cheeks, fewer breakouts (not even the occasional hormone-related zit), and I could even go to work without wearing a stitch of makeup. This was unheard of before–I would never step out of the house before without my go-to foundation slathered all.
So, why is skim milk so bad for skin? I sat down with dermatologist Dr. Kally Papantoniou with Advanced Dermatology PC to get the scientific answer. "There have been many studies that have shown a link between acne and dairy consumption," she said, citing a study from 2005 that looked at 47,355 women and found that there was an association between skim milk and acne. "Dairy plays a role in acne because of several factors: androgen hormones, growth factors (which are naturally present in cow milk), and whey protein which is inflammatory and can stimulate Insulin-like growth factor that has been shown to increase acne." So, there you have it!
So, now that I don't drink milk regularly, I immediately notice the issues it causes to my skin when I DO have it. Say, if I'm at a coffee shop that doesn't serve almond milk or visiting a relative that doesn't keep almond milk in the house. Take this week for example. On Monday, I ran out of almond milk in the house, and didn't get a chance to go to the store all week. I was forced to drink the 2% that I keep in the house for my daughter–after four days I immediately had zits popping up around my mouth and on my cheeks, like this doozy today:
After 4 days back on dairy. Eek!
I'm not kidding about this dairy milk thing! I'm not saying it will be a cure for everyone (and let me take this opportunity to say that I am not a trained medical professional, just an acne sufferer who happens to have this platform to write about my experiences), but if you're prone to break-outs, it's worth trying to cut out dairy for a week or two and seeing what happens. If you see an improvement to your skin, it's an obvious choice. There are many dairy milk alternatives, like soy and almond milk, that I promise are suitable alternatives and actually taste better (and iced coffee with soy milk–YAS!).
I want to hear from my fellow acne girls–have you tried quitting dairy? Did you see an effect? Let me know in the comments section below or on our Facebook page!
READ MORE: The 12 Worst Things For Acne