This 'Size Does Matter' Clutch Is Winning Fashion Week Street Style
Since the advent of the street style star, fashion week has become less about what is shown on the actual runway, and more about what these pretty "it" girls are wearing TO the shows. Sure, this has created some pretty big egos in the blogger world, but it's also resulted in some great trendspotting outside the tents. Case in point: at New York fashion week earlier this month, fashion writer Nausheen Shah was snapped by On Abbot Kinney holding an oversized metallic "SIZE DOES MATTER" clutch. All the style photographers and fashion fans outside of Lincoln Center lost their sh*t–it wasn't just a great photo opportunity, it's an effing cool bag. Later in the week, we also saw Renee Ogaki from STYLUSTE with the bag. Okay, now we officially wanted one. 
We did a little research and discovered that it's by BOYY–and it's actually customizable so you can have yours say whatever you want (size doesn't matter?).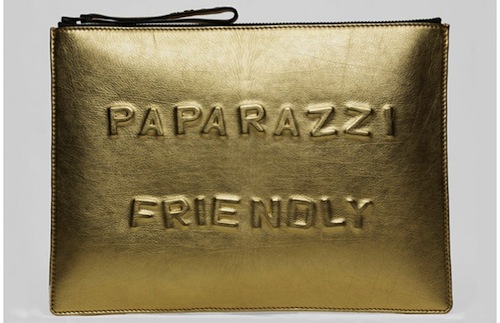 The BOYY Personalized Clutch ($555) comes in 4 colors: black, gold metallic, lead metallic and cotton candy metallic. The bag isn't cheap–but it's also not a $5K Chanel bag. For more info on customization, email [email protected]
And it looks like Zara just hopped on the bandwagon. Check out this incredibly similar clutch bag they've released: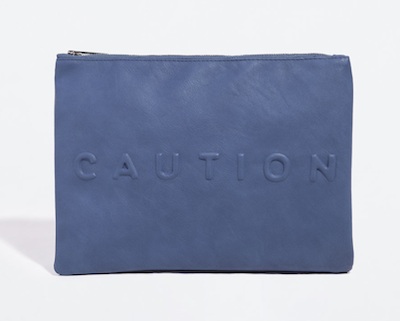 Zara Leather Pouch ($29.90)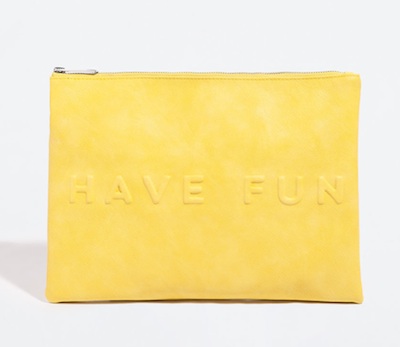 Zara Leather Pouch ($29.90)
[Photo: Nausheen Shah, STYLUSTE]