It's safe to say we all want plump, glowing skin, right? The problem is, as we get older, our skin starts to lose its suppleness. Wrinkles start to form. The radiance we once had begins to diminish. It's sad but true.
So unless you're one of the few who are genetically blessed with skin that ages backward (we're looking at you, J. Lo), you have to be proactive and give your skin a boost to keep it looking full and younger. Injecting your face with hyaluronic acid dermal fillers is one way to go. However, that tends to not only be costly, but it also involves needles and is not necessarily the best option for some of you.
But first, what is hyaluronic acid? Before we dive into all the benefits of Taut® Hydrate, let's back up a second and go over what hyaluronic is and why it's so important for your skin. Hyaluronic acid is naturally found throughout the body, especially in the joints, eyes, and skin. It's known as a moisture magnet meaning it attracts and holds water which hydrates the skin and keeps it full and plump.
As we age, in addition to losing collagen and elastin, our skin also starts to lose hyaluronic acid. That leads to dry, sagging skin, fine lines and wrinkles, and less volume (bummer!). So as you can see, hyaluronic acid is essential for keeping your skin looking plump and hydrated.
Lucky for us, Taut® Hydrate is a great natural alternative to fillers and, get this, it's 100% vegan! Here are five reasons why you need to try Taut® Hydrate: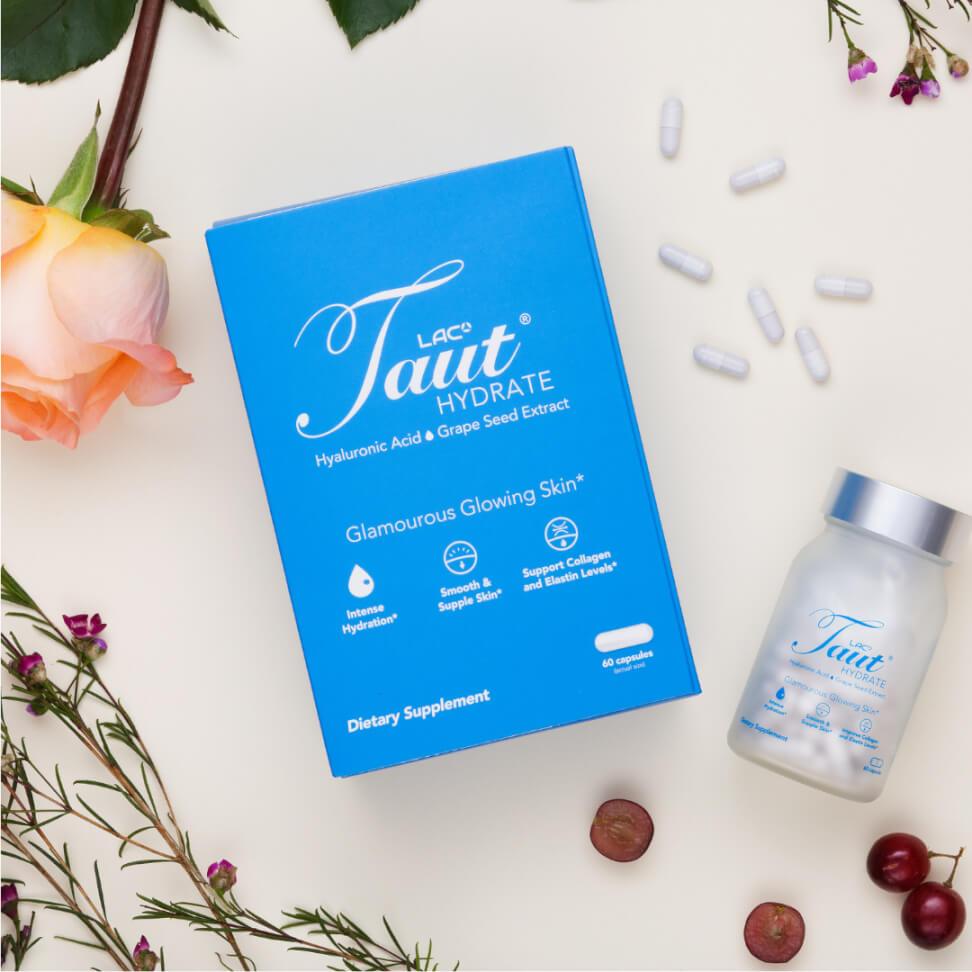 1. Taut® Hydrate is 100% vegan and natural. Hyaluronic acid is found in many skin care products and supplements. However, it's typically sourced from chicken combs which is kind of gross if you think about it. Taut® Hydrate uses high-quality hyaluronic acid derived from plants so it's as natural as it gets and vegan-friendly. It's also free of gluten, preservatives, and GMO to boot.
2. It includes grape seed extract. Taut® Hydrate also contains grape seed extract which is an antioxidant that protects your skin from free radical damage, diminishes skin imperfections, and restores its natural glow. So you're getting not one but two powerful skin-enhancing ingredients in one. Score!
3. It works from the inside out. Another downside of getting hyaluronic filler injections is that they only target specific areas. There are also facial serums and other topical products that contain hyaluronic acid. However, they can't penetrate the skin deep enough so they only hydrate the surface of the skin. Taut® Hydrate, on the other hand, works from the inside out to provide results and you'll see those results on your face and your body.
4. It uses a high-quality hyaluronic acid that works. The secret to Taut® Hydrate's effectiveness is the type of hyaluronic acid it uses. Unlike other forms of hyaluronic acid, it is manufactured through a proprietary fermentation process which makes it highly potent–and it has a low molecular weight small enough to actually penetrate the skin and hydrate and nourish it from the inside out. Many studies have shown the effectiveness of this type of hyaluronic acid. One study, in particular, found that ingesting hyaluronic acid supplements manufactured through a fermentation process not only increased skin moisture, but also improved skin texture and reduced wrinkles.
5. People are raving about it. Taut ® is a trusted, premium brand with lots of raving fans who have experienced the results of their best seller Taut ® Premium Collagen Advanced Formula Drink. One reviewer said, "I have been so happy with my hair and skin from drinking my Taut Collagen. It never occur to me that I could see additional improvement until I started taking Taut® Hydrate, the hyaluronic acid and grape seed extract supplement. Two pills a day and I am glowing. Thank you Taut for so many health choices."
So if you're looking for a natural way to plump, hydrate your skin and reduce signs of aging, consider Taut® Hydrate your secret weapon. Ready to turn back the clock on your skin? Grab your Taut® Hydrate at 20% off–use code shefind20x at checkout.
The editors at SheFinds created this article in partnership with Renewalliance.