The season-long fight over whether or not to show bra straps continues. Although a visible bra strap is classier than having your thong stick out, it's still not appropriate. With all of the cute and delicate summer dresses (ahem, Gwyneth), why ruin the outfit with your brassiere poking out? If you've shopped our guide to strapless bras and still opt for straps, at least check out these do-dads to keep bra straps hidden:
The original Strapper ($14.99) is amazing – it turns all bras into racerback bras and it provides extra support to your chest. Invest in this pack of 3 and you can wear one under anything.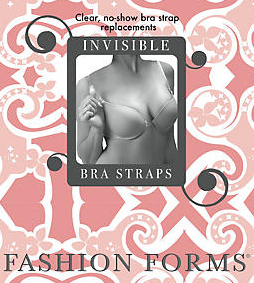 Clear bra straps (believe it or not) are still around. These straps by Fashion Forms ($8) rest snugly against your shoulders and are very hard to see.
If you must have your bra straps stick out – think Gwen Stefani circa 2003 – at least get something more glamorous like Fashion Rhinestone Adjustable Bra Strap Chains ($16). They turn every strapless top into a fab tank.
Find more bra solutions with our guides to the best push-up bras, the best wireless bras, and the best sexy bras. Subscribe now for exclusive fashion updates.