We're Totally Copying GoT Star Lena Headey And Getting This 'I'm Not Sorry' Tee
The moment we saw Game of Thrones actress Lena Headey walking to her Jimmy Kimmel Live! taping in this I'm Not Sorry Muscle Tee ($65), we had to hunt it down. Because, duh, it's amazing. After some stalking we found it over at Nasty Gal. Now yes, we know $65 is more than a little steep for a tank top, but it's so epic it's kinda worth it. Score yours below before it sells out.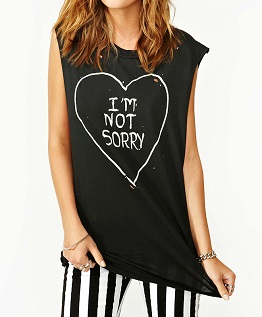 I'm Not Sorry Muscle Tee ($65)
Don't miss Emma Stone's favorite jeans, Alessandra Ambrosio's denim bomber and Nina Dobrev's bright bag.
[Photo: Splash News]