If there is one actress you would want to spend the day with, just hanging out, wouldn't it have to be Emma Stone? Her quirky comedic roles (exhibit one: Easy A) and laid-back style (exhibit two: shirt dress) lead me to believe she would be entertaining yet refreshingly normal (even if she is dating Spiderman star Andrew Garfield) Just check her out, rocking an old-school cardigan with elbow patches and great pair of denim jeans. Emma wears a Sam & Lavi Ellenor Cardigan ($110) with Rag & Bone Skinny Jeans ($187) and looks rather collegiate. So instead of hanging out with the actual Emma, why not dress like her? Shop below!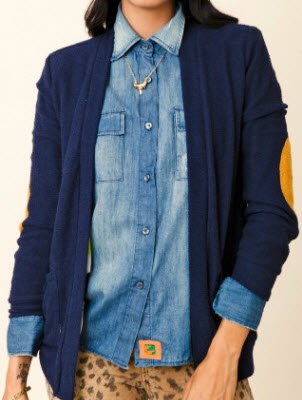 Sam & Lavi Ellenor Cardigan ($110)
Rag & Bone/JEAN Skinny Jeans ($187)
[Photo Credit: Splash News]
Shop more inspired celebrity style such as Victoria Beckham's daytime LBD, Isla Fisher's sweater, and Rihanna's slick jeans.