You can tell your roommate that you are no longer in need of her services. Aside from helping you pay the rent and watching crying during The Bachelorette with you tonight, you're roommate is officially irrelevant (even if she is your bestie.) Thanks to Sky Mall, your morning routine has been changed forever. Say goodbye to the days when you busted into your roommate's room in a panic asking "Can you put this on me? I can't clip it!" or avoiding bracelets all together, because you live alone. This device will clip them for you. The Bracelet Assistant ($24.95) works as that extra hand you wish you had and helps you tie, clasp or clip your bracelets with ease. You'll never have to ask for help ever again if you have this little gadget. Now, you can live alone AND wear bracelets on the reg, a dream you never thought would come true.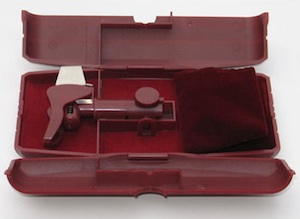 Bracelet Assistant ($24.95)
And don't forget to check out: Jamie Chung's striped white top, Taylor Swift's gym style and 6 celebrities who can't dance.