Do you really need an excuse to start shopping for fall? No, but we will give you one. A great one. Your sweater collection is about to get cooler because we spotted Gwen Stefani in this A.L.C. Tribe Wool Sweater ($295). Looks like Graphic T's are getting a fall facelift! Plus, if Gwen says wool works in July, who are we to argue? Plus, peep how she paired it with folded over black overalls. She's so cool. Snag the sweater below and get a head start on your autumn wardrobe!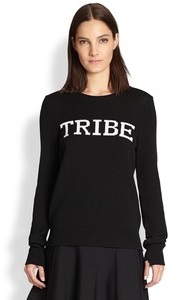 A.L.C. Tribe Wool Sweater ($295)
Check out more great style finds such as Gwen Stefani's Tee, Taylor Swift's $79 shorts, and Beyonce's romper from Etsy.
[Photo Credit: Splash News]