Headbands have been popular since before we can remember. We wore them as kids; we wore them in high school (you can thank Blair Waldorf for that), and now they're still cool for adults. But styling a headband so that it stays on your head and doesn't make you look like you're back in elementary school isn't an easy task.
To help get us on the right track, we've been inspired by stars like Hailey Baldwin, Alexa Chung, and Zendaya to achieve that ultimate grown-up look. Ahead, we found the seven best and most functional headband hairstyles for pulling them off. We even included some headbands for you to shop that will make getting this look even easier. #yourewelcome
1. Tuck and Cover Half
Not only does this style look supremely elegant, but it's oh-so easy to create. To get this above look, we recommend trying a similar halo headband from Urban Outfitters.
Curl your hair with a curling iron or wand and part it where you want.
Place a headwrap headband over your head.
Start wrapping and tucking pieces around the headband until you've completely covered it in the back.
Secure loose pieces with bobby pins.
Hairspray flyaways if needed.
2. Headband Bun
A headband can instantly spice up your favorite classic updo. We love the idea of using this floral knotted version for the perfect spring look.
Secure your hair into a slicked back ponytail in the middle of the back of your head.
Wrap the ponytail into a bun and secure with bobby pins or a hair tie.
Spray liberally with hairspray. You may even want to use a little bit of gel to get a shinier look.
Gently place a stretchy headband over your head and let it rest where your hairline meets your forehead.
3. Turban Headband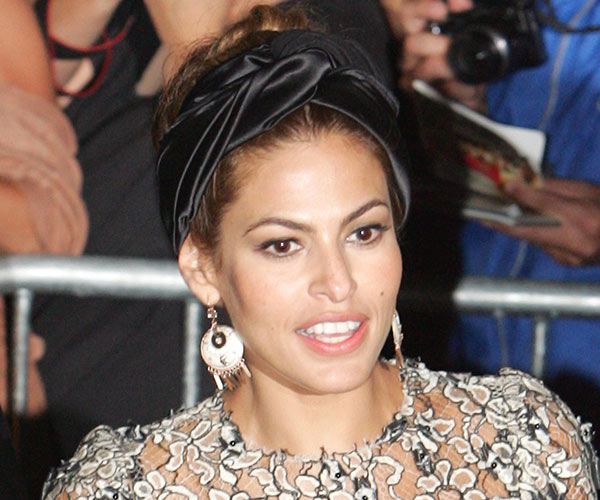 [Photo: Splash]
Turban headbands and headwraps are really hard to pull off, especially with a bun or ponytail, but Eva Mendes did it right. The key to wearing a turban headband with an updo is to make sure you don't cover your hairline with the headband. This is one of the biggest mistakes girls make when wearing this type of accessory.
To get Eva's coveted look, try this similar headband from Nordstrom.
Sweep your hair back into a low bun or ponytail.
Place the headband back a few inches so that you don't look bald.
4. Bandana Wrap
[Photo: Urban Outfitters]
Wearing a bandana is a great way to cover up bedhead or greasy hair, but tying a bandana can be tricky. You can sit in front of the mirror for hours and still not get it right. But no worries – we found a solution. The above Urban Outfitters version is already tied for you!
Simply slip the headband onto your head, leaving the hairline in front. You can even let a few stray hairs dangle – the more casual the look, the better!
5. Grecian Headband
The most difficult way to wear a headband is slipped over your head. Every time you do it, your hair ends up popping out like a mushroom. But never fear – we've got you covered.
Before you slip that headband (or two) over your perfectly curled hair, tease the entire crown of your head. If you tease your hair before you put the headband on, you won't get that"mushroom head" and your ears won't stick out.
Apply hairspray or a light gel to get a super sleek finish like Kendall.
To really nail her look, try this gold, beaded version that will help you channel your inner goddess.
6. Teased Updo
While we love the idea of a classic bun, this boudoir look adds a little extra something for date night. This two-tone scarf headband is classy yet subtle.
Part your hair in the middle and tease all of it.
Pull your hair into a loose high ponytail.
Place a headband in the middle of your head.
Tease the ponytail again and use bobby pins to pin it down and create a messy bun.
Use hairspray to tame any loose pieces or flyaways.
7. Traditional Headband
Of course, you can never go wrong by sticking to the basics. When wearing a classic headband, make sure to let your hairline stay in front of the headband. This style is more mature than pulling your hair with the headband like you did back in the day. For a super sophisticated look, try this chic pearl and ribbon version Ms. Waldorf would surely approve of.
Straighten or curl your hair if needed.
Instead of pulling your hair back with the headband, part it where you want.
Slip the headband on the middle of your head.
For more even more beauty hacks and how-to's, don't forget to check out How to Fishtail Braid Your Own Hair and How To Wand Your Hair Without Getting Burned.
SheFinds receives commissions for purchases made through the links in this post.