Taste Test: Which White Lightweight Tank Is By Velvet And Which Is By Old Navy?
Kill some time with a couple more oh-so-informative Taste Tests. Take a look at our buying guides to the best tank tops, the best evening tops for jeans, and the best tees for your shape.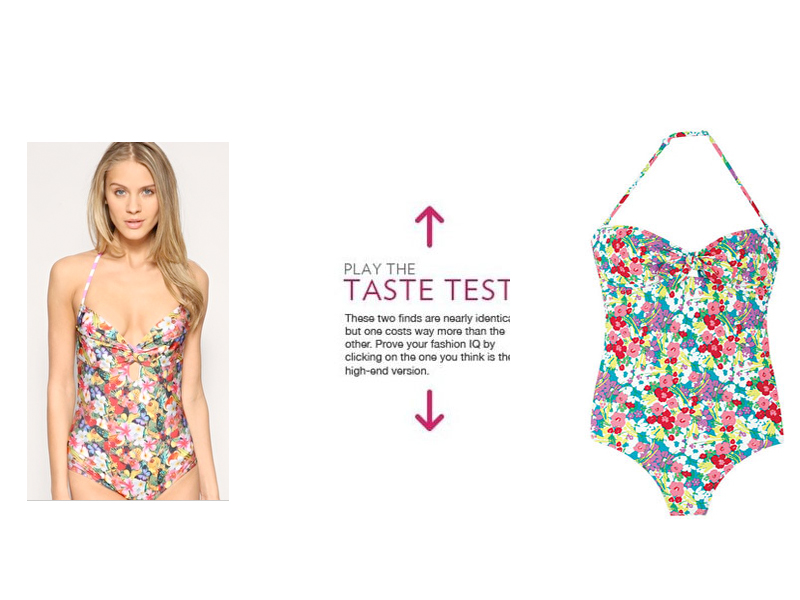 Which Floral Swimsuit Costs $156 More Than The Other?
Challenge yourself to some serious splurge-vs-steal showdowns with more Taste Tests. Check out more swimwear with our guides to the best swimwear trends, the best cheap swimwear, and the best swimwear for your shape.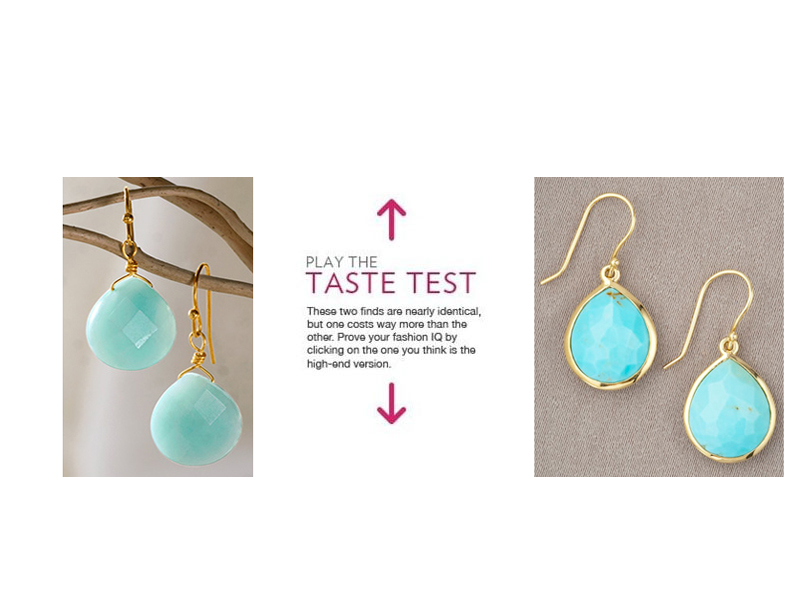 Which Turquoise Teardrop Earrings Cost $885 Less Than The Other?
Find more great deals on pieces that look super expensive in our taste test archives. See more jewelry finds with our guides to cheap jewelry, the best earrings, and the best cocktail rings.
Taste Test: Which Cargo Skirt Will Leave You With $48 To Keep in Your Pocket?
Hungry for more bargains? Our Taste Tests are chock full of 'em. Check out our guides to the best pencil skirts, the best pleated skirts, and the best denim skirts.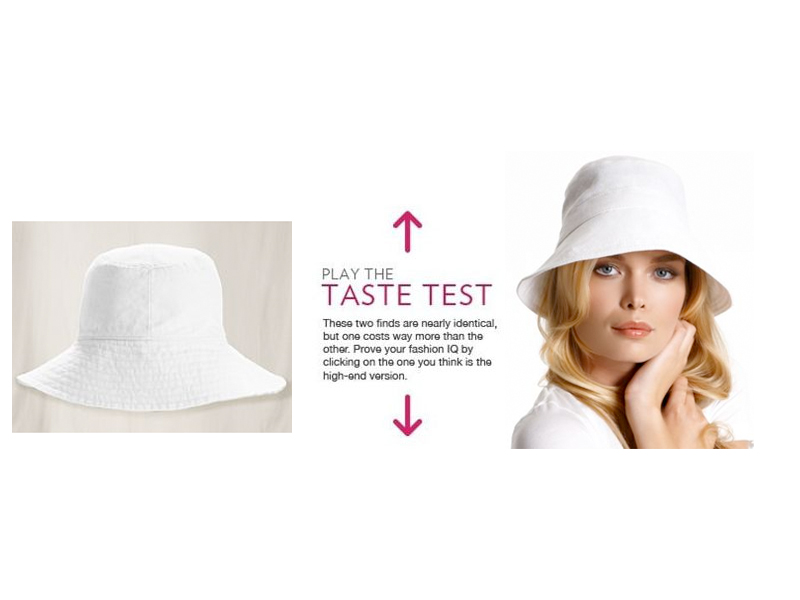 Which Summer Hat Offers More Sun Protection For Less Moolah?
Think you're a pro at spotting the lower-priced lookalikes? Prove it with more taste tests. Find more summer beauty options with our guides to the best summer hats, the best summer dresses, and the best Spanx swimwear. Don't forget to check out our calendar of online sample sales, too.
Can You Guess Which Gold Espadrilles Are Only $19.99?
Designer lookalikes are so budget friendly, and a cinch to find if you look in the right places (hint: our Taste Test archives are a great place to start!), and then look through our guide to flat sandals, summer dresses, Spanx swimwear, and skinny jeans for all of your vacation needs.
Fashion Math: Are Michael Kors' Logo Sandals Worth a Walk to the Bank?
If you're anything like me, you blow through at least one pair of black thong sandals per summer, then spend the first few warm weeks the next year hunting down a new perfect pair to ultimately destroy. But what about a pair of thong sandals that outlast a little city-street wear and tear, that persevere and live to see another summer? Michael Kors is apparently confident that his spin on classic black patent leather thongs lives up to high expectations—he's charging $211 a pair and slapping his initial logo right smack in the center. But how many wears do these babies have to last to make it worth spending more than 200 bucks? A little fashion math will help us figure it out: If you grab your MK thongs before the first official day of summer, June 21, and wear them for at least a few minutes every day until fall kicks off, you'll come in at less than $3 a wear for the season. Keep in mind that fashion math can't account for you boycotting the quippy Mr. Kors when he disses your favorite Project Runway contestant. For more options, you'll love the SHEfinds guide to flat sandals, skinny jeans, and white jeans.
Taste Test: Which Sunglasses—Tory's or Marcs'—Don't Come With a Designer Price Tag?
Want to find more designer (and designer lookalike) deals? Check out more taste tests, and then see our guide to the best sunglasses and summer hats for the beach.
Top 5: Little Black Swimsuits That Slim Every Figure
It's fun to have a few bright, boldly patterned swimsuits in your summer arsenal (hey, if you can't wear neon at the beach, where can you wear it?). But just as with your year-round wardrobe, it's a good idea to have that perfect, figure-flattering, go-to black piece, too. Picking your perfect black swimsuit is as easy as picking your must-have LBD, since there are tons of options out there for every body type. Here are some of our faves: 1. Have a short torso? Eye-catching details up top—like the ruffles on this strapless Spanx suit—draw attention up to your collarbone and sparkling smile ($132.99, from 178). 2. The halter neck on this Tommy Bahama Pearl Shirred One Piece Halter ($128) attracts attention away from your midsection. Plus, it's classic, meaning you won't have to try on another swimsuit for at least a few years. 3. This St. John Halter One Piece ($68.60, down from $210) will make the waistline look whittled while drawing attention upward. 4. Underwires are your friends, busty babes. Calvin Klein's supportive tank lets you show off what ya got without having to worry about coverage issues ($98). 5. The deep V on this O'Neill  Keep It Solid One Piece ($61.97, down from $72) creates ultimate figure flattery for apple-shaped gals. Check out more top five favorites, plus our guide to Spanx swimwear, cheap swimwear, summer hats, and the best sunglasses, too. Don't forget to peruse the calendar of online sample sales.
Top 5: Cute (And Cheap) Beach Bags You Won't Mind Getting A Little Dirty
Sure, strolling onto the sand sporting the newest Louis Vuitton would give you some serious beach goddess cred, but one overzealous wave or wayward grain of sand could totally trash your designer gear. Give your pricey pieces a rest when you head to the beach, and instead pack all your sun-loving essentials in an inexpensive tote in a pretty, poppy color or fun pattern you'd never be able to pull off anywhere else. Channel your inner artiste with this Mondrian-inspired colorblock tote from ASOS ($25.36, down from $37). Puma's sporty kelly green shoulder bag ($30) is ideal for stashing everything you need for a productive beach workout (and, OK, maybe a trashy magazine or two). Take a vacation from the boring solid-colored bags you haul to the office every day. The beach is all about bold patterns and bright bursts of color, two things this Roxy bag ($29.50) has in spades. Looking to dine alfresco? Pack a picnic in Gap's preppy plaid pack ($15), patterned with a fresh spin on the classic picnic tablecloth. Old Navy's oversized canvas totes ($10) come in tons of cute, candy-inspired color combos, and the interior is roomy enough to hold suits, shades, sunscreen and towels for two.
Top 5: Sexy Little White Dresses That Won't Make You Look Like A Fatty
We certainly wouldn't advise throwing out all your little black dresses, but might we suggest moving 'em to the back of your closet to make room for the season's new superstar: the little white dress. Carrie Bradshaw's rocking a simple yet sophisticated version of the LWD on all the SATC2 posters, and where Carrie goes, a white-hot trend is sure to follow. Grab your wear-anywhere white dresses now, (and tickets to the movie) before the mad dash begins. There's no need for knockoffs. This Sarah Jessica Parker-designed white jersey V-neck is part of the new Halston Heritage line, which offers updates on classic Halston looks at doable prices ($325). A little bit Grecian goddess, a little bit casual chic, this drapey Rachel Pally dress is just as comfy as it is stylish ($198). The only accessory this lightweight racerback dress from Splendid needs is a glowing (faux) tan ($148). Belt it, leave it loose, go easy with flats, dress it up with jewelry... No matter how you wear Cooperative's clean, classic shirtdress, it's sure to look amazing ($58). Pair Victoria's Secret's so-sexy strapless jersey dress with some statement-making gold sandals and you've got a ready-made look perfect for a hot dinner date ($39). See our guide to white dresses for every body type, and then check out more of our top five favorites, along with the best of celebrity style, our SATC2 page, and this week's best sales and deals.
Top 5: Embrace Summer's New Neutral (Without Looking Like An Office Drone)
Crisp white dresses will always be one of summer's obvious neutral staples, but this year, consider going gray for a surprising twist. Gray complements feminine colors like cream and blush, and tempers the season's shocking neons. The key to picking summer-friendly gray pieces is to stay away from anything that resembles suiting or is too structured. Instead, look for easy, flowy shapes that pair well with those pastels and brights. With a plunging ruffled neckline, a sweet bow and delicately striped fabric that's meant to look a bit crinkly, Ali Ro's light cotton dress contradicts gray's typically stuffy corporate reputation ($209 ,down from $350). Matt Benson's dove gray platform wedges are an unexpected alternative to basic (and sometimes boring) black or brown ($187). These funky cropped pants from Seventy Two Changes are edgy enough to pair with a highlighter-yellow tank and towering sandals, but they're safe enough for anyone still wary of harem pants ($128). A ballet pink shell, pearls and this swingy petal skirt from Rare would make such an easy, pretty night-out outfit ($118). It's tough to think of a pair of bottoms that wouldn't look great paired with this drapey Anthropologie tank, embellished with sweet rosettes ($58). Check out our guide to flat sandals, white  jeans, and maxi dresses and see our top five posts for more. While you're at it, subscribe to our newsletter.
Taste Test: Which Punchy Paisley Dress Is $300 More Than The Other?
See more summer dresses,  maxi dresses, floral dresses, and our favorite oxfords and flat sandals for summer. Then head on over to take more taste tests and see all of the best sales and deals happening now.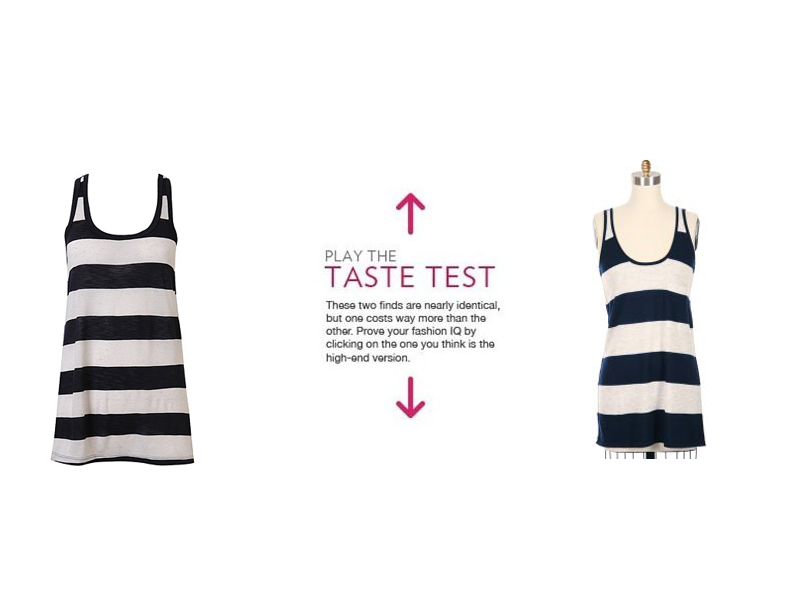 Taste Test: Which Sailor-Inspired Tank Is Forever 21, And Which Is Autumn Cashmere?
Check out our guide to tees for your shape, plus skinny jeans, and white jeans, plus blazers, oxfords and flat sandals.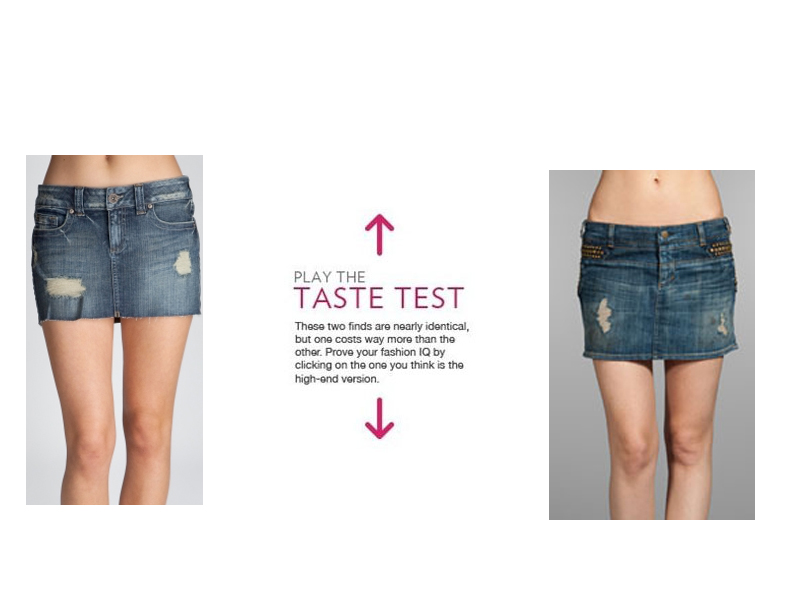 Taste Test: Can You Tell Which Denim Mini Skirt Is Charlotte Russe And Which Is Citizens Of Humanity?
Click through to more taste test challenges, and then see our guides to denim skirts, mini skirts and oxfords.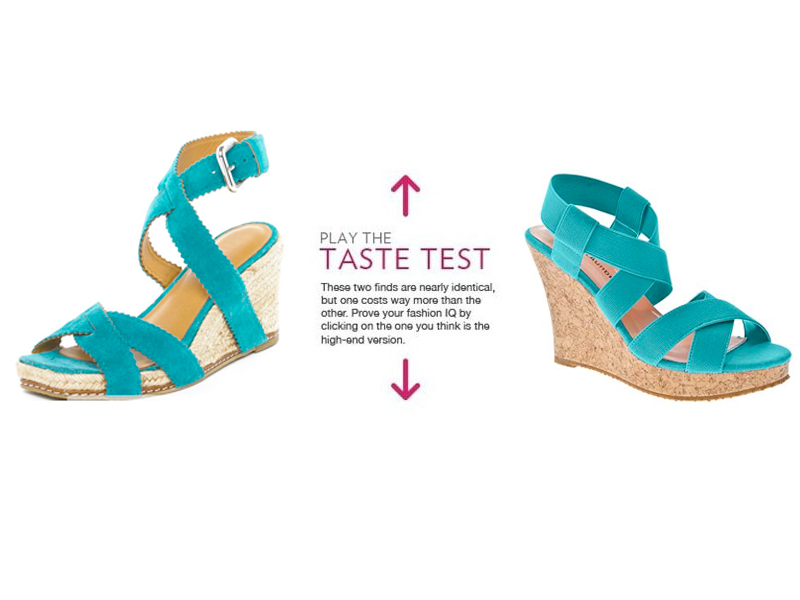 Taste Test: Which Turquoise Wedges Are The Better Deal?
Get more from our guides to flat sandals, oxfords, and cool sneakers, plus skinny jeans and blazers. Check out more taste tests and see our deal of the day posts.
Taste Test: Which Scarf Is From Old Navy And Which Is Lilly Pulitzer?
See all of our favorite accessories for summer, like celebrity sunglasses, flat sandals, and swim cover ups--don't forget your Spanx swimwear and cheap swimwear, too.
Don't Be The Girl In The Ugly Flip Flops. Top 5 Embellished Sandals.
My summer wardrobe pet peeve is seeing a cute outfit ruined by addition of rubber flip flops. These five embellished sandals are the opposite of generic flip flops—they can tie a look together, stand alone as your one statement accessory or take the dress-up factor of a casual outfit up a notch. Like a bib necklace for your ankles, Spiegel's beaded thongs have little details—like a tie-back closure and a woodgrain sole—that add a touch of the exotic ($24). The layered patent leather, sequin and snakeskin detail on Cocobelle's paisley-adorned sandals makes them a subtle and versatile choice for everyday wear ($120). Not a rhinestone fan? The bubbly cluster of beads and baubles on Antik Batik's antiqued gold thongs offers a different way to add a little shine to your shoes ($190). Who needs jewelry when Franco Sarto's sparkly silver and white sandals are on the scene? These snappy sandals are more substantial than most barely-there thongs, so they make more of a statement ($79). These Enzo Angiolini X-Cite sandals ($79) polish off every outfit. See more flat sandals, and then head on over to our guide to cool sneakers, and oxfords, plus maxi dresses and summer dresses.
Top 5: Ikat Prints–Like Viagra For Your Closet
Everyone needs a burst of energy in their wardrobe for spring. Graphic tribal ikat prints are hot right now--even if you haven't put makeup on, you'll look vibrant and pulled together.  Here are our five favorite ikat print pieces right now to completely re-invigorate your wardrobe for spring: Steven Alan Parker's dress pairs an eye-popping pattern with a demure shape for a chic contrast that totally works ($250). Pair this lightweight, primary-colored BCBG tunic with a pair of crisp cropped trousers and a chunky turquoise bracelet for a vacation-ready look—even if you're just going to a backyard barbecue ($88). Solids, flowers and polka dots are expected. Mix things up on the beach by picking a pretty periwinkle bikini in a new, non-traditional print ($37 for the top; $33 for the bottoms). If you're not ready to go full-on print, try easing into the trend with a featherlight summer scarf in cranberry and fuchsia ($35). This funky little mini is the perfect thing to slip into when you're looking something cute but comfortable to wear out on a Friday night ($35). See all of our sales and deals, plus top five picks for your spring wardrobe, and
Top 5: Cute Shoes From Avon (Yes, That Avon)
Turns out the makeup mavens over at Avon have branched out to fashion--we were shocked to see the site was chock full of well-priced shoes, bags, accessories and even a few clothing items. While the selection is limited, the prices are insanely low and the special offers are even better. I was able to find five trendy summer shoes I wouldn't mind having in my closet—and with each pair under $30, I can definitely make that happen. Though they're made of synthetic material, I love teh colors and don't mind not having a pair of leather shoes since it's summer: 1. Of course the pretty pair that led me to Avon's shoe shop made the list. These colorblocked orange and tan wedges pair a crisp, wear-with-anything neutral with a bright pop of citrus ($30). 2. Looks like new items get spotlight prices on Avon. These new-to-the-site strappy wedges are on sale for only $15 (that's less than most of the cheap plastic flip flops out there). 3. Dress these golden gladiators up or down—they look just as perfect with a maxi as they do with a pair of casual pants ($26). 4. Can't bear the thought of squeezing into a another pair of stilettos? Give your feet a break (but stay styling) with a pair of not-too-towering heeled sandals dressed up with gold braiding ($25). 5. City walking and strappy sandals don't always mix. When you want to expose your toes without exposing your feet to the grimy sidewalks, pick a pair of cushiony peep-toe flats in a charming raspberry hue ($25). Check out our guides to the best flat sandals, oxfords, plus summer dresses and skinny jeans to wear with all of your shoes.
What the Shrek? Ogre-Inspired Nail Polish is a Bit of a Stretch
The new OPI Shrek Forever After collection of nail polishes ($6) seems just a bit forced. OPI doesn't need an excuse to launch a line of summer brights with cheeky names, so we're confused by their partnership with Shrek, whose "cast" includes a donkey, a cat, a big green ogre and a princess who, in the pantheon of princesses, is probably the least likely to get a weekly mani. Sure, the colors—deep blues, poppy purples and, of course, acid greens—are fun and funky, and everyone loves a good Disney movie (even if its in its fourth iteration), but we're not sure makeup mavens will really go for neon yellow nails--more likely, we predict a gaggle of tweens sporting "Who the Shrek Are You" green toenails this summer. What do you think? Will you be trading your taupe nail polish for highlighter-yellow Fiercely Fiona?
Bliss Offers Bikini Wax Virgins a Rip-Off That Won't Leave You Cash Strapped
It's only natural to hedge at the thought of a complete stranger using piping hot wax to rip hair from one of your most sensitive spots. But Bliss Spa is confident that their stripless Poetic waxing service will make converts out of even the most hesitant hair holders-on. They're so confident, in fact, that they're offering 20 percent off all three of their bikini waxing packages to every newbie who books a first appointment online by April 30 (use promo code "VIRGIN" for the deal): That gives bikini wax virgins another two weeks to take advantage of what die hard Bliss-goers swear is a nearly pain-free and (some say) downright pleasant waxing experience. Test the waxing waters with a basic bikini wax ($35; $28 with discount), pick and choose where hair stays and goes with a Betweeny wax ($50; $40 with discount), or go full monty with an everything-goes Brazilian ($70; $56 with discount). But beware: glowing reviews suggest you could get addicted to the practice (or at least to the feeling of sexy empowerment that comes along with a bare down-there). If you can't afford the full price service once a month or so, pick up an at-home Poetic Waxing Kit ($45) for touch-ups in between Blissful appointments. Get the best sales and deals, deal of the day picks, and see our hair removal reviews.
Fashion Math: Is a Pricey Prada Umbrella Worth Emptying Your Rainy Day Fund?
April showers bring bad hair days, soggy commutes, footwear conundrums, and chintzy drugstore umbrellas that break. It's about time to invest in a decent umbrella that you can use for many rainy seasons to come.  This Prada Nylon Umbrella ($230) won't  crumple on you at the worst possible moment. It's retractable with a leather handle and basic black color that will match all of your outfits. Let's do a little fashion math to decide whether a chic, sturdy, Prada Nylon Umbrella ($230) is worth emptying the piggy bank: "The Old Farmer's Almanac" predicts up to 30 days of precipitation just between now and the end of May alone, so it's a safe bet that you'll walk out the door with your umbrella 10 days out of each month for the rest of the year. If you simply skip the tall latte on rainy days, you've made up your investment. Plus, if you take into account the clothes, shoes, bags and hairstyles you'll be preserving by toting a trusty rain buster--including the costs you'll save on many cheapo umbrellas that break-- it's definitely a worthy investment. Now just remember not to leave it in a cab and you're all set for any kind of weather. Get geared up for rainy days with our guide to the best women's rain gear, the best rain boots , and the best trench coats.
Taste Test: Can You Spot Which Oxford Shoes Won't Cost You An Arm And A Leg?
There are even more splurge-vs.-steal challenges in our Taste Test archives. Check out more in our guides to oxford shoes, and guides to skinny jeans and white jeans for summer.
Taste Test: Which Bracelet Has a Much More Charming Price?
Think you can tell the difference between  designer duds and their less expensive lookalikes? Prove it by taking more Taste Tests and then check out our guides to necklaces, and bracelets.
Taste Test: Which Gingham Bikini Won't Bust Your Checkbook?
Give a couple more Taste Tests a try, or spend your whole lunch break bargain-spotting in with our sales and deals section and online sample sales. Get yourself a new swimsuit--we've got the best cheap swimwear, monokinis, and Spanx swimwear to hide those imperfections.
Taste Test: Which Striped Skirt's Price Won't Have You Seeing Stars?
Think you're a whiz at spotting the better deal? Tackle some more Taste Tests from our archives, plus shop for comfortable high heels and summer dresses while you're at it.
Beauty Roadtest: Feed Your Face With This Sugary Scrub
What: Baborganic Crystal Face Scrub ($32) Why: When it comes to diet, we're told to avoid anything white: flour, shortening, and sugar are all on the list of no-nos. But where our skin concerned, white ingredients are where it's at if you ask Baborganic, a new "green glamour" division of Babor Cosmetics. Their nubby Crystal Face Scrub is packed full of exfoliating sugar crystals, revitalizing white lentil extract, untouched Swiss glacier water and organically grown white Edelweiss flower to fight free radicals. What it doesn't have is anything that could be categorized as the skin equivalent of junk food: parabens, synthetic dyes or fragrances, petroleum, or animal-derived raw materials. So we're free to go ahead and get that sugar fix. As long as it's in the form of this cell-renewing scrub, we can actually count it in the "Good For Us" column. Get Yours: Beauty Bridge See what we've thought of all the newest beauty products in our beauty roadtests,
Change Up Your Scent With Three Of Our Favorite Spring Fragrances
I'm totally set for warmer weather--my new swimsuit is in the mail, and my closets and drawers are stocked with light, flowy clothes. Even my spring cleaning is done. The last thing on my list is to swap out my heavy winter fragrance for something just as light as my wardrobe. Here are a few favorites: Flora by Gucci ($80) is inspired by the silk Gucci Flora scarf  Grace Kelly wore in the '60s. We love the blend of  sandalwood, peonies, roses, patchouli, and citrus which is light and sexy. Call me crazy, but I'm loving Kim Kardashian's new fragrance ($50-$65) for when something a little dramatic is in order. The crisp mix of vanilla orchid, orange blossom and something called "sensual spice" make the scent sultry and ladylike at the same time. We like Beyonce Heat ($39) not only because the bottle looks like a genie bottle, but because it's spicy and sweet all at once. Did you know she sold over 72,000 of these in one hour? See more fragrances for every season, and check out today's awesome RowNine's fragrance sample sale filled with more spring fragrances at deep discount.
Opaque Stone Necklaces Put Plastic Pieces in Their Places
It's no secret that '80s-inspired see-through jewelry is going to be hot for spring (think chunky cuffs and outsized glass necklaces), but translucent plastic isn't for everyone. If you want the feminine essence of sparkly jewelry without the outlandish bling, look for pieces with opaque faceted stones and briolettes. They're not your typical twinkling gems, so they're edgy and unexpected, and since they're not striving to be invisible like some of the trendy baubles out there, you're arguably getting more for your money. The unique cut-rock shapes of the nude stones on this Cara Accessories stone bib necklace ($85) combined with the bib make casual and evening looks more dressed up. An off-centered cluster of opaque blush and rose droplets adds drama to this multistrand jet choker ($58) from White House Black Market. The milky mint color of the briolettes on Milly's Camilla Teardrops necklace ($245) can read as a soft, springy pastel or a bright contrast to neutrals, depending on what you pair it with. Get the trendy '80s look without picking plastic. ModCloth's Highlight-her necklace ($24) is an expensive way to infuse some way-out-there neon into your wardrobe. Think turquoise is the only opaque blue stone out there? Not so: Amrita Singh's Wisteria Hampton necklace ($250) combines deep indigo stones with bright gold for a completely exotic look. Check out more of the best necklaces for spring, plus skinny jeans and black dresses to wear them with.
News: Karl Lagerfeld Slaps His World-Famous Label on a Salad
It seems like fashion moguls—the same people who send toothpick-thin models down the runways—would be the absolute last people on the planet to endorse food. But Chanel creative director Karl Lagerfeld is doing just that, lending his name to a salad (hey, baby steps). The Alaskan king crab salad on the menu at Paris' La Gioia restaurant is a Lagerfeld staple when he's at the restaurant's sister site in Saint-Tropez. According to WWD, the new "Insalata Karl Lagerfeld" features Sicilian olive oil, bread crusts, sea salt, black pepper and lemon juice. Oil, salt and carbs? We can practically hear Rachel Zoe dying over her icon's dietary choices from here. Get up to date with more style news, check out our  Twitter stalking from Paris Fashion Week, plus see Rachel Zoe's spring picks, and get a pair of skinny jeans to go with everything in your closet.
Solution: Intuitive Makeup That Does The Early Morning Thinking For Us
Mornings can be tough. Pre-coffee, it's even more challenging, when it's completely possible we could end up leaving the house with only one eye lined, or a less-than-blended foundation line. It's all about to get a lot easier thanks to the advent of intuitive makeup that does the thinking for us. Check out our finds: No longer will we have to stand perplexed at the makeup counters wondering if our skin is more Bisque than Bone. BeneFit's cream-to-powder Some Kind-A Gorgeous foundation compact ($28) comes in one universally flattering shade. One. We don't even have to debate between fair, medium and dark anymore. Almay's line of  Smart Shade liquid makeup ($13.50) reads the pigmentation of the skin, matching it flawlessly and smoothing out any little imperfections and blemishes. It's super sheer and blendable, so there's no more need to fear iffy lines around the jaw and forehead, and it has SPF 15, so we save some time skipping the greasy sunscreen. Smashbox's O-GLOW ($26) and O-GLOSS ($22) look a little scary straight out of the packaging—they're bright bubblegum pink—but they're pigment-readers, too, and they replicate the healthy flush that comes from their namesake moment. With all these smart new developments in the cosmetics world, we'll be hitting the road earlier and more put together than ever. Now if someone could invent a pair of tweezers that can zero in on which hairs to pluck and which to leave alone, we'd be all set. Check more of our favorite beauty products, tried and tested beauty roadtests, and the best mascara and best lip balms.
Taste Test: Which Floral Skirt's Price Tag Will Put a Spring in Your Step?
Are you a pro at spotting a deal? Prove it by taking on more Taste Test challenges from our archives.
Taste Test: Which Metallic Cork Heeled Sandals Won't Stick It To Your Budget?
Get a great pair of shoes you can actually walk in with our guide to comfortable high heels. You guessed the better price here, right? Keep your steal-spotting streak alive with more Taste Tests.
Taste Test: Which Cobalt Utility Bag Is The Major Steal?
Can you believe one of those handbags is more than 70 times as expensive as the other? Find more blow-you-away bargains (that look just like their pricier counterparts) in our Taste Test archives.
Taste Test: Which Plaid Shirt Dress Won't Make You Dizzy When You See The Price Tag?
Did you get it right? Reward yourself with a new dress (bargain or otherwise). Or simply keep honing your skills with more Taste Tests.
Taste Test: Which Ruffled Blazer Won't Ruin Your Budget?
Want to get more bang for your refund bucks? Check out more Taste Tests, and pick up tons of designer lookalikes for less.
Taste Test: Which Cute Cowboy Boots Won't Ride Off Into the Sunset With All Your Cash?
Check our warm, stylish winter boots, and if you're ready for more big bucks-vs.-budget showdowns, mosey on over to our Taste Test archives.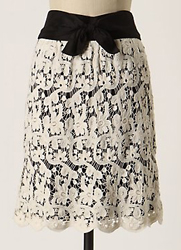 Taste Test: Which Ladylike Lace Skirt Won't Leave Your Bank Account Full of Holes?
Pretty sure you're a whiz at spotting deals? Try some more Taste Tests and prove it.
Road Test: Start Your Makeup On A Blank Canvas With Face Primer
What: Korres Face Primer ($9-$28, depending on size) Why: Powders, concealers and foundations are all designed to make our faces look flawless, but lots of times, they seep into little wrinkles and pores, making those little imperfections even more obvious. Instead of caking that makeup on to reverse the creasing effect, take a cue from the masters of fine art and prime before you paint. (more…)
An A-List Hand Model's Cream Gives Your Manicure A Boost
What: Hand Perfection Day Creams from Ellen Sirot Why: Hand models may be the butt of a joke in Zoolander, but it's pretty rough not to envy the ageless hands of the world's preeminent hand supermodel, Ellen Sirot. Her hands have appeared in ad campaigns for Kate Spade, Sally Hansen, Neutrogena and Dawn, and she's been a "hand-in" for celebs like Sarah Jessica Parker (think of the spectacular bling that comes along with that gig!) Now that she's cornered the mitt market, she's sharing her secrets for youthful-looking hands with the rest of us--which includes her own product. Ellen's Hand Perfection system covers both day and night. The cream is thick, rich and loaded with restorative fatty acids that reverse the effects of water, sun and everyday wear-and-tear. Just a tiny dollop undoes crackled winter hands, brightening and adding a great supple feel. Treat your hands to spring's most in-demand nail polish, and change up your nighttime routine with heavy moisturizers, and ensure you look rested--no matter what--with roadtested concealers, and other beauty tricks.
Bargain Beauty: Perk Up Your Makeup Bag With The New Essentials
Apparently in the cosmetic world, you can make an old formula do new and exciting things—and become a hot ticket item again—by pairing it with an innovative new applicator. We admit we were intrigued by some of the new and funky-looking makeup brushes out there now.  L'Oreal Paris has introduced never-before-seen brushes for three of its products that piqued our interest: For Face: True Match powders and foundations are signature products for L'Oreal. They've put the classic liquid-to-powder formula back in the spotlight with the addition of the True Match roller ($12.79), a device that looks just like what you would use to paint your living room, but in miniature form. The idea behind the roller is that it gives the most even, controlled application without leaving behind those pesky streaks around the forehead and jawline, so you don't have to spend your morning dabbing at your face with a makeup sponge. For Eyes: The wand on L'Oreal's Telescopic Explosion mascara ($7) may look like some sort of gladiatorial torture device, but really, this spiky, orb-shaped brush is the ideal shape for plumping up those hard-to-reach corner lashes, which is pretty cool, considering usually we can't even see those lashes. Sexy retro cat eyes have never been so easy to achieve. For Lips: Once you've tried the teardrop-shaped brush that comes with Infallible Plumping Lipgloss ($9.99), you'll be ready to kiss those other pedestrian gloss wands goodbye. The heart-shaped applicator allows you to line and define lips, and the tiny reserve of gloss that sits in the middle is the perfect amount for one application, so you're never wasting gloss or getting an overly gooey pucker. Still deciding? We've rounded up the best concealer, essential mascaras, and favorite lip balms for you to choose from.
Taste Test: Which Fingerless Gloves Cost Less Than Your Monthly Texting Bill?
There are more lookalikes awaiting your keen bargain-spotting eye in our taste test archives. For more styles like the ones seen here, don't miss our guides to winter fashion, from fingerless gloves to the best winter coats.
Roadtest: A Shiny Serum for When Your Hair Sends Out an S.O.S.
What: Abba Pure Shine Drops ($16) Why: What's bright, bouncy and head-turning? If you guessed Swedish disco supergroup ABBA, you're... kind of right, as far as the name goes, anyway. The real answer is: your hair after a quick smooth-through of Abba Pure Shine Drops. A tiny drop of this shine serum goes a long way towards busting brittle strands and infusing even the most winter-worn locks with spring and sparkle. Abba's game is natural beauty, so you won't find any parabens, dyes or sulfates (it's 100 percent Vegan, too). The stuff may not transform you into an insta-disco queen, but it will make your hair glisten—an effect you might actually prefer. See our online sample sale calendar, plus all the best sales & deals.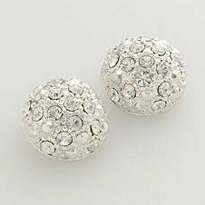 Taste Test: Which Pave Earrings Let You Sparkle Plenty For Pennies?
Wanna find more sparkling bargains? Look no further than our Taste Test archives. Plus, see our guide to the best celebrity jewelry.
Taste Test: Can You Spot Which Sunny Cardigan Is the True Steal?
Like what you see here? There are plenty more deals to peruse in our Taste Test archives.
Best Find Of The Day: Get A Splash Of Summer In A Bronzer That'll Fool Everyone
What: Tarte Glam Gams Leg Bronzing Stick ($30) Why: Yesterday I spent my chilly commute layered up in sweater tights, thigh-high stockings and really thick socks—all under my pants. Needless to say, I'm not currently rocking the glistening gams of a beach goddess... at least not naturally. Enter Tarte's Glam Gams. The bronzy, glittery stick is just like Tarte's wildly successful and totally user-friendly gel cheek stain sticks; I just sweep it over my shin bones and glide a bit on my outer thighs (anywhere there's a natural shadow) and poof! A faux-glow that has everyone fooled into thinking I must be taking quickie jaunts to exotic locales. Unlike gross-smelling self tanners that have a penchant for turning my knees orange, Tarte's wonder stick doesn't mess with skin pigmentation, so what I see is what I get. And it's made with Tarte's super fruit complex, so every time I fake people out with my makeup-toned legs, I'm actually doing something nice and rejuvenating for my dry winter skin. Get more: see our favorite self-tanners, along with the best skin care, waterproof makeup, and lip balm.
Taste Test: Which Motorcycle Jacket Won't Rough Up Your Savings Account?
Find more fashion challenges in our Taste Test archives, and check out the best leather jackets while you're at it.
Roadtest: When Life Hands You Crummy Weather, Reach For This Lemony Pick-Me-Up
What: C.O. Bigelow Lemon Body Cream ($19.50) Why We Love It: In frigid winter months, it's essential to moisturize. At the same time, when the weather is dull, it helps to incorporate a little sunshine into your beauty routine. We love this rich body moisturizer because it's no fuss, and non-greasy, with a really crisp citrus smell that acts as an instant pick-me-up against winter doldrums. While a heaping helping of Bigelow's dense Lemon Body Cream doesn't have the exact same effect as a sweaty glass of ice-cold lemonade in the height of summer while sitting on a front porch swing, we guarantee the sparkly scent will put a spring in your step. And since the cream is punched up with Vitamin C, shea butter and kukui nut oil, it'll send even the driest of dry winter skin packing. With soft, ultra-hydrated skin, you'll be ready to peel down to that bikini the second the mercury starts to climb. We'll help you pick out a fragrance for every season, plus, we've rounded up all the best heavy moisturizers, dry hair care products and lip balm.
Our New Year's Resolution: Giving Back (It Never Looked So Good)
This year, we're looking for new ways to give back. It already feels wasteful to throw away a compact or concealer tube, because you know there's just a little more product left in there. Now, cosmetic companies are making it easy to recycle your empty concealer, tubes of mascara and pots of lip gloss you've amassed while experimenting with the latest and greatest beauty products. • Origins' "Return to Origins" campaign accepts tubes, bottles and jars from any cosmetic company (not just their own), and they'll give you a free Origins skincare sample as a thanks for chucking your empties in their in-store recycling bins. • Collect six MAC cosmetic containers, return them to a MAC counter or online, and receive a full-sized MAC lipstick in your color of choice, courtesy of the "Back to MAC" program. • Any rigid caps that display a 5 in the recycling triangle are eligible for collection at Aveda salons or cosmetic counters for their "Recycle Caps With Aveda" campaign.  Aveda will use the caps to make new ones for their products. • Kiehl's collect the containers that once held their paraben-free hair and skincare products. They don't always offer incentives, but when they do, they're awesome—like full-sized products in return for a few empty Kiehl's bottles. Keep an eye on "Kiehl's In The Community" for upcoming rewards programs, and in the meantime, don't throw any empties out. Put your best face forward this year with the help of our guides to the best mascara, concealers and fragrances.