Mornings can be tough. Pre-coffee, it's even more challenging, when it's completely possible we could end up leaving the house with only one eye lined, or a less-than-blended foundation line. It's all about to get a lot easier thanks to the advent of intuitive makeup that does the thinking for us. Check out our finds:
No longer will we have to stand perplexed at the makeup counters wondering if our skin is more Bisque than Bone. BeneFit's cream-to-powder Some Kind-A Gorgeous foundation compact ($28) comes in one universally flattering shade. One. We don't even have to debate between fair, medium and dark anymore.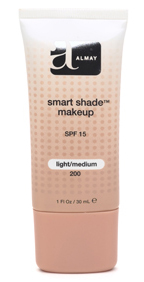 Almay's line of  Smart Shade liquid makeup ($13.50) reads the pigmentation of the skin, matching it flawlessly and smoothing out any little imperfections and blemishes. It's super sheer and blendable, so there's no more need to fear iffy lines around the jaw and forehead, and it has SPF 15, so we save some time skipping the greasy sunscreen.
Smashbox's O-GLOW ($26) and O-GLOSS ($22) look a little scary straight out of the packaging—they're bright bubblegum pink—but they're pigment-readers, too, and they replicate the healthy flush that comes from their namesake moment.
With all these smart new developments in the cosmetics world, we'll be hitting the road earlier and more put together than ever. Now if someone could invent a pair of tweezers that can zero in on which hairs to pluck and which to leave alone, we'd be all set.
Check more of our favorite beauty products, tried and tested beauty roadtests, and the best mascara and best lip balms.