Sure, I've tuned in to So You Think You Can Dance every week to see the amazing choreography and the talented-beyond-belief contestants, but really, I just wanted to see what host Cat Deeley was going to wear. For the 100th episode, it was a sequined leopard-head sheath, and for last night's finale, she donned the world's sexiest satin bedsheet (get a lookalike that doesn't require as much fashion tape in Black Halo's sheath for $390).
And while the cheeky former model is the dictionary definition of "legs for days," her looks are doable for anyone who wants to make a major statement at an upcoming cocktail party.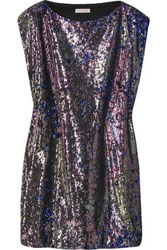 When in doubt, embellish. Cat showed off her great gams in a blue sequined tunic from Matthew Williamson (which, unfortunately, sold out at Net-a-Porter). But mimic her style with Vince's flashy mini ($225).
While we're used to seeing a lot of skin, this crisp, tailored tux is still ultra sexy. Costume National sells a white suit that doesn't scream Saturday night fever ($480).
Just because a dress has been made famous on TV doesn't mean it costs an arm and a leg. Cat took a frugal approach to the strapless cocktail dress in this army green French Connection frock. The same style in chic copper is only $100.
Browse more dresses in our guides, and copy Cat's beauty choices with our mascara and waterproof makeup picks.