If you are a makeup fanatic like myself, you probably think subscription beauty boxes are the most genius idea ever — because they are! Beauty subscription boxes are great if you want to test out trial-size makeup and skincare products before fully committing to the full size product, and their price tags. They are also a good way to stay on top of the latest skincare and beauty products, trends and releases. The best part about beauty subscriptions (other than the products itself), is that if you're budget doesn't allow it, you can always skip the month or just but 1 box individually without a subscription. You are probably familiar with popular boxes like Ipsy and Birchbox, but here are some other amazing boxes with different themes that are perfect for your type of glam:
1. For Natural Beauty Products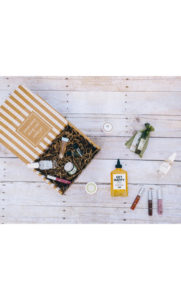 Glowing Beets Gift Subscription ($29.95 monthly, $39.97 for 1 box)
The Glowing Beets subscription box is perfect if you are into natural beauty products and skincare. Products that come in the Glowing Beets box are clean, non-toxic and cruelty-free. "We believe you don't have to sacrifice your health in the name of beauty. We did the research to bring you clean, non-toxic and cruelty-free beauty products comprised of the finest ingredients, so you can indulge in luxurious skincare and cosmetic products without the worries of toxic chemicals," Glowing Beets states on their website.
2. For Curated Makeup Looks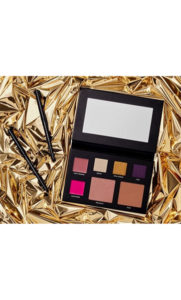 Deck Of Scarlet Palette ($29.95 bi-monthly, $44.95 for 1 palette)
If you are looking for curated makeup looks, this subscription palette (not quite a box) is perfect for you. Each Deck of Scarlet palette is specially curated by "guest" makeup artist. The palettes are full-size and contain 3 eyes shadows, 2 creamy lip colors, a highlight/contour duo and a lip and/or eye liner. The palette is cruelty and paraben-free!
3. For Popular and Up-And-Coming Brands Alike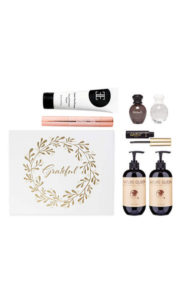 GLOSSYBOX Beauty Box Subscription ($21.00 monthly)
GLOSSYBOX offers 1, 3, 6 and 12-month plans and includes some of your favorite brands like bareMinerals, Burberry, Kat Von D, Shea Terra Organics and more! The box comes in a gorgeous pink box and includes five items, four of which are full-size. "We believe sampling is the most effective and organic way for women to fall in love with a product and become life-long brand advocates," GLOSSYBOX states on their website.
4. For Sephora Brands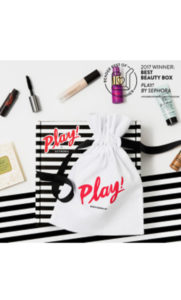 PLAY! by Sephora Monthly Subscription Box ($10.00 monthly)
If you're a regular Sephora shopper, the PLAY! subscription box is perfect for you. The box includes five Sephora brand products and a collectible makeup bag. "We love that feeling when you find a new beauty product, give it a try, and wonder how you ever lived without it. That's why we created PLAY! by Sephora, a beauty box filled with five stellar samples, delivered right to your door," Sephora states on their website.
5. For Face Mask Lovers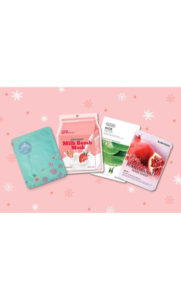 FaceTory FOUR-ever Fresh & SEVEN LUX ($5.95 or $15.95 monthly)
Were you into the Korean face mask trend that took over 2017? If so, you need the FaceTory subscription box that features adorably packaged Korean face masks! "Our obsession led us to find so many great sheet masks available that were harder to access outside of Korea. Now we want to share and provide our favorites among the latest Korean masks in an affordable and easy way. Each month we work hard to bring you — whether you're a sheet mask junkie or sheet mask newbie – the must-have sheet masks delivered right to your doorstep," FaceTory states on their website. You have the option of 4 or 7 face  masks monthly. Trust us, you'll want to go with the 7 option.
So what are you waiting for? Subscribe to one of the awesome boxes today! Also, check out the winter FabFitFun box and these other amazing beauty launches at SheFinds.com
[Photo: Deck of Scarlet]