Take hundreds of needles and glide them along your face for the sake of beauty of gorgeous skin? Sure, why not!
That's pretty much the concept behind micro needing, which is also called derma rolling, which is often also called one of the best DIY skincare treatments imaginable for boosting collagen production and getting more radiant skin.
So, what's up with the needles, exactly, and how isn't this plain old torture?
For one thing, the teeny, tiny needles in a micro needling tool really don't hurt on your face — assuming you don't apply a lot of pressure of spend too much time going back and forth over the same spot of skin. Those needles serve an important function: they create something called controlled mini wounds in the skin, which prompts the skin to create new collagen in order to heal those wounds. And more collagen equals firmer, more radiant and youthful skin.
As with most skincare treatments, you'll get faster and more effective results at a dermatologist's office. Of course, you'll also have to spend more than the cost of a micro-needling roller and a good, quality serum (it isn't recommended that you roll over dry skin).
Here's how it's done: take your micro-needling roller and roll vertically, horizontally, and diagonally on every area of your face — but only for about two minutes in total. As previously mentioned, don't apply a lot of pressure and don't overdo it — two or three times a week may be plenty. After your home treatment, apply a different serum like vitamin C, which some experts say will absorb better about derma rolling.
Ready to invest in a great micro needling tool? Here are three we love.
Stacked Skincare Collagen Booster Micro Roller 
Stacked Skincare Collagen Booster Micro Roller ($30)
Stacked Skincare's Micro Roller has .2mm stainless steel needles that are safe and effective for at-home use. It provides amazing exfoliation benefits and leaves you with plumper and smoother skin. The company is also fast when it comes to deliveries and has a responsive customer service department. You can opt to order your device one time or sign up for recurring deliveries.
OSportFun Derma Roller Microneedles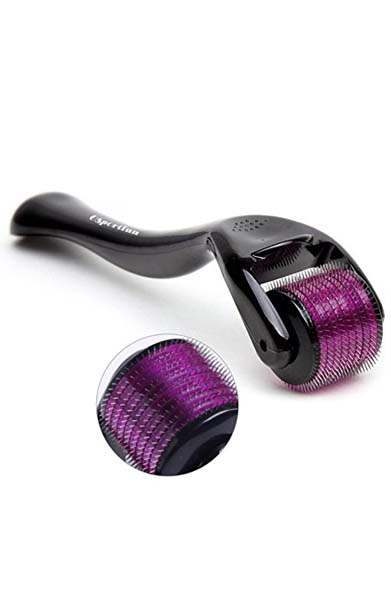 OSportFun Derma Roller Microneedles ($10)
This affordable option consists of very small needles that reviewers say are extremely effective at reducing pore size and improving skin texture (though, don't be surprised if your skin is a little red right after the treatment). One reviewer who says she had hyper pigmentation while pregnant and was suffering from breakouts swears this told helped clear the problem right up.
Micro 540 Needles Derma Roller Skincare Tools 
Micro 540 Needles Derma Roller Skincare Tools ($15)
Reviewers used this derma roller on their faces and bodies, with one saying it helped improve stretch marks on her stomach. This micro-needling device may take a little getting used to at first, but those who count themselves fans of it say it made their skin silky smooth and eliminated pimples and whiteheads. With this and all micro needle tools, be sure to rinse it with alcohol before and after your treatment and don't share tools with anyone to avoid spreading bacteria.
Check out Everything you need to know about microneedling and The scary downside to blood facials that no one talks about on SHEFinds.com.
SheFinds receives commissions for purchases made through the links in this post.