With Valentine's Day a little more than a week away, we're all paying a bit more service to our lips…but, maybe not this much service. Women who want to fill out their pout can now ditch the temporary puff of injectible fillers and scary effects of lip implants (hello, Meg Ryan!) with LALA Graft. The purportedly permanent lip augmentation is the brainchild of Beverly Hills plastic surgeon Dr. Brent Moelleken , and the procedure is just as it sounds – small grafts of your own live skin tissue are taken from another part of the body (usually, the lower abdomen) via an invasive technique called LiveFill™ , and are placed into your pucker, where the grafts assimilate to your body. The result: bigger, more buxom lips.
While I'm all for fuller lips (if they fit your features), slicing and dicing my stomach to add some extra volume to my kisser isn't entirely appealing to me (yet). I'd rather tap the temporary powers of my favorite, and definitely less invasive, lip plumpers.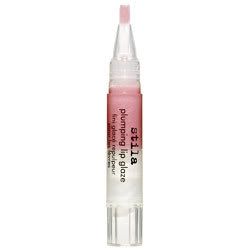 I swear by Stila's Plumping Lip Glaze ($24), which makes lips look and feel rotund.
 The mint-packed formula causes me to puff out my lips more, and the slippery finish seems to magnify mouth size exponentially. Melon Mint, a wear-it-with-anything nude pink, is my go-to shade, and looks great layered over both bright and neutral lipsticks.
I received a gift-set of several LipFusion Color Shines ($38 individual), and the faint tingle, as well as the spectrum of colors available, had me hooked. These plumpers provide an instant swelling effect via marine collagen micro spheres that lasts all day long. If you're looking for a tone that injects a little youthful vitality into your lips (and makes your teeth look whiter!), choose Bloom.
No matter how much you pack on plumping gloss, no amount of volume will take away the fact that your lips will look gross if they're chapped and cracked. That's why I love Jane Iredale Sugar & Butter Lip Exfoliator/Plumper ($24), a double-ended do-it-all that gently exfoliates lips with organic brown sugar on one end, and pumps up the lip volume with a tinted, shea-butter-and-peptide-infused lip plumper on the other.
Check out our Lip Balm Guide for balms that will keep your lips smooth in the dead of winter.