Britney Spears may be a hot mess on her own time, but her "Hold It Against Me" video clearly had a good stylist on board, because Ms. Spears paired her wedding dress (?) with this awesome Dannijo statement necklace: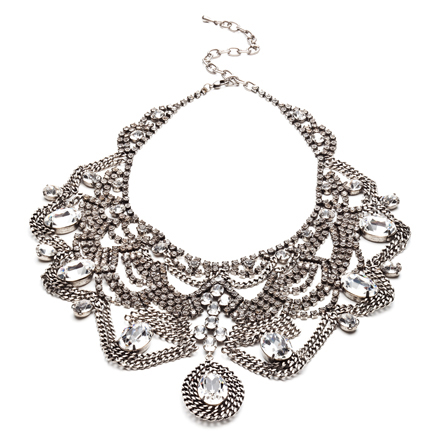 This DANNIJO Ismene ($754) is an insane statement piece. If you've been saving up for something like this – I say go for it. DANNIJO necklaces are always incredibly intricate and eye-catching.
If you're not an heiress, and want the look for less, this Adia Kibur White Stone Tiered Necklace ($48) is perfect. This Nadri 'Lotus' Crystal Y-Necklace ($250) is gorgeous, and slightly toned down.
Shop more of our favorite jewelry pieces – from jewelry staples, to cocktail rings, and bracelets.