When trying to get a flat stomach and toned abs, it can be difficult to figure out which diet tricks and workout moves are the most effective. To make it easier, we collected some of the best ab workouts to help tone your stomach fast and achieve your dream body.
Keep reading to learn more about how you can strengthen your core and get rid of belly rolls for good!
Shutterstock
L-Sit Holds
According to Kyra Williams, personal trainer and founder of Kyra Williams Fitness, this is a great exercise to get a flatter stomach. She explains how these exercises work: "They strengthen your hips and core."
How To: Place two kettlebells next to each other on the ground. Squat down between them and place your hands firmly on the handles. Support yourself with locked out arms and straighten one or both of your legs out in front of you so that your feet are no longer touching the ground.
Shutterstock
Hollow Hold & Hollow Rock
Krya Williams also recommends the hollow rock and the hollow hold to tighten your stomach and shrink your waistline. She explains how they work to help you tone your stomach: "They will help you fire your mid-line and increase your core strength."
How To: Lie on your back with your feet and legs elevated. Keep your abs engaged. Your shoulders should be off the ground, your arms straight overhead, and your chin toward the ceiling. Hold. To try the hollow rock, rock up and down, and keep your core tight.
Shutterstock
Alternating Toe Reach
This exercise is another great one to incorporate into your regular exercise routing since it engages your ab muscles and helps target excess belly fat.
How To: Lie on your back with your arms out to the side and legs straight. Raising one leg, tap your opposite hand to that foot by lifting your torso. Repeat on other side.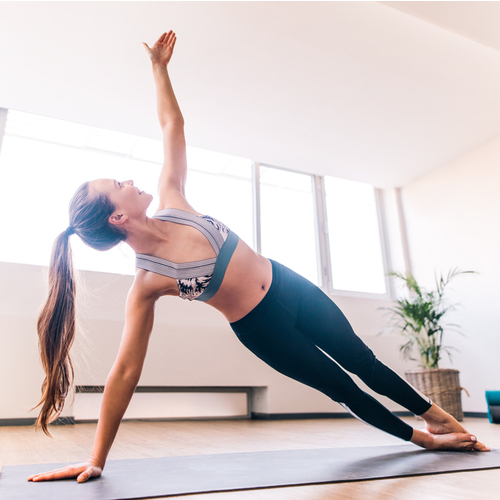 Shutterstock
Side Plank Dips
Side planks are an incredible ab exercise, especially when you add in a dip. This exercise particularly targets your obliques, but it also strengthens your core muscles.
How To: Get in normal side plank position. Lower your hips and then return to the side plank position. Repeat. Switch sides.