Various beauty tools for makeup application come and go, but makeup brushes are timeless.
Once you find a quality set of makeup brushes you love, you'll probably find yourself pretty loyal to them. The types of brushes you prefer, and it mostly boils down to synthetic versus natural bristles, is a personal choice. Brushes with natural bristles are designed from animal hair that move with ease and are excellent at depositing powder cosmetics that require a great deal of blending to get them to look natural. Synthetic makeup brushes, on the other hand, are usually made from nylon. They're better for liquid foundations, cream blushes, and contour makeup because they won't accumulate as much product and deliver a more precise application.
You can, of course, mix synthetic and natural bristle brushes and make the most of your makeup application.
No matter which bristle brush you choose, you'll probably wind up with a collection of at least 10 common makeup brushes. It helps to understand how to use each one.
How To Use Each Makeup Brush Properly
Different Makeup Brushes And Their Uses
1. Powder Brush — Your powder brush will be one of the fluffiest, if not the fluffiest, in your makeup brush collection. Those airy, rounded bristles are great for loose and pressed powders and should be applied to your face with more freedom than precision. Think sweeping motions across your forehead, down your nose, and around your cheeks and nose. Don't forget to tap out the excess product before applying powder or you could wind up with a chalky finish (and a messy vanity).
2. Concealer Brush — This precise, tapered brush has rounded edges that can effortlessly blend around the curves of your nose and under your eyes. Apply concealer to spots where you'd like a little more coverage. Use concealer to draw an inverted triangle beneath each eye and then blend, and blend some more.
3. Angled Contour Brush — The angled contour brush may simply be called an angled brush, for good reason: it serves several makeup purposes. This brush is a master of precision, so use it to apply contour makeup: bronzer in the shape of a "three" along your outer forehead, beneath cheekbones, and along your jawline; blush on the apples of cheeks (hold it on an angle and sweep outward toward your hairline); and highlighter along your cheekbones, brow bones, and just the tiniest dot on your cupid's bow.
4. Kabuki Brush — The Kabuki brush is a favorite among makeup lovers because its dense, soft bristles are a multi-functional dream. You can use it to apply liquid foundation, bronzer (again, in "three's" is always best), and even highlighter for your body.
5. Flat Eye Shadow Brush — This is the eyeshadow brush you'll use to apply a lighter shadow color to your lid. It's great for blending color and works well as a highlighter beneath your brow.
6. Eye Shadow Crease Brush — The next eyeshadow brush you'll want to have around is one that has a more pointed tip and can create depth in the crease of your eye. Since you're probably using a deeper color in the crease, make sure you tap out your brush before applying the shade.
7. Eyeliner Brush — Most eyeliner brushes are angled and deliver very fine, seriously precise lines to your bottom and top lash lines. For an even bolder look, dampen the brush before you dip it into a gel eyeliner.
8. Brow Brush — A dual-ended brow brush is a must for gorgeous eyebrows. An angled brow brush is perfect for applying brow gels and powders, while the spoolie on the other side blends color into your brow, grooms, and holds them in place.
9. Fan Brush — Last, but not least, many love to include a fan brush in their cosmetics brush collection. Thanks to its light-as-air bristles, this brush can be used at the end of your makeup application to add a final layer of powder or, conversely, dust off excess powder from your face.
Shany Professional Brush Set ($24)
If you're searching for a complete makeup brush set with natural bristles, this one has been rated highly on Amazon and includes 32 brushes that range from a fan brush to an eyebrow brush. It even comes with a leather storage pouch. The bristles are made from a soft, silky combination of goat, badger, sable, pony, squirrel, and raccoon hair and the brand is a member of PETA and against animal cruelty.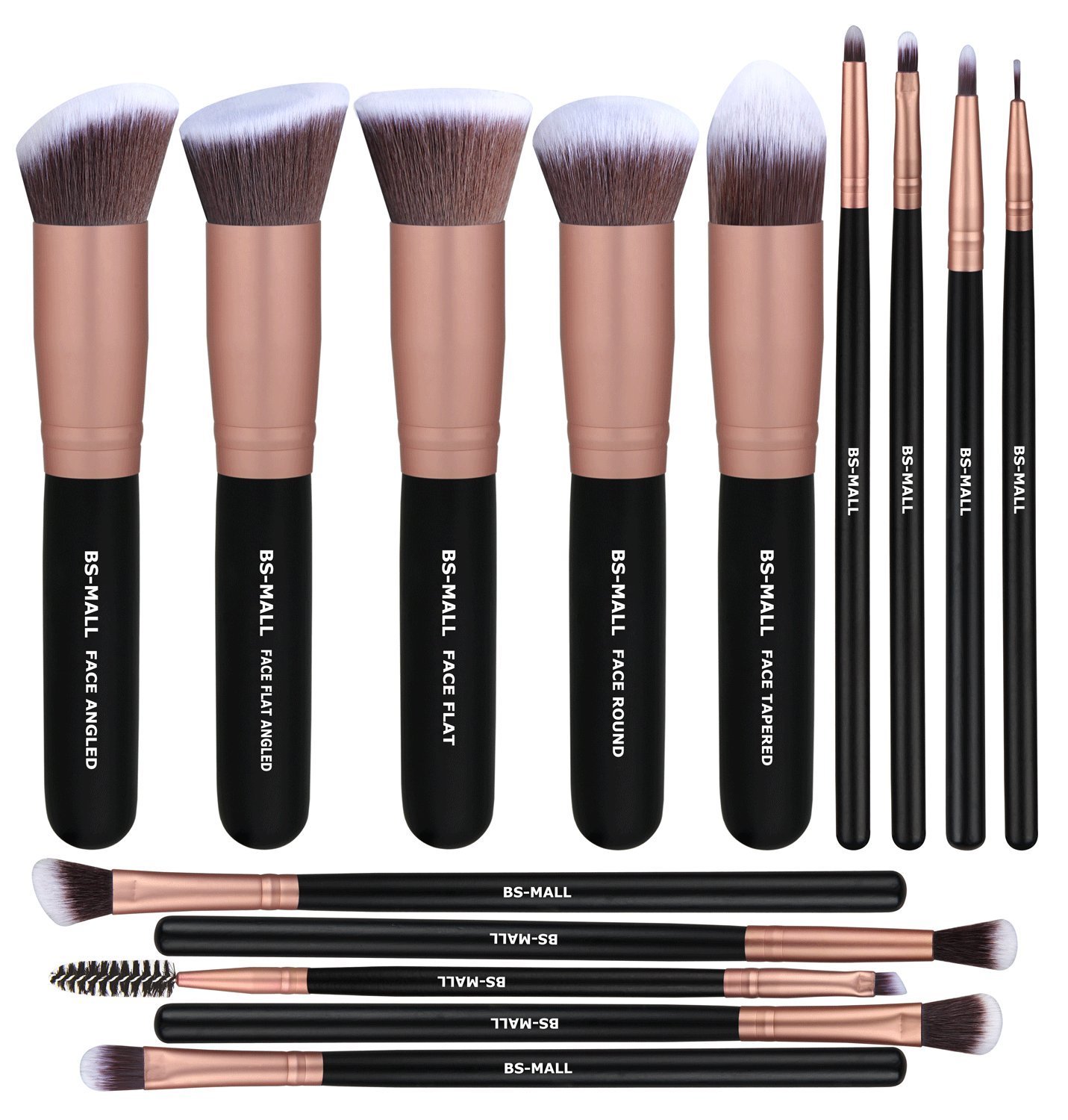 BS-Mall(TM) Premium Synthetic Brush Set ($10.99)
If you prefer a synthetic makeup brush set, this 14-piece set includes five Kabuki brushes and nine eye makeup brushes. They're made from synthetic bristles that won't shed and are perfect for blending makeup.
For more beauty tips, check out:
--How To Clean Your Makeup Brushes
--This Cheap Makeup Brush Is A Must-Have For Your Nightly Skincare Routine
SheFinds receives commissions for purchases made through the links in this post.