Is there anything you can't buy from Amazon? If there is, we've yet to find it. The online retailer carries absolutely everything imaginable at shockingly affordable prices. So, for your next loungewear purchase, it only makes sense to search Amazon for the best yoga pants.
But even if Amazon offers a great selection, we always want to get the most bang for our buck. Shelling out $30 on a pair of lounge pants, no thank you. $20? Still no good. $15 is more reasonable. But $10–now that's what we're talking about.
The selection of cheap yoga pants on Amazon is impressive. We're talking 10+ pages of search results dedicated to the comfy stretch pants. But not all pairs of cheap stretchy yoga pants are created equally. We all know that yoga pants and leggings have a tendency to be a little too thin and turn see-through.
Fortunately, customer reviews help us sort through the yoga pants that will save us money–and the embarrassment of showing our underwear to the entire world.
Shop the best pairs of Amazon yoga pants under $10 below.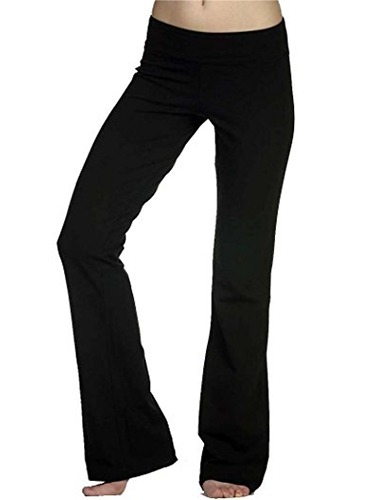 Hollywood Star Fashion Foldover Contrast Waist Bootleg Flare Yoga Pants ($6.95)
Promising review: "These are great! Fabric is NOT thin at all, and underwear ISN'T visible. These pants are nice and long, too. Longer than the standard 32" length, so I'm beyond happy about that!!! I finally have pants that are long enough and are very comfortable. I first ordered two pairs. They were perfect and identical to each other so I ordered another two more. I love the extra material around the waist. I keep the fold-over band pulled up because it fits better that way for me. I really love these pants. Size Large at $6.95 is absolutely amazing."
Hollywood Star Fashion Women's Slimming Foldover Capri Crop Yoga Pants ($8.56)
Promising review: " love yoga pants, and capris. I am 5'1 about 140lb and have been starting to workout and such more. During the winter I was sticking with just pants, but the capri's are great for spring and summer. They allow coverage, but can be pulled up to the knee so that they are not too hot. I also wear them below maxi skirts for layering. I get the layer underneath without it being visible below skirt. If I try to wear straight leg yoga pants for layering, I am so short the pants are on my ankle/heel. When I walk and the maxi skirt lifts up, or when I hold it above feet for when ground is wet, you could see the other yoga pants. Oh, and I sleep in them. I love yoga pants, and these are comfortable."
Hollywood Star Fashion Women's Slimming Foldover Bootleg Flare Yoga Pants ($3.75)
Promising review: "I decided to buy these in spite of the sizing issues people had in other reviews. I am 5'5" 190-ish pounds and bottom heavy (butt and thighs). I bought a large and i put these on, they were very snug which i expected because they are "slimming" which means they're supposed to hold you in. Had i gotten an x-large (which isn't available) I wouldn't have gotten the same slimming effect. I am mostly torso so I didn't have a problem with the length of the pants but I could see where a person with longer legs would have a flooding issue. They are average length...not short or tall. The fabric is great, sturdy but soft and breathable and not opaque...although I didn't try to wear bright/patterned panties with them to check if you could see them or not but i couldn't see panty lines that's for sure. i wore these the day after they got delivered, i love Amazon because my products always arrive much sooner than expected and these were no exception. Love them, would definitely buy another pair. So if you're looking for something loose and flowy please go up a size because these are supposed to be snug. Happy shopping!"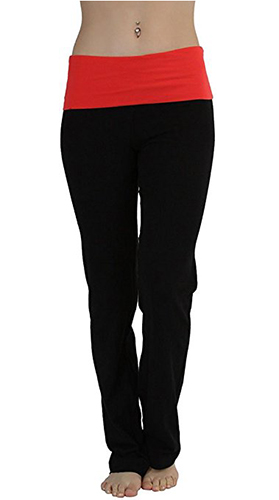 ToBeInStyle Women's Fold-Over Waistband Semi-Flare Leg Opening Yoga Pants ($8.95)
Promising review: "These are great for me. I love the material and minimal flare. They aren't see through like other reviews stated. I would buy more in other colors."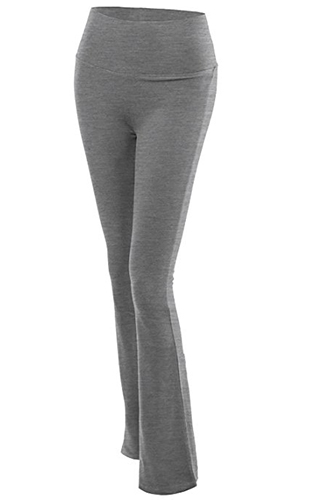 Xpril Women's Solid Bootleg Flare Workout Yoga Pants ($8.90)
Promising review: "Nice. Very comfortable. I'm a bit short-waisted, so I didn't have any problems with the pants being cut too low. In fact, I can choose to either wear the fold-over waistline folded way down, moderately folded to cover most of my tummy, or pulled all the way up to my waist. The design allows for versatility. Plus, the fabric is soft and breathes, very important when working out. Loose fit offers ease of movement without excess fabric getting in the way. Good yoga pants for yoga or every day."
For more affordable loungewear options, check out the best leggings under $15 on SHEfinds.
SheFinds receives commissions for purchases made through the links in this post.