Healthy hair is the result of a healthy hair care routine, and that means that every product must be formulated with nourishing ingredients for the sake of your strands. Experts say that most hair care routines are missing a fortifying and strengthening shampoo, which can contribute to conditions like thinning hair and excessive hair fall.
"An ideal shampoo for thinning hair needs to not only improve the volume of your strands but also encourage growth and circulation of hair follicles," New York City dermatologist Neil Sadick tells Allure.
Need help finding the right shampoo for your hair? Sephora shoppers are loving Amika's 3D Volume and Thickening Shampoo, a weightless shampoo that plumps hair from root to tip with a patented blend of ingredients. They love it so much that they've given the shampoo a near-perfect review on Sephora.com. Here's everything you need to know before switching to this top-rated thickening shampoo: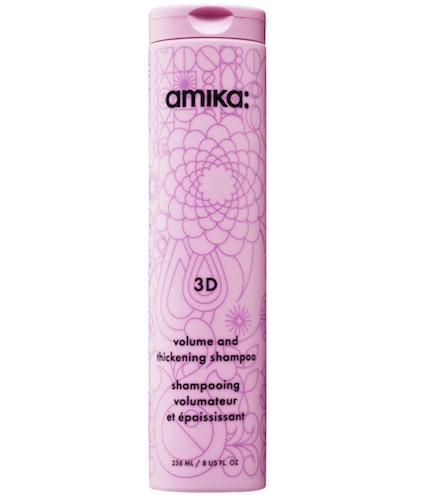 TRY IT: Amika 3D Volume and Thickening Shampoo ($20)
Shutterstock
Key Benefits:
-Promotes hair growth by stimulating regeneration in the hair follicles.
-Reduces hair loss using a blend of hydrolyzed rice and vegetable proteins.
-Adds volume to lifeless strands while improving hair's overall thickness, shine, and health.
Highlighted Ingredients:
Redensyl®: Supports healthy hair by supporting the hair follicles and reducing hair loss.
Hydrolyzed Rice Protein: Improves hair volume and manageability while providing thickness and natural shine to hair.
Hydrolyzed Vegetable Protein: Thicken, volumize, lightly moisturize, and make hair more pliable from the inside-out.
Shutterstock
Promising Amika 3D Volume and Thickening Shampoo Reviews:
"Perfect for my thin, fine hair. I air dry my hair most of the time, and this gives it texture and volume. Kind of amazed at how well it creates volume without heat." - Nomakeupmakeup0
"even after the first wash, I felt a difference in texture and volume! My hair air dried so nicely with a full volume effect!" - aaaaaaaaalex
"The first time I used this I used way too much product and my hair seemed greasy and messy, although, I still was impressed with the effect. I have long naturally straight hair that will wave underneath and also if i let it dry in a twisted bun. It has also thinned out as I get closer to my 30s. I recently color treated with full balayage. I LOVE THIS SHAMPOO. I have always liked air drying my hair and having a beachy messy look. But recent years I have been so unhappy with how my hair looks - flat on top and the bottom fluffs out weirdly. But this shampoo gave me all over volume even with my long hair. I am so excited to give my hair a break from hot tools and wear it in my previous go-to beachy look. Even if you have long hair or a lot of hair do not use a lot. Your hair will look greasy. Also, if you are pairing with the conditioner - it is not very moisturizing. I mixed half volume conditioner with half of any of amika's masks. PERFECT!" - lolcarolyn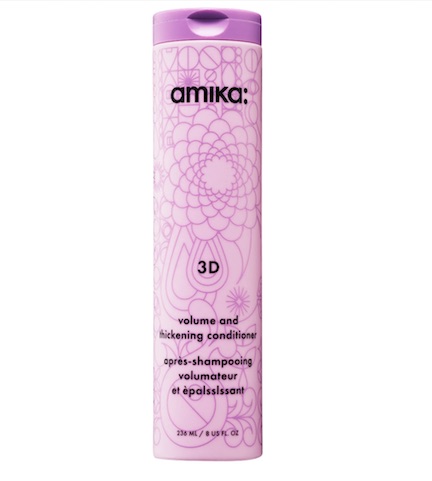 Amika 3D Volume and Thickening Conditioner ($20)
For the best results, Sephora shoppers recommend pairing the 3D Volume and Thickening Shampoo with the brand's 3D Volume and Thickening Conditioner, which uses the same formula to stimulate hair follicle regeneration, hydrate hair, and reducing hair loss due to breakage.
Promising Reviews:
"This conditioner goes perfectly with the shampoo, smells amazing and doesn't make my thin hair appear oily or weighed down. Love it!" - dianacallisto
"This conditioner made my hair sooo soft and silky after I paired it with its sister volume shampoo. It is the perfect combo for achieving volume, thickness and nourishing your hair. My hair feels so soft after each usage. I definitely recommend." - alisaaksen
"I have been using this along with the 3D Volume Shampoo. I feel like my hair absorbs the conditioner right away instead of feeling slimy like many conditioners do. My hair becomes full but smooth, not something that volumizing products usually do! The only concern I have is that the conditioner will be gone before the shampoo." - AMS513

SheFinds receives commissions for purchases made through the links in this post.