How we start our days can make a huge difference when it comes to diet and weight loss.
Your breakfast of choice should be packed with nutritious ingredients that will give you energy, aid digestion and set the tone for healthy eating for the rest of the day.
We can't stress enough the health benefits of vitamin-packed smoothies. You can get your full servings of fruits and vegetables (the fiber! oh, the fiber!) and sneak in foods that will help you burn belly fat fast, such as turmeric and bone broth. Plus, they're creamy and delicious!
We spoke with leading nutrition experts to get the recipes for these incredible blended drinks you should be drinking every morning! Here they are:
Chocolate Almond Raspberry Smoothie
This recipe from Registered Dietitian Nutritionist Bonnie Taub-Dix is made with Blue Diamond Unsweetened Chocolate Almond Breeze, and according to a study published by the Journal of the American Heart Association, almonds can help reduce belly fat.
Raw Chocolate Turmeric Smoothie
This recipe from Valerie Orsoni, founder of online weight loss coaching LeBootCamp.com, contains turmeric which is an anti-inflammatory wonder food that contains a high level of manganese and iron and helps with fat metabolization.
Anti Belly Bloat Green Smoothie with Pineapple Papaya
This natural green smoothie from Jen Hansard CEO of Simple Green Smoothies helps to beat belly bloat and discomfort.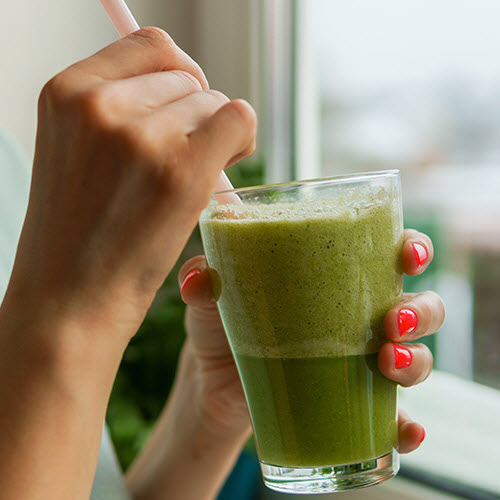 Mint Cacao Smoothie with Bone Broth
This smoothie has all of your nutritional bases covered, with veggies, healthy fats, collagen protein, and antioxidants. It's perfect for belly fat as bone broth is jam packed with anti-inflammatory, gut-healing nutrients.