If you're a fan of Marvel's The Avengers comics and films, and especially if you count super spy Black Widow as one of your favorite comic book characters, there's an easy, affordable way to recreate her slick spy look by making this Avengers Black Widow Halloween costume without paying high Marvel prices.
DIY Avengers Black Widow Halloween Costume
If you aren't familiar with Black Widow but love the idea of playing a baddie-turned-good secret agent, it doesn't get much better than the iconic character played by Scarlett Johansson in The Avengers, Avengers: Age of Ultron, and Avengers: Infinity War. Black Widow, whose real name is Natalia Alianovna "Natasha" Romanoff, is a former spy for the Soviet Union who later became a member of S.H.I.E.L.D., an international counter-intelligence agency. Over time, the talented spy and assassin changes allegiances and becomes a founding member of The Avengers, where she fights alongside other Avengers like Iron Man and Captain America.
This DIY Avengers Black Widow Halloween costume consists of separate pieces you can buy now, wear anytime–even after Halloween! Here's everything you need to recreate The Avengers' Black Widow this Halloween.
Creating The Perfect Avengers Black Widow Halloween Costume This Year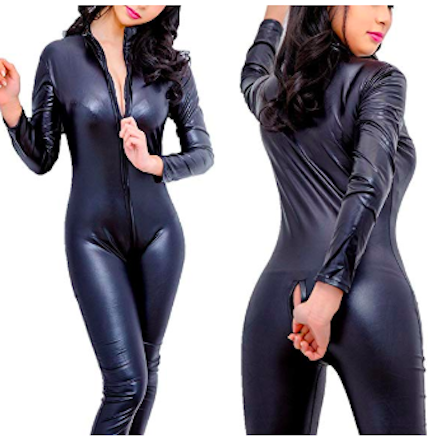 Sorrica Pu Faux Leather Catsuit ($21)
A Black Jumpsuit

What piece does every villain-fighting spy need in her closet, no matter who she is? A jumpsuit that fits like a glove, of course. What kind of jumpsuit does a character like Black Widow require? This slick black jumpsuit, which has a zippered front and a zippered back, slight collar, and long sleeves. This jumpsuit is made from faux leather material and is stretchier and more forgiving in the heat than PVC.
It comes in sizes small (4 to 6), medium (8 to 10), and extra large (16 to 18). Most reviewers say it provides an amazing fit, but that if you're unsure of your size, order up to feel more comfortable.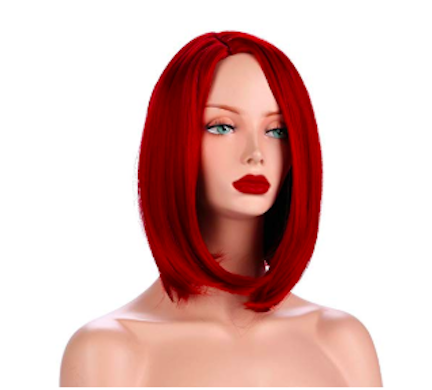 YOPO Short Bob Wig ($17)
A Red Wig

Black Widow's flaming red tresses are a trademark, and unless your hair is red, you'll need a wig to pull her off. None of this is to say that the spy doesn't experiment a little with her hair in the three Avengers films--she'll actually be blonde in Avengers 4! At times her locks are slightly longer and more flowing and romantic, and other times she gives her hair a good snip. This fierce red bob wig captures Black Widow's fighting spirit.
Tanpie Canvas Belt ($10)
A Belt

If you already have a black canvas or fabric belt in your closet and are willing to jazz it up for the sake of your Black Widow costume, perfect. If not, snag this military style black belt, which will fit directly on your waist over your catsuit, and move on to the next step — customizing it.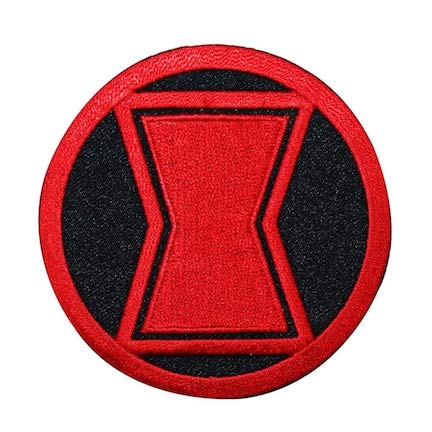 Loungefly Black Widow Uniform Applique ($10)
A Black Widow Logo For Your Belt

The only bit of color in Black Widow's catsuit spy uniform aside from her red hair is this Black Widow logo, which she wears right in the middle of her belt. Stick it to your belt buckle using strong Gorilla glue, allow it to dry overnight, and, voilà, you have a Black Widow belt of your own!
Leg Avenue Police Belt With Garter Leg Strap ($12)
A Leg Strap

Black Widow always has police belt garter leg straps on because any good spy needs a few good places to store her weapons. Purchase two of these garter leg straps—one for each leg—to fulfill your fictional assassin obligations.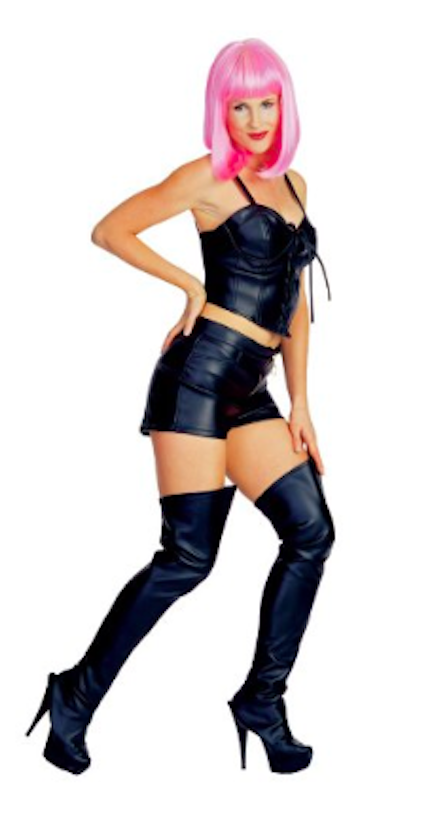 Rubie's Costume Thigh High Boot Tops ($13)
Black Boot Tops

Black Widow wears a serious pair of black boots when she's in action. But actual black boots are going to cost you a pretty penny, so cut down on that expense with these thigh high boot tops, which you simply slip right over your shoes. One size fits most and you can score them for less than $15.
SheFinds receives commissions for purchases made through the links in this post.