There's more to a good moisturizer than meets the eye. Most people think that it just quenches dry skin, but moisturizers actually play a greater role in maintaining the health of your skin. Moisturizers are designed to strengthen the natural moisture barrier, helping your skin stay plump, hydrated, and protected from environmental stressors. "When the skin breaks down due to a compromised barrier, most people's skin responds in the same way: Inflammation," says Rachel Nazarian, MD, FAAD, a dermatologist with New York's Schweiger Dermatology Group. "Inflammation is typically seen as redness of the skin, flakiness, or dryness, and sensations of stinging or burning, even itching."
Opting for a moisturizer like Sunday Riley's new ICE Ceramide Moisturizing Cream is an effective way to keep your skin nourished as it delivers essential hydration and skin-healthy nutrients like ceramides to the cells. Its formula is so effective that plenty of Sephora reviewers have dubbed it the best anti-aging moisturizer for dry skin. Keep scrolling to get all of the details: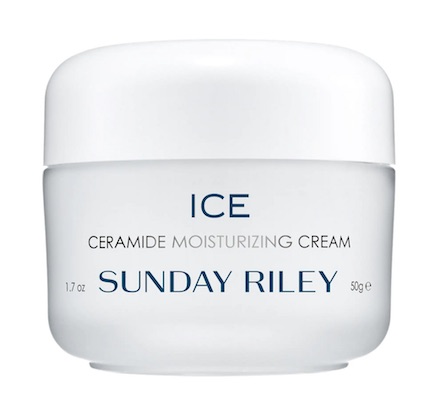 TRY IT: Sunday Riley ICE Ceramide Moisturizing Cream ($65)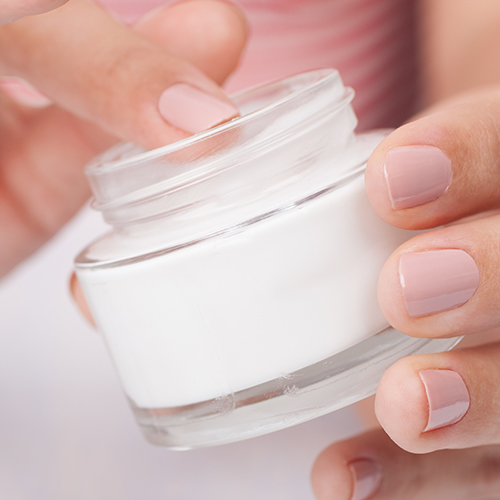 Shutterstock
Everything You Need To Know About The Best Anti-Aging Moisturizer For Dry Skin:
Sunday Riley's ICE Ceramide Moisturizing Cream is a pro-ceramide moisturizer that strengthens the natural moisture barrier against environmental stressors for plump-looking, baby-soft skin. This rich but lightweight dual-action pulls hydration into the skin, while ceramides, vitamin F, and other ingredients strengthen the skin's natural moisture barrier, sealing in moisture. Skin is left glowing, visibly smoother, and deeply hydrated.
What Does Each Ingredient Do?
Ceramides
Ceramides help form the skin's natural moisture barrier and are a "vital component of the skin," according to Audrey Kunin, a dermatologist in Kansas City, Missouri. "They are the body's natural moisturizer, and the barrier that prevents dehydration." In fact, New York City-based dermatologist Sejal Shah, says that flakiness and dry patches are more likely to occur if the skin doesn't have enough ceramides. "When the skin lacks ceramides, the barrier becomes compromised, resulting in dryness and irritation," she tells Allure.
Vitamin F
This skin-healthy vitamin, which is often referred to linoleic acid, replenishes lipid levels and strengthens the skin's natural moisture barrier. It's rich in omega-6 fatty acids and targets the outer layer of the skin barrier known as the stratum corneum.
Coconut
Coconut is featured in the ICE Ceramide Moisturizing Cream for its hydrating properties as it's known for increasing moisture in the skin. It's also renowned for its ability to soothe and prevent inflammation.
Shutterstock
Promising Reviews:
"This cream feels great. It kind of the same consistency as the La Mer cream, you have to work it in a little, but it feels so good. The smell is nice too. Nothing medicinal or overpowering. I was waiting for SR to come out with some products for dry skin!!! I'm so happy about this." - edithh
"Ok, I've only used this twice. But wanted to add some insight on a new product from Sunday Riley. I use all the CEO products and Luna oil. I love the texture of this moisturizer. Definitely a cream without being heavy or thick. Has a slight smell, very pleasant; reminds me of marshmallows... You don't have to use much, I used much less than a dime-size amount and it covering my face and neck very nicely. Quickly absorbed and absolutely no stickiness. Will continue to use, and will add more to review in a couple of weeks. Very impressed with early usage." - DiveJ
"This goes on like a dream, feels beautiful and makes your skin looks and feel so baby soft. I break out EASY and this does not clog my pores or break me out at all. Your skin will thank you, you will see results quick! Also, you need so little this will last you a while!" - cordy79
SheFinds receives commissions for purchases made through the links in this post.