No one has time to deal with tired-looking under-eyes in the morning, which is why it's recommended to incorporate a rejuvenating eye cream into your nighttime skincare routine so you can wake up looking refreshed. Not sure where to start when it comes to eye creams? Opting for a product that contains retinol is an effective way to transform your under-eyes as it "results in more even, smoother skin and helps reduce the appearance of sunspots, fine lines, and wrinkles," according to New York City-based dermatologist Dr. Shereene Idriss.
Where To Find The Best Budget Retinol Eye Cream:
If you're looking for an affordable retinol eye cream, then Olay's new Retinol24 Night Eye Cream needs to be on your radar. Featuring Olay's new and improved, non-irritating retinol formula, this nighttime eye cream is designed to target fine lines and wrinkles to reveal a more refreshed and youthful-looking complexion. This product is so good that it's already got a 5-star rating on Target.com and plenty of reviewers are calling it the best budget retinol eye cream!
TRY IT: Olay Eyes Retinol24 Night Eye Cream ($28.99)
Shutterstock
Key Benefits:
-Formulated with Olay's Vitamin B3 + Retinol Complex to regenerate the delicate skin around the under-eyes.
-Firms, smooths, brightens, evens skin tone, and reduces the appearance of crow's feet and wrinkles.
-Deeply hydrates the under-eye area and nourishes the skin all night long.
Promising Reviews:
"I love this night eye cream! It's creamy and thick and I feel like it does a great job at moisturizing the area around my eyes. My skin always feels soft and smooth after wearing it. I would definitely recommend this eye cream!" - lschw966
"I really like this product because it doesn't feel heavy and I do notice a difference in the brightening of my eyes. I work overnights so I'm always looking for a good eye cream. I also feel the size is perfect for travel, plus a little goes a long way." - shelbyx3
"Ok, I love this! It is nice and creamy and just a treat to put on. After a single-use, my under eye area appeared to be brighter and firmer. I cant wait to see how my eyes look after continued use." - kaitlins7974
Shutterstock
How Does Olay's Vitamin B3 + Retinol Complex Work?
Olay's new Retinol24 line (which is comprised of the Night Eye Cream, Night Moisturizer, and Night Serum) features the brand's innovative Vitamin B3 + Retinol Complex, which delivers the most potent retinol available without the irritation. "Retinol is probably the most challenging skincare ingredient to formulate and requires finding that elusive sweet spot where you get great stability, bio-availability (meaning retinol penetrates into the skin) and no irritation," Dr. Frauke Neuser, Olay's principal scientist, tells SheFinds.
The Vitamin B3 + Retinol Complex uses a blend of two different retinols, which are contained in tiny oil droplets suspended in an oil-in-water emulsion. This formulation allows the retinol to penetrate over 24 hours, giving the skin time to process it without irritation. "This approach means that Olay Retinol24 products provide better stability and more potency than many other formulas we tested," Dr. Neuser adds. "All three products from the Olay Retinol24 collection provide brighter, smoother skin every morning when you wake up, as well as 24-hour hydration."
Keep scrolling to shop the entire Olay Retinol24 Collection: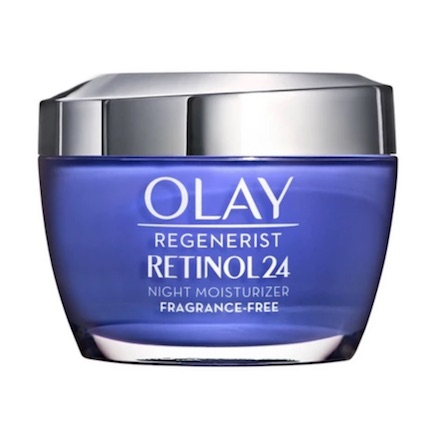 Olay Regenerist Retinol24 Night Moisturizer ($28.99)
The Retinol 24 Facial Moisturizer penetrates deep into skin's surface layers to deliver lasting hydration and improve the look of wrinkles, firmness, smoothness, and more.
Olay Regenerist Retinol24 Night Serum ($28.99)
This ultra-lightweight hydrating formula absorbs quickly to deliver anti-aging ingredients deep in your skin's surface for overnight regeneration.
SheFinds receives commissions for purchases made through the links in this post.