There's a common misconception surrounding foundation for mature skin. Most women over 40 think that they need a heavy, full coverage formula to mask redness, dark spots, and fine lines and wrinkles, when they can actually make matters worse. "Anything too heavy will settle into lines and do the opposite of what you're looking for," explains makeup artist Fiona Stiles, who suggests opting for a lightweight formula that "melts into the skin" for a flawless and fresh look.
Noticing that your go-to foundation is falling short? Makeup artists say it might be time to invest in a CC cream. In fact, there's one color-correcting formula that stands out from the rest–it's IT Cosmetics' Your Skin But Better™ CC+ Illumination Cream with SPF 50+. This best-selling Sephora CC cream improves the overall appearance and texture of skin without caking or creasing. No wonder it's being considered to be the best CC cream for over 40…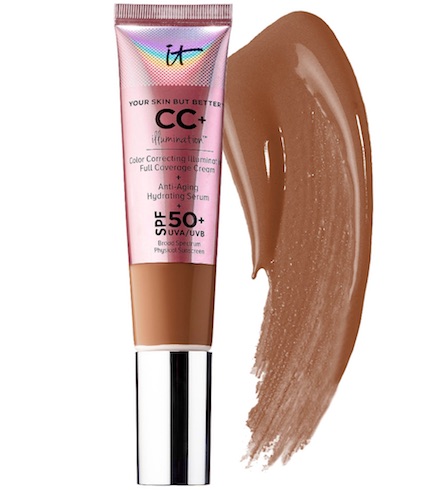 Try The Best CC Cream For Over 40
IT Cosmetics' Your Skin But Better™ CC+ Illumination Cream with SPF 50+ ($39)
Benefits Of Using A CC Cream:
-Delivers full, flawless, perfect coverage, and protects your skin.
-Provides intense hydration, support improved appearance in skin texture, and enhance the look of skin brightness.
-Instantly camouflages imperfections, including dark spots and diminishes the look of wrinkles and pores for a more luminous, supple, and flawless-looking complexion.
Promising IT Cosmetics Your Skin But Better CC+ Illumination Cream Reviews:
"Let me start off by saying that the medium shade does not appear glittery, contrary to other reviews. I recently received this as a sample and immediately fell in love. I'm 40 and a former sun worshipper (why?????) I have some dark spots near my hairline at the top of my forehead, and other typical 40 year old stuff (bags under my eyes, loss of radiance, etc). For the first time ever, I did not have to use a concealer first on my dark spots. The illuminator diminished the appearance of the luggage under my eyes, and my entire face looked more youthful and dewy. The best part is that it doesn't FEEL like you are wearing make-up. I realize and respect that there are some negative reviews out there, but for me, this is the fountain of youth." - finickyshopper
"OKAY GUYS LISTEN. This is basically the best foundation I've used. When I first put it on I was like the coverage isn't what I'm used too (I used kat von d forever since I played softball and needed that stuff to stay on my face no matter what) I have SUPER DRY SKIN. Matte foundations I avoid at all costs. If you have dry skin buy this. Buy it right now. The coverage is buildable to full coverage (give it a chance!) I feel like this blurs my skin and makes me look super glow-y. I've tried every foundation under the sun, KVD, Too Faced, Marc Jacobs, NARS all of it and basically after the search was done I found the winner. This foundation. I have acne prone skin and ever since I used this MY SKIN CLEARED UP WITHIN A MONTH. I feel like since I have dry skin I have no oil in my skin for anti-aging. But literally, my skin is hooked on this foundation. It's skincare, full coverage, and heaven all in a tube. IF YOU HAVE DRY SKIN THIS IS YOUR HOLY GRAIL!!!!!! If I could give this more than five stars I would. Stay gorgeous everyone." - emilykahle
"I read a review that said "too much glitter"??!! This is a anti age fabulous CC Cream with great coverage. The more coverage you need the more you put on. My 65 year old skin looks so fabulous!! I love this line so much. This is my favorite product from Sephora. It does not have glitter but Illumination and you don't need concealer when you use it. And all that and a great price. My skin looks dewy fresh and plump. Put one half on your face and compare! It's fabulous and I get compliments on my skin when I use this! It's one of my Holy Grail products!! LOVE!!!!" - jantex
Shutterstock
What Does CC Cream Do For Your Face
-Evens redness and sallowness.
-Masks dark spots, hyperpigmentation, and other imperfections.
-Improves skin's overall tone and texture.
So, what is a CC cream? CC generally stands for "color correcting" and these versatile products are designed to restore the skin's evenness using a blend of nourishing and brightening ingredients.
"CC cream is a color corrector and will be lighter on the skin," makeup artist Nico Guilis says. "They have more of a whipped, light, fluffy feel and finish--kind of the new and improved BB."
Alexis Ferro, lead artist at Blushington Makeup & Beauty Lounge, notes that CC creams have become an ideal foundation choice for those with mature skin because of their ability to improve texture and tone. "CC creams have more targeted uses and are best for those with hyperpigmentation or problem skin," she says.
How To Apply CC Cream
CC creams are also renowned for their lightweight and buildable coverage, which allows for flawless application. Nordstrom National Beauty Director MaryNell Maddox recommend applying CC cream with a beautyblender or makeup sponge to get a natural-looking, lit-from-within look. But, nothing works better than your fingers. "Using a Beauty Blender allows you to build the product while still having an even finish," she tells Reader's Digest. Unlike traditional foundation formulas, a CC cream doesn't need to be applied everywhere. In fact, Maddok suggests only applying it to the areas that need coverage and blending them out for a seamless, airbrushed finish.
"A small amount of product should be dotted on the cheeks, chin, and forehead," she explains. "Blend over the face using a patting motion to maximize coverage."
SheFinds receives commissions for purchases made through the links in this post.