Finding the right concealer for under-eye wrinkles can be a struggle, especially if you don't know what to look for in a formula. Those with mature skin are more prone to creasing and need a concealer that not only provides full-coverage to camouflage imperfections and discoloration, but also offers hydration to smooth the appearance of the skin without accentuating dry lines. "The right foundation, concealer, and powder [for your skin] will add coverage and blur lines while reflecting light," makeup artist Nick Barose says. "It's really about looking like you're wearing less, but that doesn't mean you're actually wearing less." Need help finding the best concealer for mature under-eyes? Make Up For Ever's Ultra HD Self-Setting Concealer is one of the top-rated concealers at Sephora and uses hyaluronic acid and other powerful ingredients to help conceal, brighten, and transform the complexion.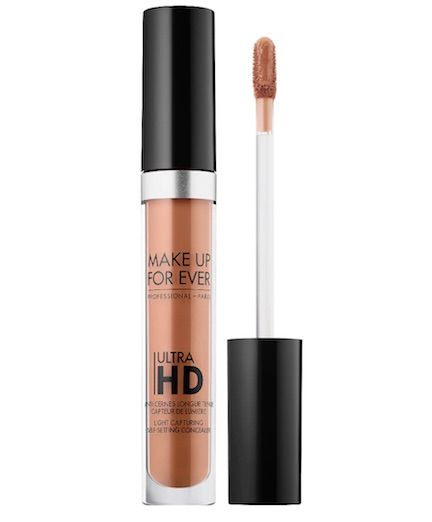 Where To Find The Best Concealer For Mature Under-Eyes
TRY IT: Make Up For Ever Ultra HD Self-Setting Concealer ($28)
Shutterstock
Key Benefits Of Using A Concealer For Under-Eye Wrinkles
Product Highlights:
-Offers medium, buildable 12-hour coverage, and a natural-looking finish.
-Coated pigments diminish the appearance of dark circles, fine lines, and imperfections, and immediately set.
-Smoothing and hydrating formula diffuses light so that skin that appears bright, flawless, and fresh all day.
Ingredient Breakdown:
Hyaluronic Spheres: Hydrate the skin and keep it looking fresh throughout the day.
Chlorella: Diminishes the appearance of dark circles.
Wu Zhu Yu Plant Extract: Support natural micro-circulation to keep the eye area looking luminous.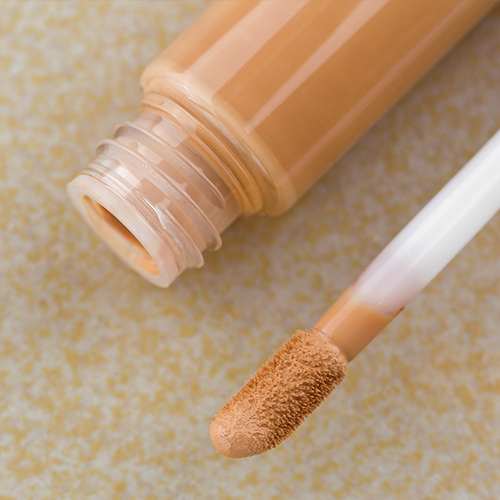 Shutterstock
Promising Ultra HD Self-Setting Concealer Reviews:
"I am 38 and when I where concealer (have tried 7 this year) I look like I am 48. The day I put this on I was shocked! I still looked 38!!! No creasing or falling into my lines. And it really is true, you do not have to set it and that is what I think aged me the most. It is very easy to apply and blend out. Coverage is good as well as I have quite pronounced dark circles. Try This!" - s22mich
"This concealer is really light weight with great coverage. I have drier skin and tend to rub my eyes often. This stayed put but does start to sink into fineness lines later in the day. I recommend using with a good setting powder." - tfarrow2014
"I am really impressed with this concealer. I have been using Shape Tape for the last year or so because that's what everyone and their sister has recommended. Shape Tape is very thick and heavy whereas this one is lighter and easier to blend. It lasts all day and doesn't crease like Shape Tape does. I have intense combination skin- starts very very dry and then gets extremely oily throughout the day so it's hard for me to find foundations/concealers that work for me. I think this will be my new go-to concealer. I received this product free for reviewing purposes. All thoughts and opinions are my own." - Jennrjo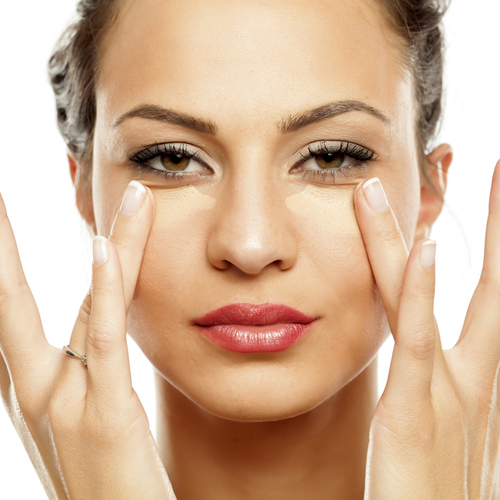 Shutterstock
How To Apply Concealer On Mature Skin
Start With Moisturizer
"Moisture is key, so always make sure you start with a moisturizer that's hydrating but won't turn greasy and interrupt your foundation texture," Barose explains, noting that skipping moisturizer or a hydrating facial oil can seriously mess up the application and appearance of your concealer.
"Be vigilant about moisturizing in all areas — especially around the eyes, where you want the skin to feel smooth," adds makeup artist Gucci Westman, founder of Westman Atelier.
Always Prime The Skin
Applying a skin-smoothing primer after your moisturizer is an easy way to eliminate the appearance of wrinkles. "A primer that helps blur lines is great because then you won't actually need to use as much foundation," Barose says. The celebrity makeup artist says that you don't need to apply primer everywhere; just focus "on lines or [other areas] of your face [you want to] blur."
Find A Hydrating Foundation
The more hydration, the better. This is especially the case when it comes to your foundation. Westman says that any formula that has "moisture, hydration, luminous, glow" on the bottle is a good choice for mature skin. "Mature skin tends to be drier and needs maximum hydration," he explained. "Matte formulas aren't great for this; look for something dewy."
Use A Makeup Sponge
"[Using your] fingers can look blotchy, uneven, or gloppy, which can make your lines come out more," according to Barose, who suggests dampening the sponge before blending concealer into the under-eye area. Traditional foundation and concealer brushes can also help prevent your concealer from caking or creasing as well.
Finish With Powder
"Powder is your friend, but you need to be careful where you put it," says Barose. "Look for one that's silky — not drying — unless you really need more coverage in certain areas. I usually do most of the coverage with foundation but use sheer, light-reflecting powder to set and keep it polished, focusing on the T-zone."
SheFinds receives commissions for purchases made through the links in this post.